I spotted a meadowlark in the beach dunes at Montrose Point that looked a little pale. It obligingly perched up where I could get my scope focused on it. It seemed to have yellow coloration in the malar area, but the windy conditions and the side lighting made viewing rough, and I wasn't sure. But I did hear the bird giving some
chuck
calls, and I thought this was most likely a Western Meadowlark, a rare bird on Chicago's lakefront. It then flew and headed north over the fishhook pier, and I thought it might have gone.
I told Rita Torrado about the bird, and then while we were standing and looking at gulls, she called "What's this?" as a meadowlark flew back in. It was the bird, returning back to the beach grass. After some stalking, the bird finally perched up in some of the small trees and I was able to get some photographs. Then the bird sang for us, giving its song three or four times.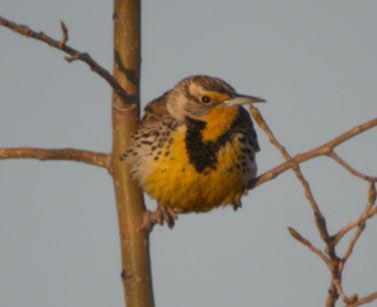 In this closeup of the head you can see the yellow malar region.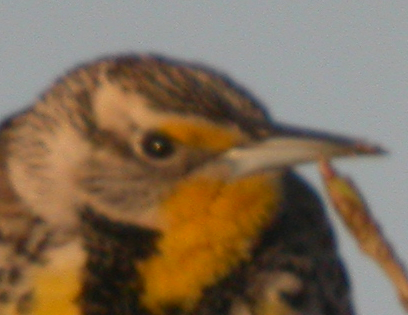 ---
This page was last updated on 17 April 2006.
Contact Geoff Williamson with any comments, updates or suggestions.
---