---
Cat Rescue at North Pond
in Chicago's Lincoln Park
Cook County, IL
17 December 2003
---
The weekly North Pond Bird Walks always start at 7:00am. This means that at some times of the year, it's dark when the group gathers near the pond. Such was the case on 17 December 2003, when the group assembled near North Pond Restaurant at the pond's north end. It had been cold during the days leading up to this particular walk, and much of the pond was frozen.
Some of the group noticed a lump on the ice and looked at it through binoculars to try to make out what it was. But the light was still dim, and it was hard to tell. Some thought it looked kind of like a cat. Then a dog walker came by and said, "You folks have binoculars. Can you tell if that's a cat on the ice?" He said he had been walking his dog the evening before and when his dog saw the "lump" on the ice it went nuts. As the day dawned, and the light grew, we could tell that it indeed was a cat. Apparently frozen to the ice. And apparently having spent the night there.
What to do? The pond was partly frozen, but not frozen solidly enough to get out on the ice to save the cat. I thought that maybe if I had hip waders, I could trudge out there through the ice to get it. So as our group started the bird walk around the pond, I asked everyone we ran into if they had hip waders. Amazingly, most people took my query at face value, and didn't think I was a raving lunatic (or so it seemed, anyway). Finally, we encountered a man who said he had a pair in his truck. "Why do you ask?" he said. I told him about the cat, and that I thought I could get to it if I had hip waders. "Oh, no. That won't work. You need a boat." So the walk continued, only now I was asking passers-by if they had a boat.
One fellow said that no, he didn't have a boat, but that there was one in the rowing club building across Fullerton Avenue. "Why do you ask?" he said. I told him about the cat. He immediately said, "I know who to call!" He whipped out his cell phone and made a phone call. His friend, who turned out to be Scott Holingue, author of Tales from an Urban Wilderness, was set into action.
We continued the bird walk, but it wasn't long before a figure could be seen moving with purpose across the lawn from us. He spotted our group, and made a beeline over our way. "Where's the cat?" was all he said. We pointed out the cat to him and off he went.
What happened next was captured on video by Prakash Pandit, a regular on our bird walks. Unfortunately we don't have a working version of the video file, only this still from it.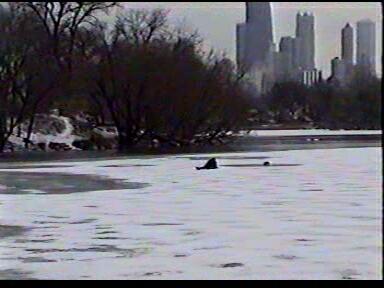 Our group had come around the pond by that point, and I rushed over to help pull Holingue in to shore by the rope he had tied to himself (and the other end of which he had secured to the cast iron railing at the pond edge). He was wet and cold, as was the cat, but he lived close by and his friend assured us he would get both Holingue and the cat to warmth and comfort at Holingue's nearby home.
Everything worked out fine. The cat survived its ordeal and now lives a comfortable and happy life with its rescuer.