---
Chris Williamson, Geoff Williamson, and Jill Niland led a tour of the Jarvis Bird Sanctuary in Chicago's Lincoln Park, sponsored by the Chicago Ornithological Society and the Chicago Group of the Sierra Club. We were interested to find what birds were present, but we also paid some attention to the butterflies and dragonflies that were around the sanctuary. Geoff Williamson took some photographs of a few of the things we saw, and these are shown below. After the photographs are some lists (with numbers) of the various wildlife that was seen.
Hawking insects close to the observation platform on the sanctuary's east side was this Eastern Wood-Pewee.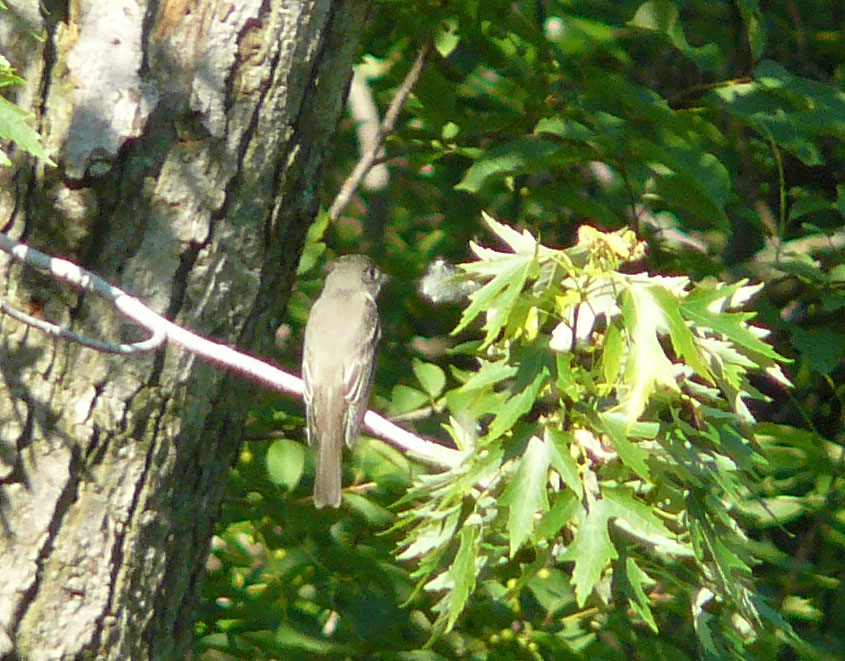 A Great Blue Heron looked for prey in the water inside the sanctuary.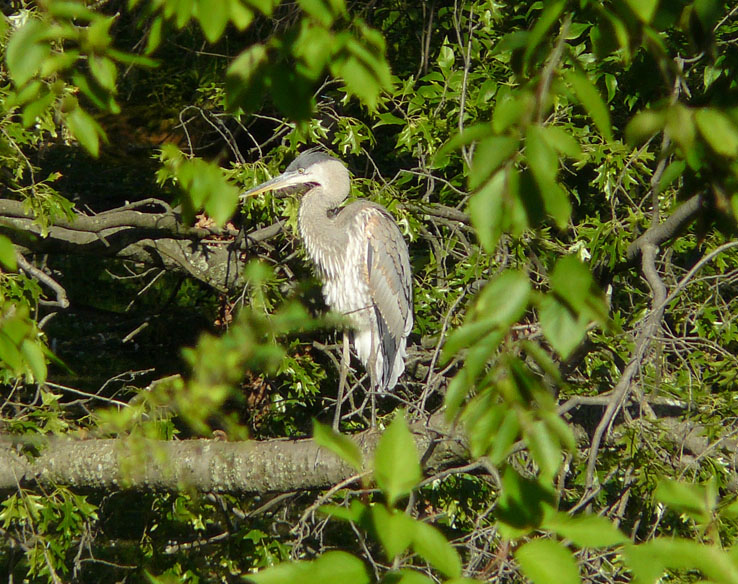 During much of the walk we would occasionally hear the calls of Great Crested Flycatchers. Several times we were able to see these birds high up in the tree tops. Here one kindly perched out in the open.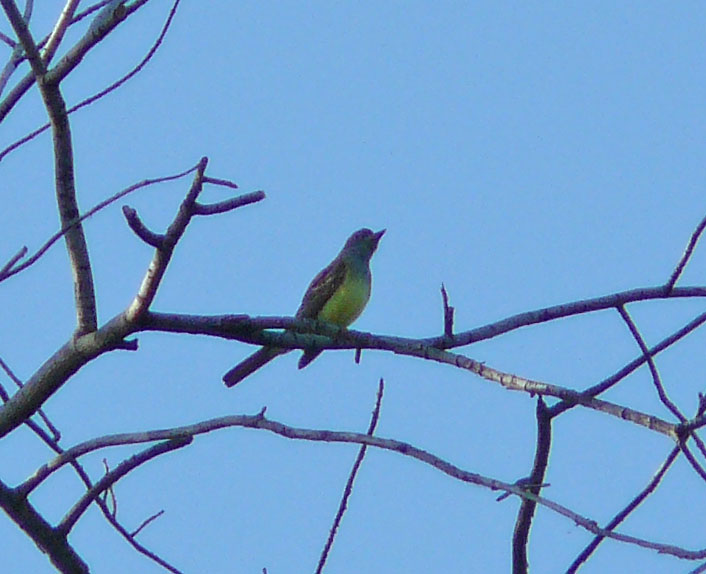 A Green Heron was startled by something and flew up from the water's edge and into a tree, with the feathers on its head raised.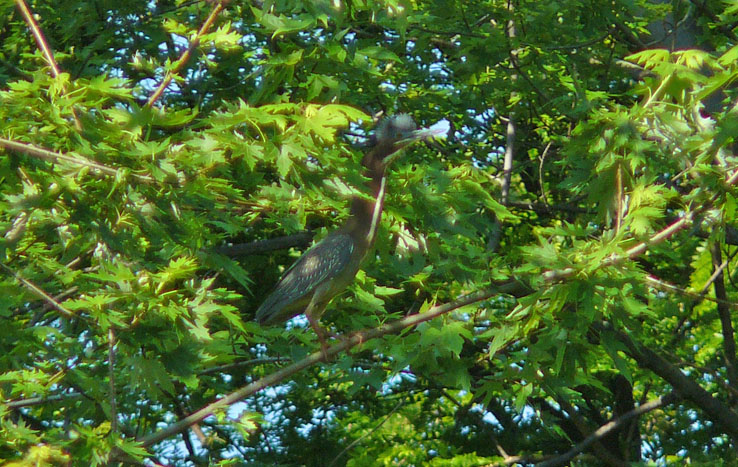 A nesting House Wren was observed singing from one of its favorite perches.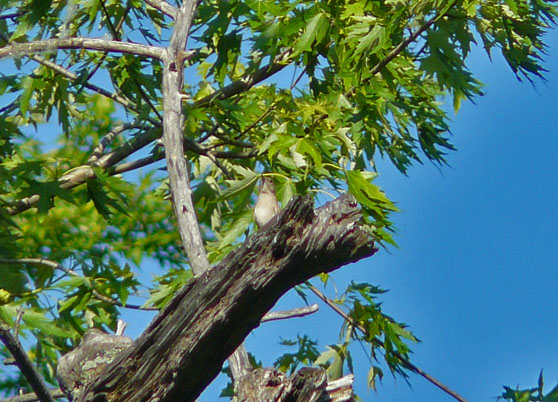 Adding color to the environment was this male Indigo Bunting. We saw several of this species during the outing.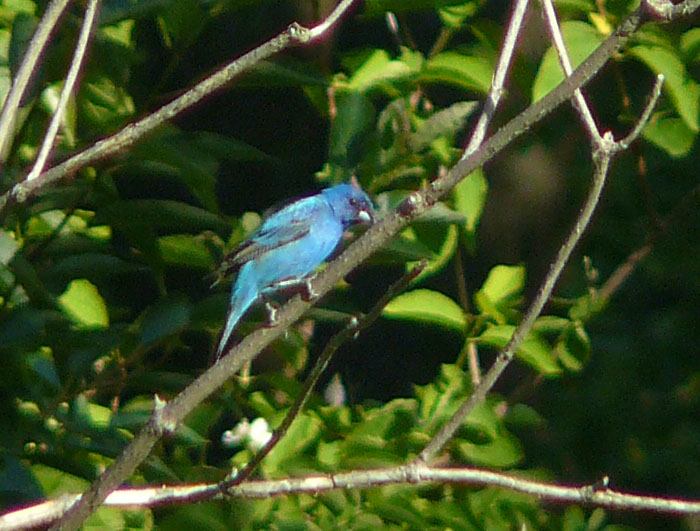 Another bird that we had to lean back to look at up in the tops of the trees was this Red-eyed Vireo.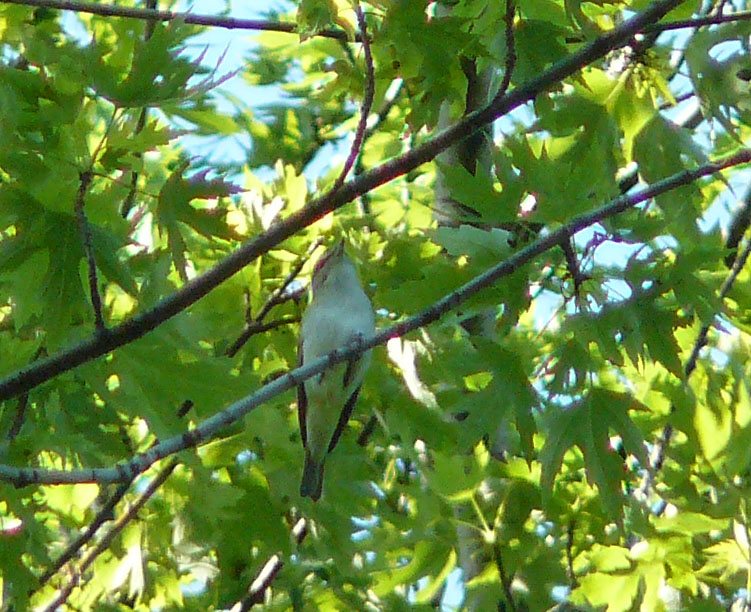 We heard the squeak of a Rose-breasted Grosbeak (a sound like a sneaker on a gym floor), and then this female popped into view.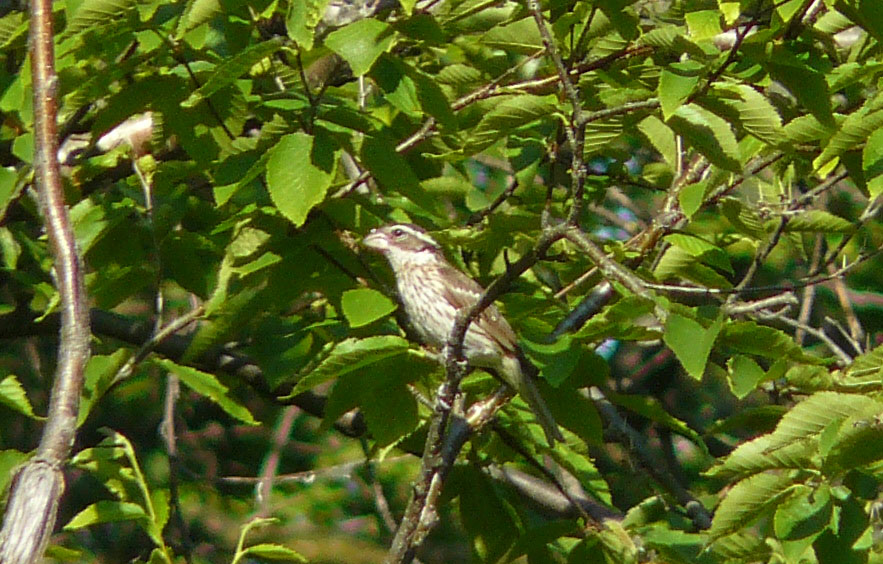 Several kinds of butterflies were seen during the walk. Early on we saw this Question Mark butterfly.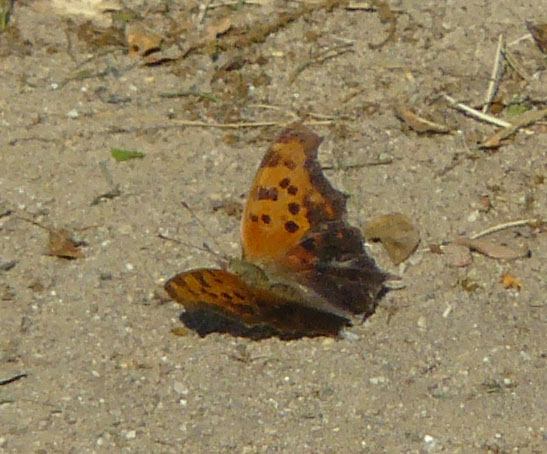 If you look at the underside of this butterfly's wings, you can see the small, pale mark that indeed is in the shape of a question mark: a pale dot separated from a small pale curve.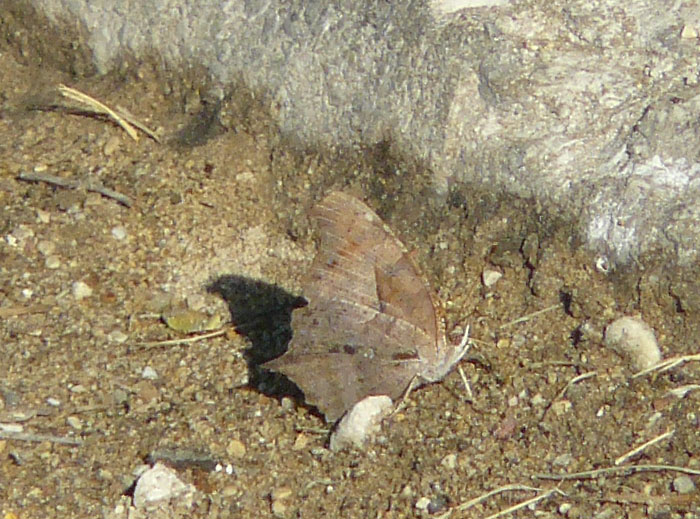 Later in the walk we spotted an Eastern Comma, which is closely related to the Question Mark. As you might imagine, the Eastern Comma has a comma, and not a question mark, on the undersides of its wings. Notice that there is not pale dot that is separate from the comma.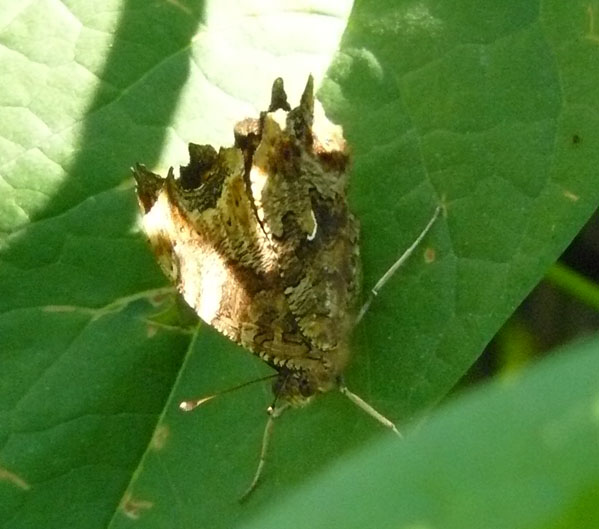 One of the smaller butterflies was this little Spring Azure. We looked at it carefully to be sure it wasn't an Eastern Tailed-Blue, which can sometimes be found in Lincoln Park (though the Azure is far more common).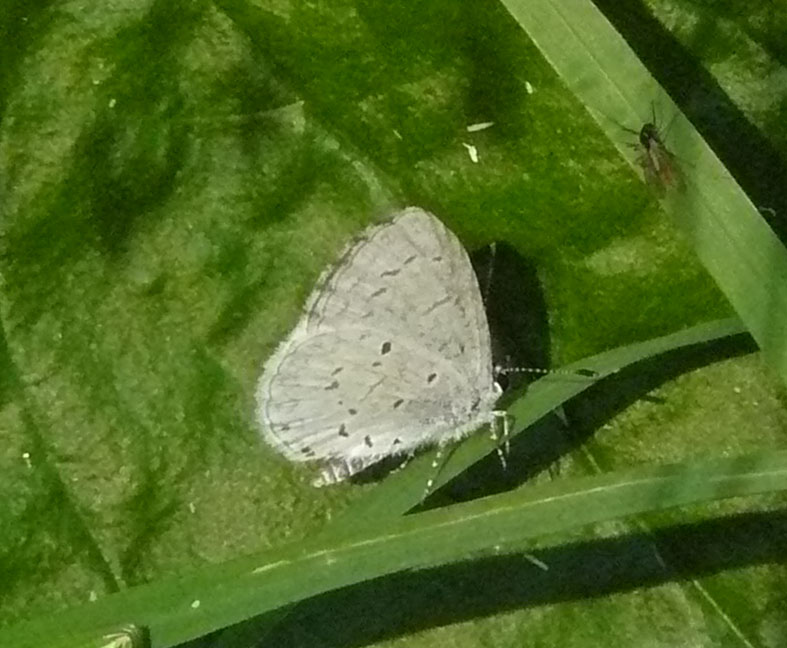 One of the more common dragonflies at the sanctuary is called a Blue Dasher. This one here is an adult.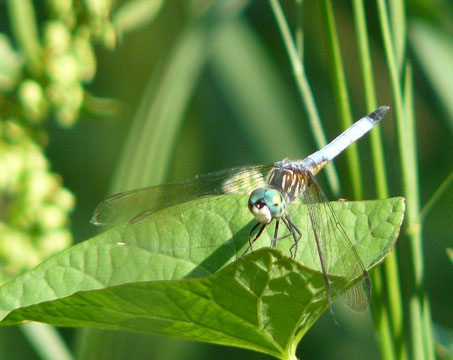 We also saw a juvenile Blue Dasher, pictured in the photo below.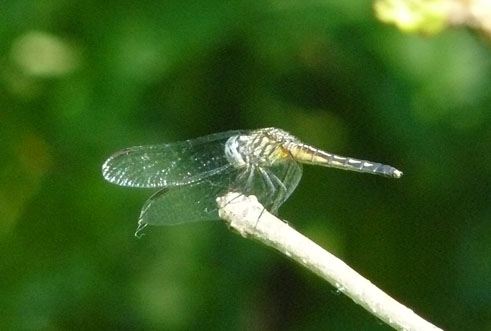 The male and female of the Twelve-spotted Skimmer both have 12 dark spots on their wings, three each on the left and right sides of the fore and hind wings. This one here is the female.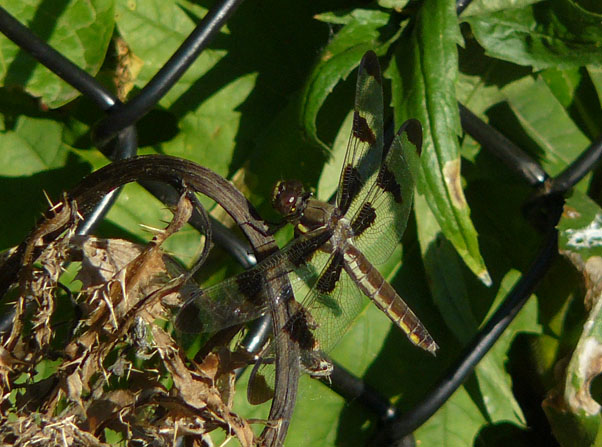 The male has white spots mixed in between the 12 dark spots, which you can just make out in the following photograph.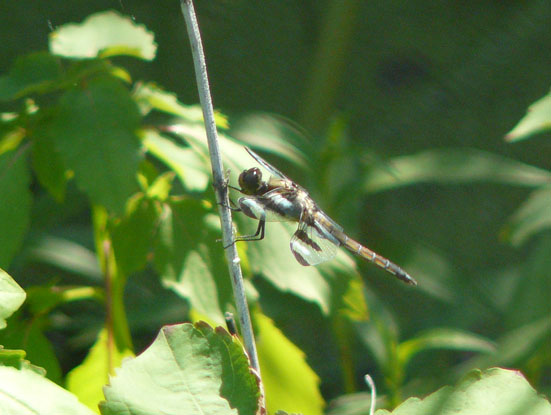 Another of the dragonflies we saw was the Widow Skimmer. Here is a female of the species.
We did not see a wide variety of mammals. Those present (besides people and dogs) were Eastern Chipmunks and Eastern Gray Squirrel. Here's a photo of the squirrel.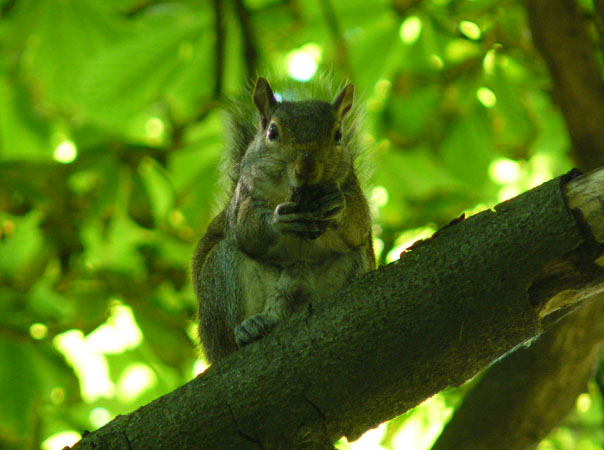 ---
List of birds species seen, with number observed.
Canada Goose 4

Double-creseted Cormorant 6

Great Blue Heron 1
Green Heron 1
Black-crowned Night-Heron 2

Ring-billed Gull 13
Caspian Tern 1

Chimney Swift 9

Downy Woodpecker 2
Hairy Woodpecker 1

Eastern Wood-Pewee 2
Acadian Flycatcher 1
Great Crested Flycatcher 3
Eastern Kingbird 1

Red-eyed Vireo 3

Blue Jay 2
American Crow 3 (one eating a bat)

Purple Martin 24
Northern Rough-winged Swallow 5
Barn Swallow 1

Black-capped Chickadee 2

House Wren 1

Gray Catbird 2

European Starling 10

Cedar Waxwing 1

Common Yellowthroat 1

Northern Cardinal 2
Rose-breasted Grosbeak 1
Indigo Bunting 5

Red-winged Blackbird 2
Common Grackle 2
Brown-headed Cowbird 1
Baltimore Oriole 1

American Goldfinch 2

House Sparrow 7
---
List of mammal species seen, with number observed.
Eastern Chipmunk 3
Eastern Gray Squirrel 1
---
List of butterfly species seen, with number observed.
Black Swallowtail 1

Cabbage White 14

Clouded Sulphur 1

Spring Azure 13

American Snout 3

Question Mark 1
Eastern Comma 1
Mourning Cloak 1
Common Buckeye 1

Fiery Skipper 1
grass skipper, sp. 2
---
List of dragonfly species seen, with number observed.
Common Green Darner 1

Eastern Pondhawk 2
Widow Skimmer 1
Common Whitetail 1
Twelve-spotted Skimmer 3
Blue Dasher 23
Black Saddlebags 1
---
This page was last updated on 10 June 2012.
Contact Geoff Williamson with any comments, updates or suggestions.
---