---
Jill Niland and Geoff Williamson led a joint outing of the Chicago Ornithological Society and the Chicago Group of the SIerra Club to La Bagh Woods Forest Preserve in Chicago to look for birds and other living creatures. Below you'll find a few photographs from the outing, all taken by trip participant Nathan Goldberg, who was also helping to keep the Forest Preserve clean by collecting the trash we encoutered along the way. At the bottom of the page you'll find lists (with numbers) of the various wildlife that was seen.
One interesting sighting on the walk was of a Snapping Turtle digging a burrow on the slope from the old railroad tracks down to the floodplain.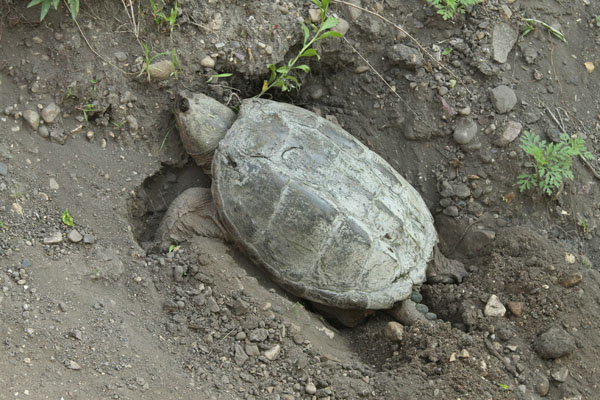 When we passed back by the turtle it was on the move again.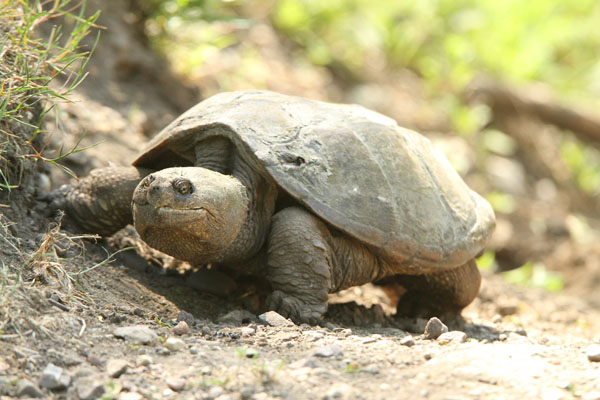 We also spotted a male Ruby-throated Hummingbird perched high up in a tree.
Warblers were few and far between, which was quite uncharacteristic of La Bagh Woods during May, but consistent with the general experience many birders were having with the site during this spring of 2012. Here a female Bay-breasted Warbler is caught feeding in a honey locust tree near the parking lot.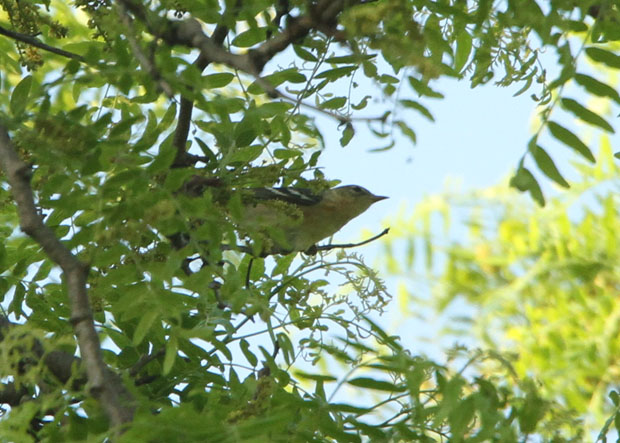 The sole individual within the class Amphibia that we observed was this American Toad.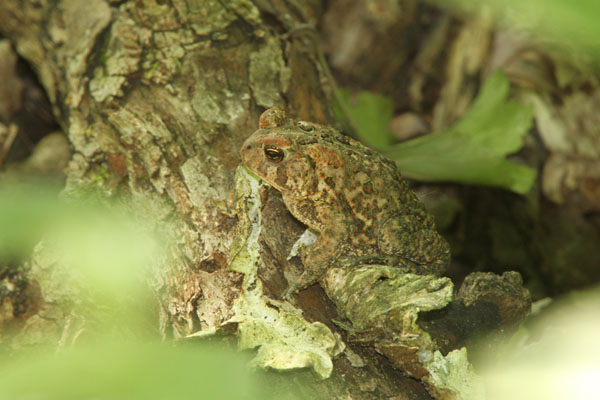 We saw just one dragonfly, this female Common Whitetail.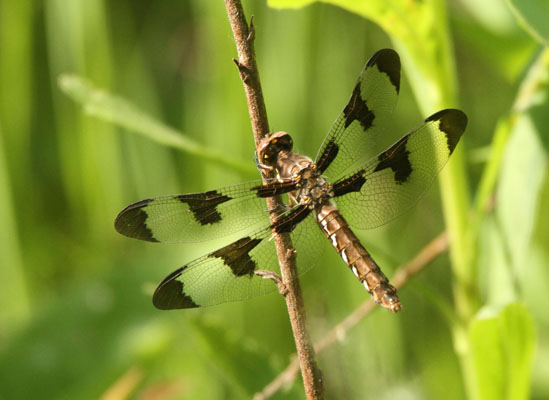 A cooperative Question Mark butterfly perched on the side of a tree, letting us study it at leisure. Look for the pale mark on the underside of this creature's hindwing to see why it's called a Question Mark.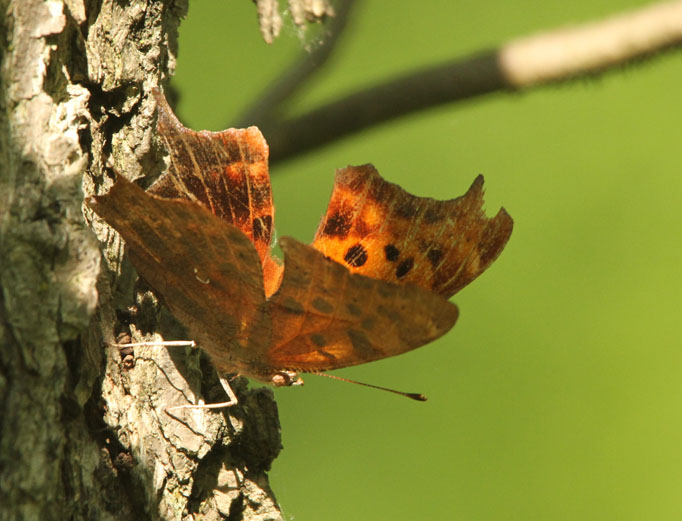 ---
List of birds species seen, with number observed.
Canada Goose 2 (with 5 young)
Wood Duck 1 (with 3 young)
Mallard 5

Great Blue Heron 2

Cooper's Hawk 2

Ring-billed Gull 5

Rock Pigeon 4
Mourning Dove 2

Yellow-billed Cuckoo 1

Chimney Swift 4

Ruby-throated Hummingbird 1

Belted Kingfisher 1

Red-bellied Woodpecker 6
Downy Woodpecker 3
Hairy Woodpecker 3

Eastern Wood-Pewee 1
Least Flycatcher 1
Great Crested Flycatcher 2
Eastern Kingbird 1

Red-eyed Vireo 18

Blue Jay 1

American Crow 5

Barn Swallow 3

Black-capped Chickadee 4

White-breasted Nuthatch 1

House Wren 1

Blue-gray Gnatcatcher 5

Swainson's Thrush 1
American Robin 46

European Starling 4

Cedar Waxwing 6

Black-and-white Warbler 2
Connecticut Warbler 1
Cape May Warbler 1
Magnolia Warbler 1
Bay-breasted Warbler 1
Blackpoll Warbler 5

Savannah Sparrow 2
Song Sparrow 1

Northern Cardinal 4
Indigo Bunting 2

Common Grackle 8
Brown-headed Cowbird 15

American Goldfinch 9

House Sparrow 4
---
List of mammal species seen, with number observed.
Raccoon 2

Eastern Chipmunk 3
Eastern Gray Squirrel 6 (including one black morph squirrel)

Whitetail Deer 2
---
List of butterfly species seen, with number observed.
Cabbage White 1
Clouded Sulphur 4

Spring Azure 3

American Snout 4

Question Mark 2

Monarch 1

Silver-spotted Skipper 1
skipper, sp. 1
---
List of dragonfly species seen, with number observed.
Common Whitetail 1
---
List of amphibian species seen, with number observed.
American Toad 1
---
List of reptile species seen, with number observed.
Red-eared Slider 5
Snapping Turtle 1

Common Garter Snake 1
---
This page was last updated on 20 May 2012.
Contact Geoff Williamson with any comments, updates or suggestions.
---