---
The Bird Conservation Network, together with Sierra Club and Chicago Ornithological Society, sponsored one of its "Give Back to Birds - Field Trip/Workday" outings at the Jarvis Bird Sanctuary in Chicago's Lincoln Park on 22 October 2011. The Jarvis Sanctuary is a great migrant hotspot and is part of the Chicago lakefront's Important Bird Area.
At the bottom of this web page you can find a complete list of the birds and the mammals seen on the walk.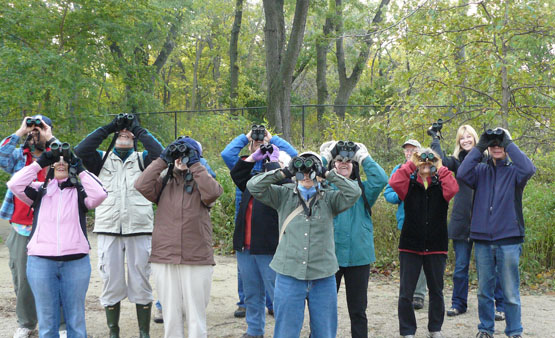 The day began with a bird walk led by Christine and Geoff Williamson. While we saw a number of birds on the ground and in the trees, the southbound migration of birds also was evident with good numbers of American Robins passing in flocks overhead. Pine Siskins, finches that breed much further north than Chicago but often winter here, also were observed migrating by. The group spotted 23 of these finches on the walk, and nearly four times that number were seen in total over the course of the morning. Seeing this many siskins in Lincoln Park is an indication that the winter ahead likely will be a excellent one for siskins in the Chicago area.
Here's a (camera-shy) Pine Siskin, with the trademark yellow patch visible in the wing.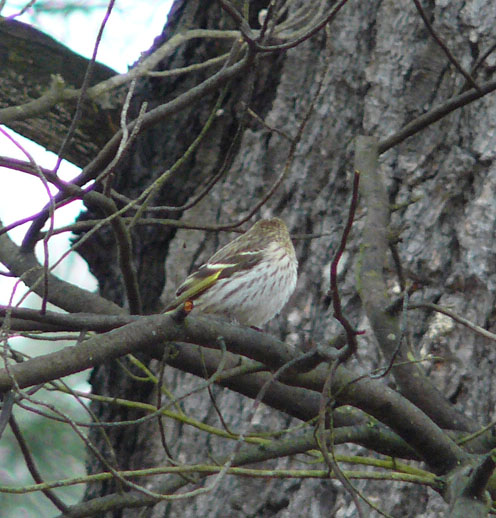 After the bird walk, there was a break for coffee and cinnamon rolls (provided by Ann Sather) and a brief history of the Sanctuary and the restoration work being done at the site from the stewards, Charlotte Newfeld and Terry Schilling. The Jarvis Sanctuary now is in its 10th year of habitat restoration, with the expert stewardship team gradually eliminating most introduced species while adding native understory plants, trees, shrubs and grasses. After the break, our crew joined a well-established group of volunteers to assist in the transformation, collecting seeds and cutting back aggressive plants, particularly Tall Goldenrod and White Snakeroot.
A viewing platform on the east side of the Sanctuary allows nature observers to peer in more easiy over the fence.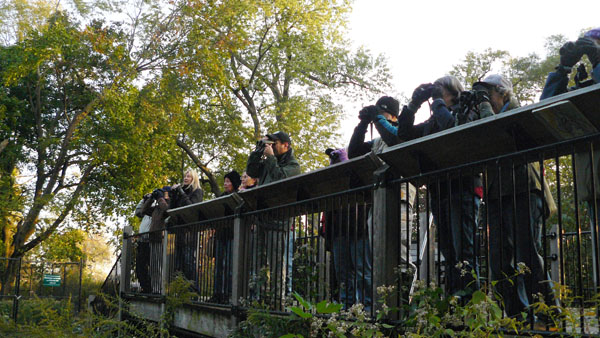 Here Dawn Smith is rasing her binoculars to look at a bird in the Sanctuary.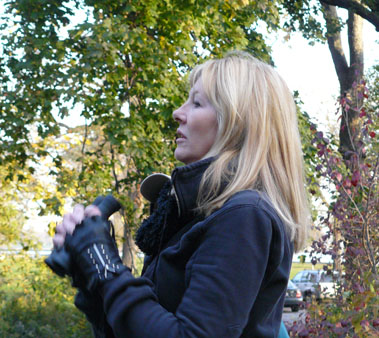 Among the birds seen were several Hermit Thrushes, like this one.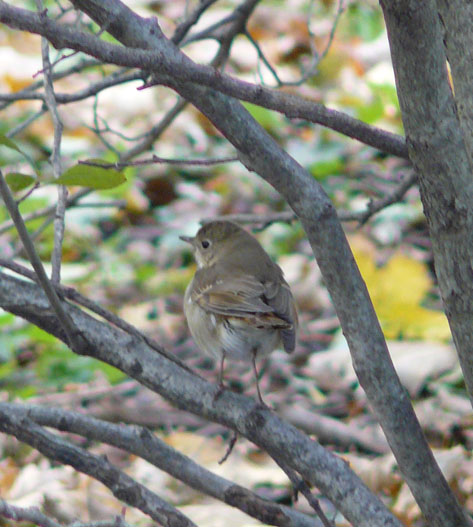 Here Jill Niland and Glenn Forchione approach the viewing platform.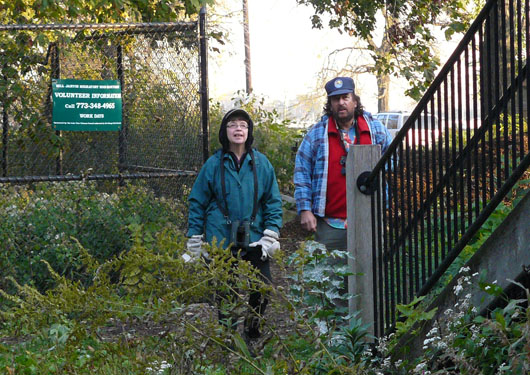 The community is kept informed about Jarvis Sanctuary and restoration activities by signage around the perimeter. Here's a sign with a phone number you can call if you want to volunteer.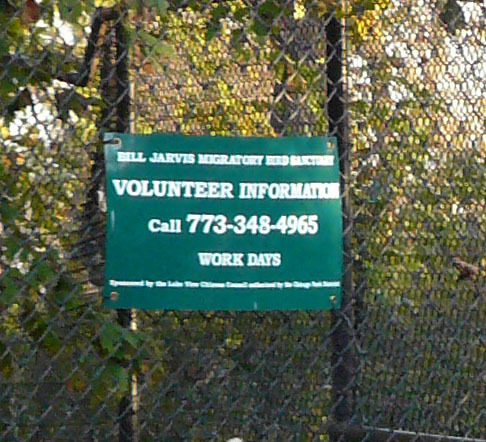 Trees of differing heights, including some older, tall trees, help provide a diversity of structure that supports a variety of wildlfe. Of course, when birds are way up high in a tree, you have to look nearly straight up to see them, inducing the condition popularly known as "warbler neck."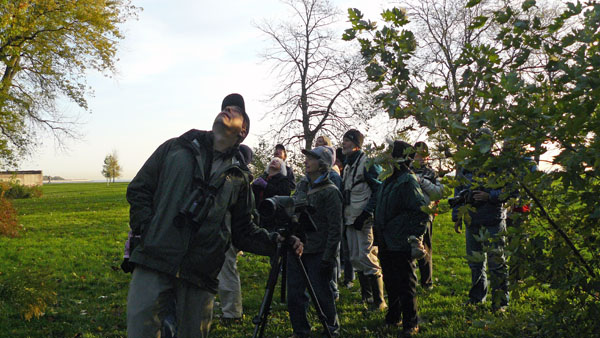 Though the Sanctuary is encircled by a fence, there is a diverse mix of plantings outside, too.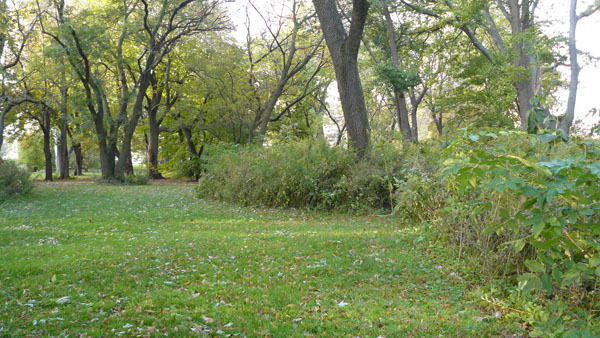 These grassy areas surrounded by shrubs and seed-producing plants attract many migrant and wintering sparrows, such as this White-crowned Sparrow.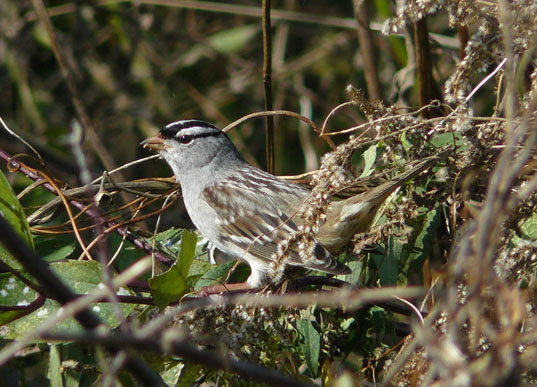 Here, members of our group are looking and listening for more migrants in this grove.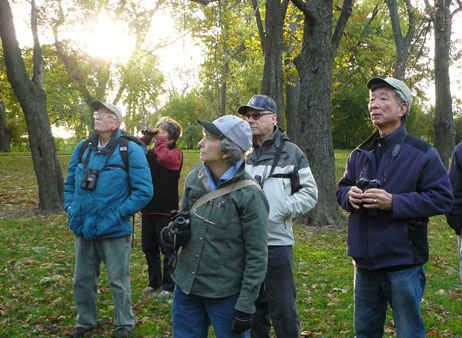 It can be helpful to have someone along to point out the birds and help you identify them.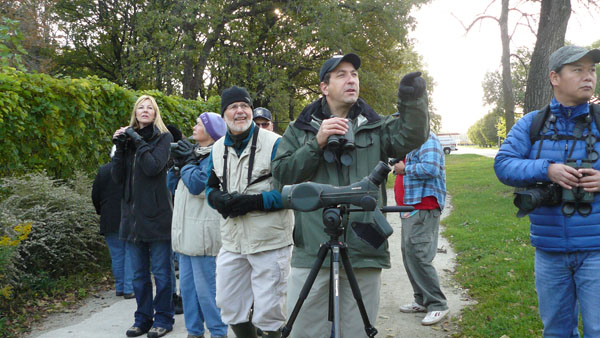 Eastern Chipmunks are a recent colonizer of Lincoln Park. Their numbers are on the rise.
Below are lists of the birds and mammals seen on the outing.
---
List of birds species seen, with number observed.
Canada Goose 2
Wood Duck 3
Mallard 7

Double-crested Cormorant 8

Cooper's Hawk 2

American Coot 5

Ring-billed Gull 5

Rock Pigeon 3
Mourning Dove 1

Red-bellied Woodpecker 1
Yellow-bellied Sapsucker 3
Downy Woodpecker 5
Hairy Woodpecker 1

Eastern Phoebe 2

American Crow 14

Black-capped Chickadee 6

White-breasted Nuthatch 2

Brown Creeper 2

Winter Wren 4

Golden-crowned Kinglet 12
Ruby-crowned Kinglet 15

Hermit Thrush 15
American Robin 240

European Starling 8

Cedar Waxwing 13

Orange-crowned Warbler 6
Yellow-rumped Warbler 4
Ovenbird 1

Eastern Towhee 2
Song Sparrow 1
Swamp Sparrow 1
White-throated Sparrow 74
White-crowned Sparrow 1
Dark-eyed Junco 41

Northern Cardinal 2

Purple Finch 1
Pine Siskin 23
American Goldfinch 47

House Sparrow 2
---
List of mammal species seen, with number observed.
Eastern Chipmunk 1
Eastern Gray Squirrel 5
---
This page was last updated on 29 October 2011.
Contact Geoff Williamson with any comments, updates or suggestions.
---