On 17 February 2006, Bob Hughes and Kanae Hirabayashi found two Ross's Geese at Montrose Point with a flock of close to 30 Snow Geese (Chen caerulescens). This was pretty exciting as Ross's Goose had never previously been confirmed in Lincoln Park. Word spread; John Purcell called me at home and I was able to squeeze in a visit before going to work. There was also a probable hybird Ross's x Snow Goose in the flock.
Here is one of the two Ross's Geese with some blue morph and white morph Snow Geese.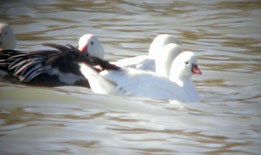 Here is a photo showing both Ross's Geese.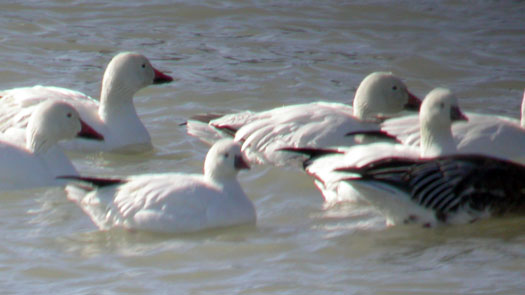 In the following photo there are three birds. A Ross's Goose is on the right, and a Snow Goose is in the middle. I'm not sure whether that's the second Ross's Goose on the left or the hybrid.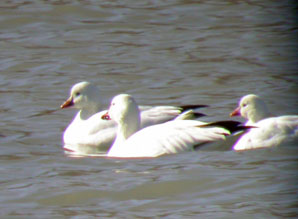 ---
This page was last updated on 18 February 2006.
Contact Geoff Williamson with any comments, updates or suggestions.
---