---
Masked Booby
Sula dactylatra
Roca Blanca (15.656879, -96.528297)
Oaxaca, Mexico
18 July 2015
---
Observers: Sheridan Coffey, Peggy Macres, Gary Meyer, Michael Retter, Jennifer Rycenga, Christine Wiliamson, Geoff Williamson.
This juvenile booby was seen around and on the coastal island Roca Blanca, accessed by small boat from Puerto Ángel in Oaxaca, Mexico. Its size was noticably greater than that of the numerous Brown Boobies on the island, and that and the extension of the white of the breast into the neck (seen in Photo 1) restricted specific identification to Masked Booby or Nazca Booby. The yellow and greenish yellow tones extending well into the base of the bill (seen in Photos 1, 2, 3, and 4), with the original gray coloration mostly remaining on the top of the bill, indicates this bird is a Masked Booby.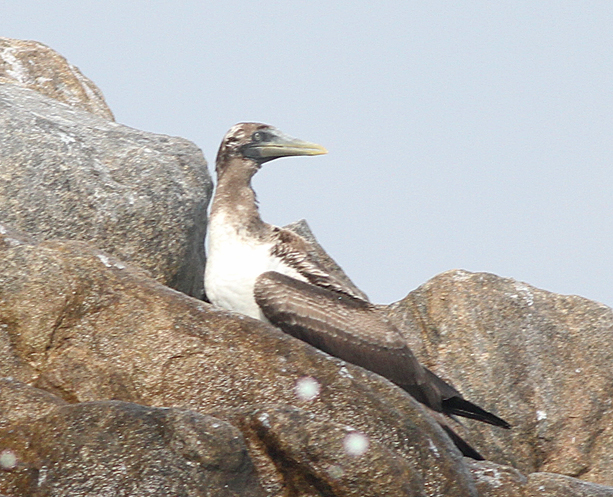 Photo 1
Photos 2, 3 and 4 provide close-up views of the bill to assess coloration.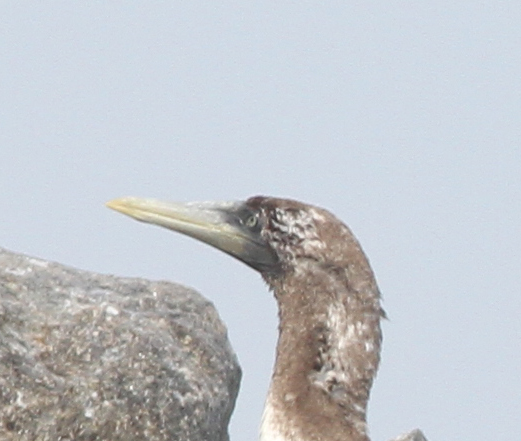 Photo 2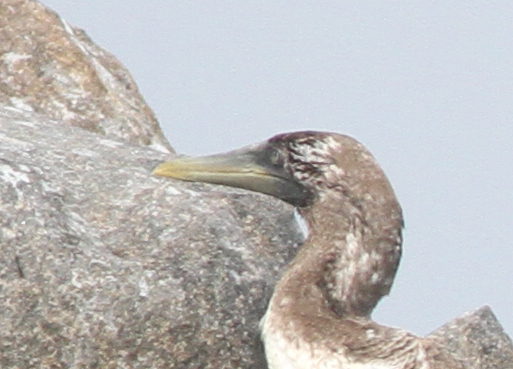 Photo 3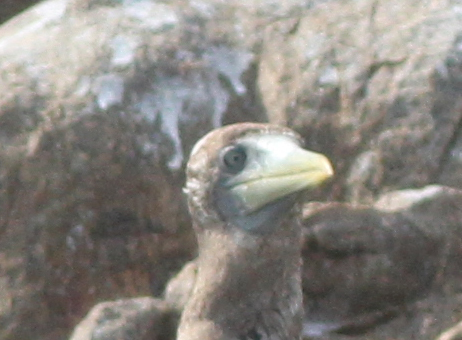 Photo 4
Photos 5 and 6 show chocolate brown dorsal coloration that doesn't vary significantly between the head and the back, further supporting identifcation as a Masked Booby. Interestingly, this bird lacks the white cervical collar that most Masked Boobies show. Roberson (1998) notes that only juvenile Masked Boobies from the eastern Pacific population lack the white collar, and he estimates that "10-25% of the population of Masked Boobies on Clipperton [Island] lack white cervical collars in juvenal plumage."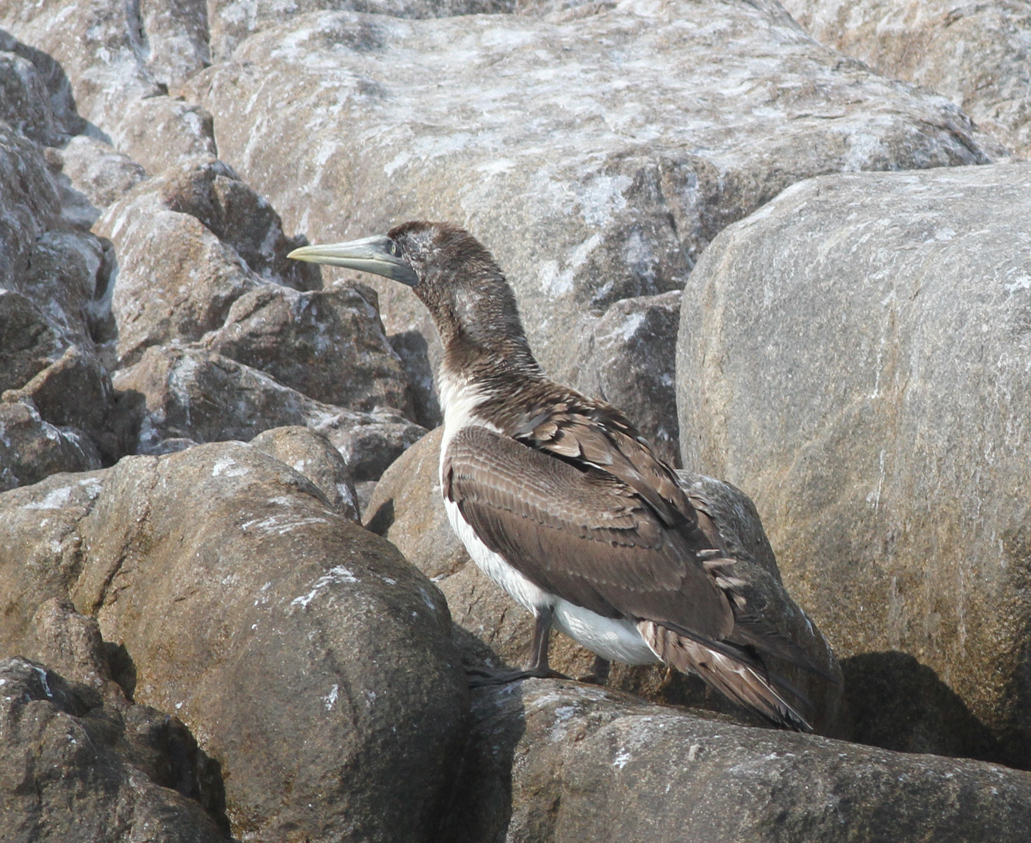 Photo 5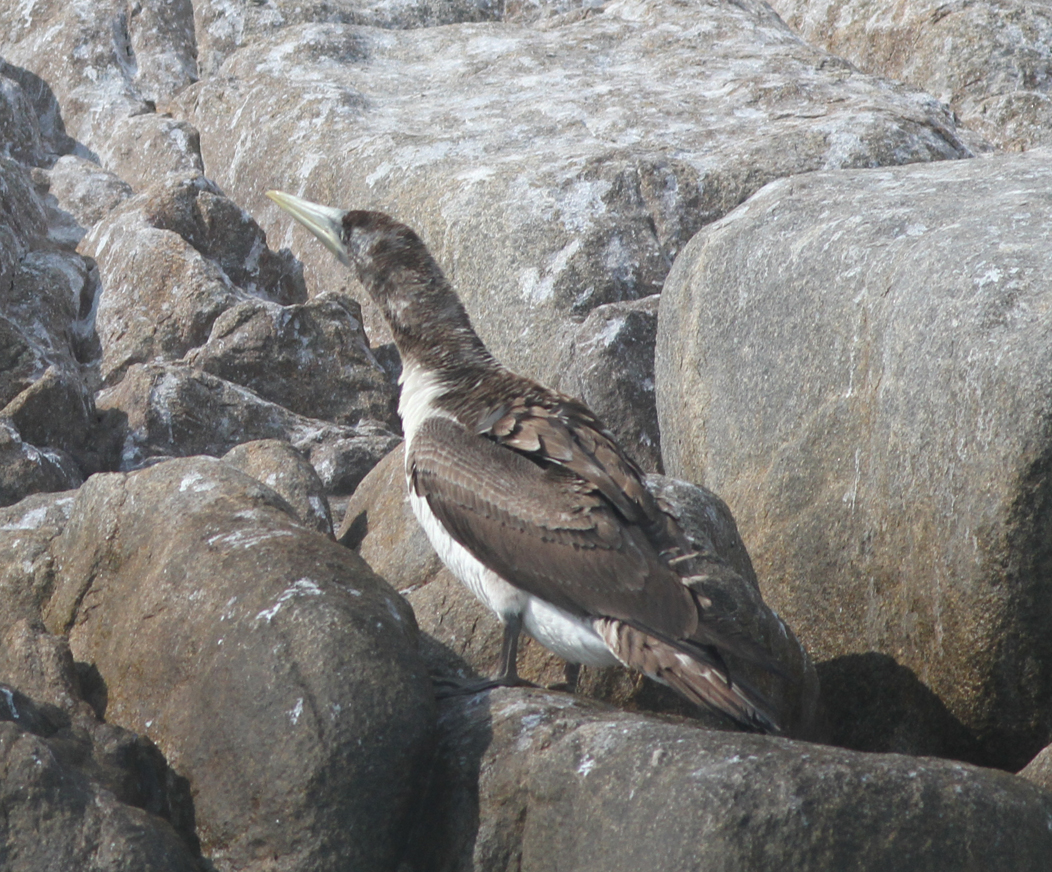 Photo 6
Photo 7, showing the spread wing, indicates that post-juvenile molt of the primaries has not commenced.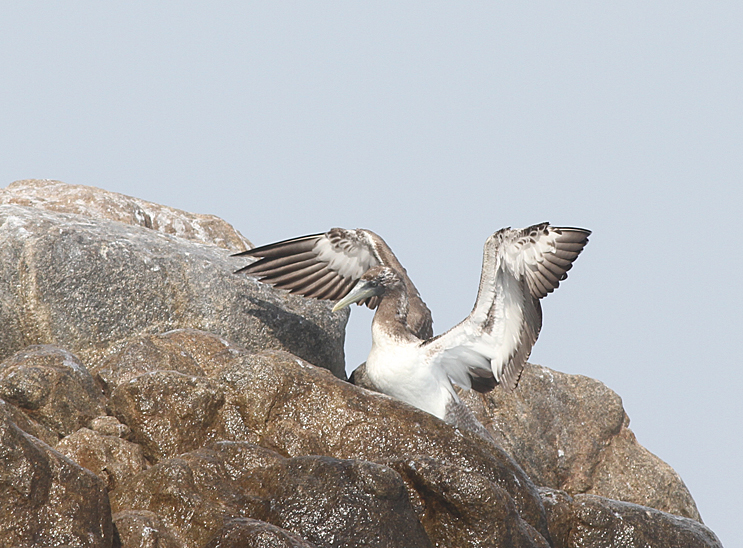 Photo 7
Roberson (1998) refers to the eastern Pacific population of Masked Booby as Sula dactylatra californica. Version 6.9 of the Clements checklist (Clements et al. 2014) recognizes four subspecies, with the Pacific Ocean popluation comprising Sula dactylatra personata; the brief notes regarding range that this checklist provides are "Islands in central and w Pacific to islands off w Australia." Regarding Sula dactylatra personata, Wikipedia contributers (2015, June 8) state, "Breeds in the central and western Pacific and around Australia, as well as off Mexico and on Clipperton Island. Birds of the latter two locations have been separated as subspecies granti, and the north west Australian population has been named as subspecies bedouti, but neither is usually considered valid."
Clements, J. F., T. S. Schulenberg, M. J. Iliff, D. Roberson, T. A. Fredericks, B. L. Sullivan, and C. L. Wood. 2014. The eBird/Clements checklist of birds of the world: Version 6.9. Downloaded from http://www.birds.cornell.edu/clementschecklist/download/lements.
Roberson, D. 1998. Sulids unmasked: Which large booby reaches California? Field Notes 52:276-287.
Wikipedia contributers (2015, June 8). Masked booby. In Wikipedia, The Free Encyclopedia. Retrieved 18:31, July 26, 2015, from https://en.wikipedia.org/w/index.php?title=Masked_booby&oldid=666007138