---
A group of birders including Josh Engel, Nathan Goldberg, Steve Huggins, Greg Neise, and Geoff Williamson explored pelagic birding with a trip out of New Buffalo Harbor in Berrien County, Michigan on 14 September 2013. The group engaged Captain Denny DeBuysser, who runs Captain D's Fishing Charters, and we made plans to head straight out from shore to go far out into Lake Michigan. A large bag of popcorn was procurred, so that we could keep a flock of gulls following the boat, and off we went.
Josh Engel was appointed to be "list master" and would be taken notes on what birds we observed in each half hour period on the lake. Here is Josh on the back deck of the Cap'n D.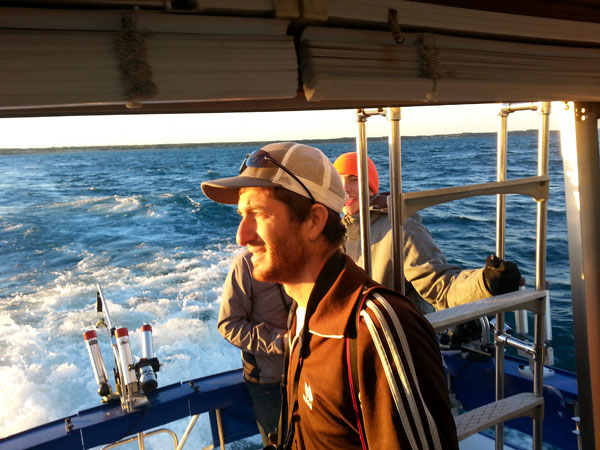 The map below shows the route. For the entire route we were in Michigan waters, and indeed for county listing purposes we were always in Berrien County.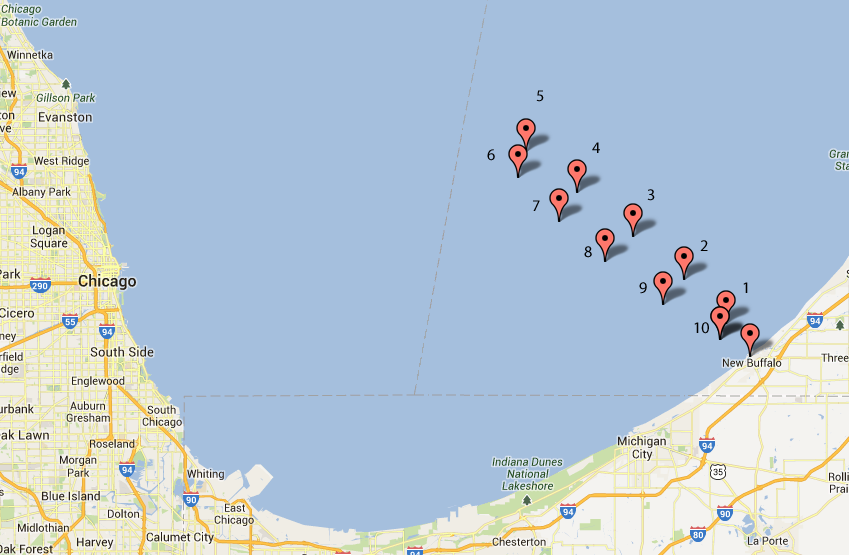 For most of the journey out, it was just Ring-billed Gulls and Herring Gulls behind the boat, once we left the vicinity of the harbor and its relative diversity of birds. Steve Huggins was steadily doling out the popcorn to keep birds interested in the boat, and to hopefully attract some goodies to the activity. Here's one of the Ring-billeds.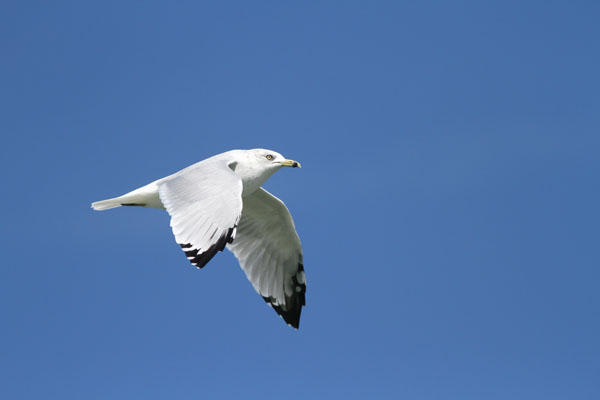 And here is Steve, keeping the gulls happy.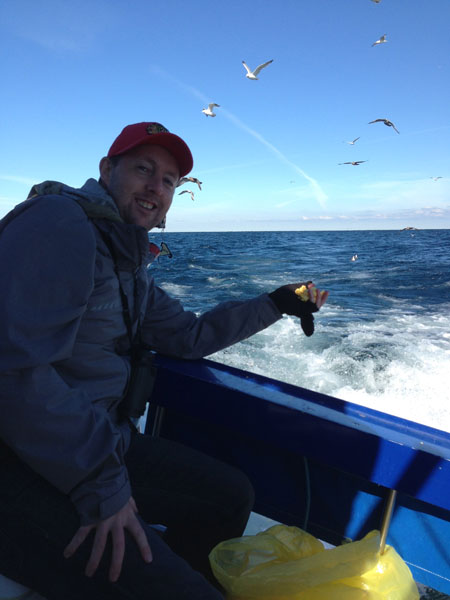 (photo courtesy of Nathan Goldberg)
Occasionally, very occasionally, a Common Tern would come in to the commotion.
Sometimes the Common Terns would follow in the wake of Cap'n D.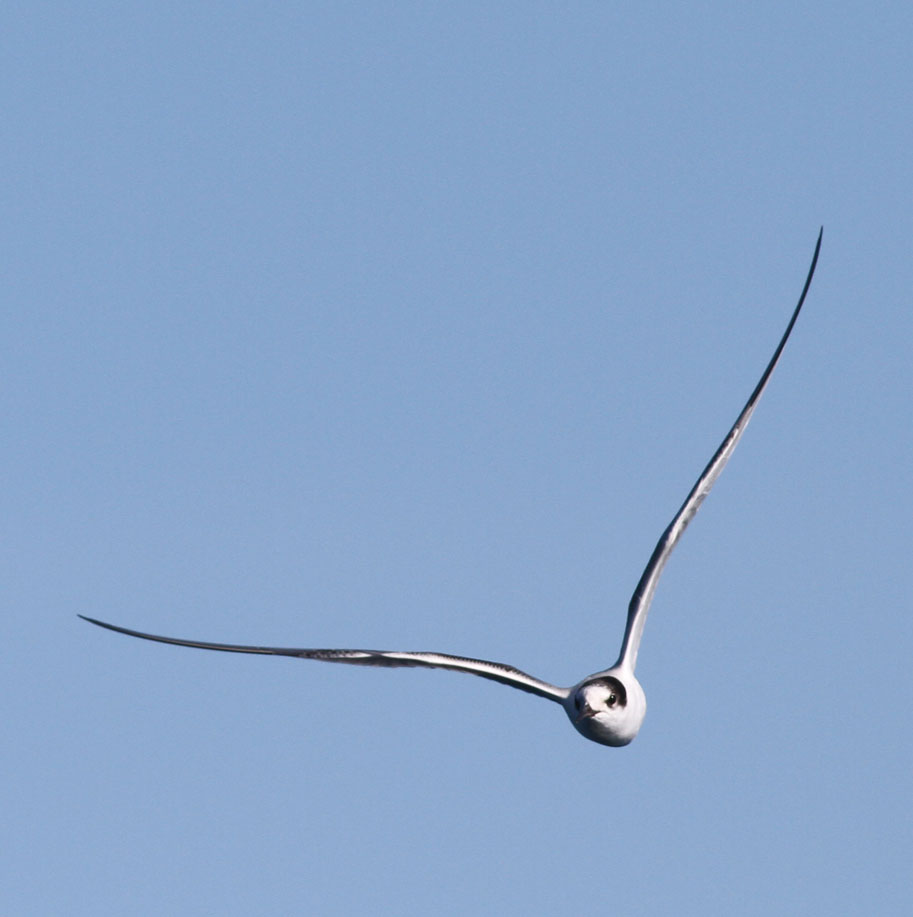 Finally, at 10:10am Eastern Daylight Time, some "good" birds came in to the chum line. Greg Neise called out that a jaeger was flying in. It wasn't long before Josh Engel ID'ed it as a Long-tailed Jaeger. The bird was back in the wake, and sat down several times. Then Steve Huggins pointed out a second bird of interest: a "Sab's"! Both the juvenile Sabine's Gull and the immature, one year old Long-tailed Jaeger were occasionally settling on the water.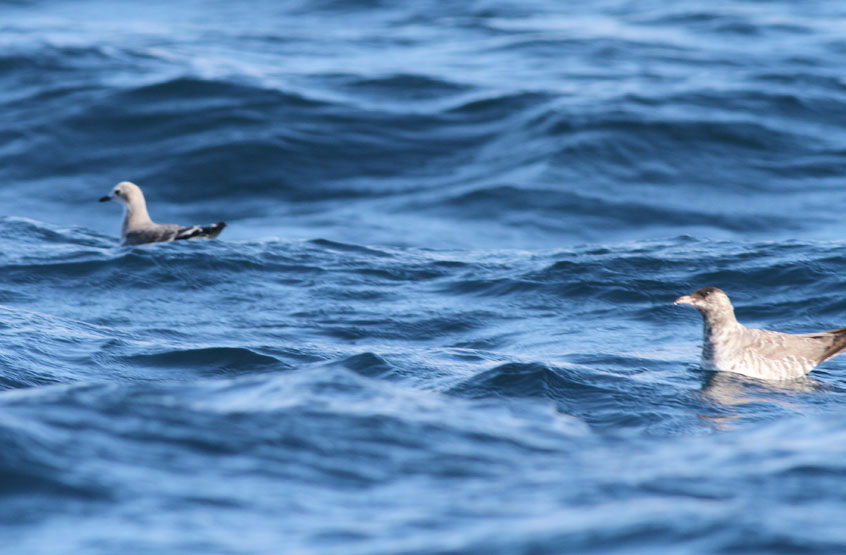 The Long-tailed Jaeger seemed most intent on the Sabine's Gull and was occasionally seen motoring up behind it.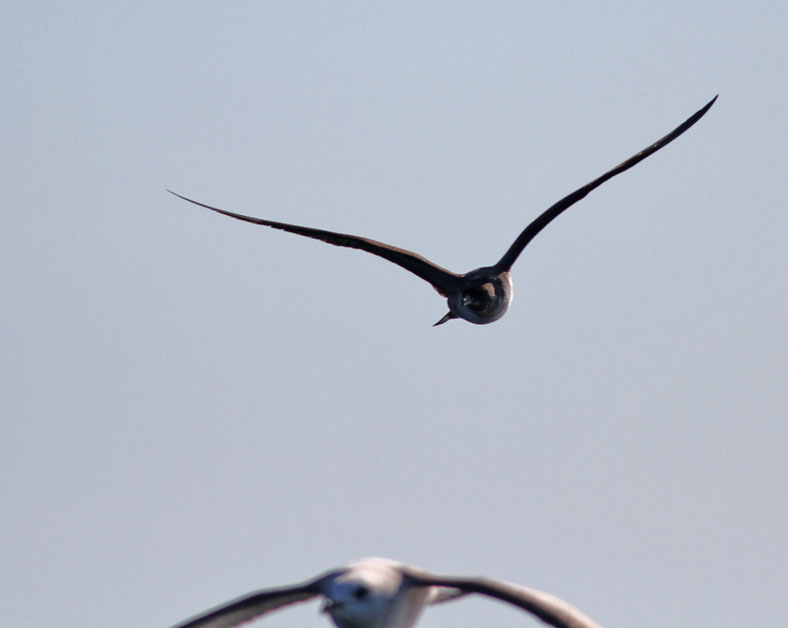 Nathan Goldberg was able to capture the Sabine's Gull nicely with the Long-tailed Jaeger.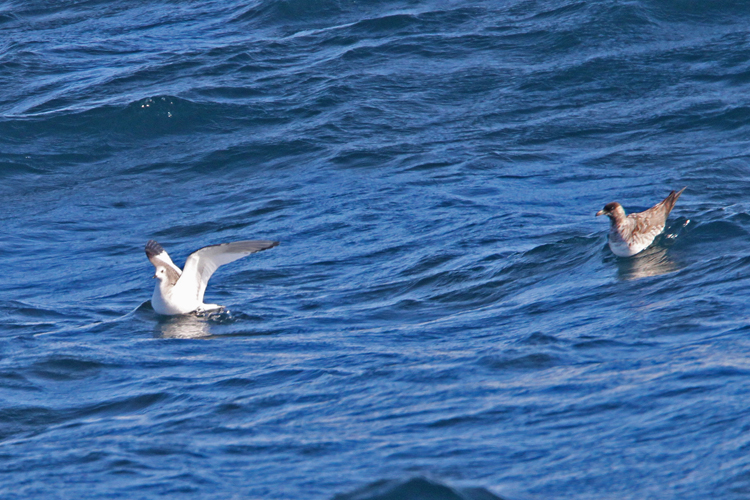 (photo courtesy of Nathan Goldberg)
Soon enough, the juveniles Sabine's Gull vanished, but the Long-tailed Jaeger seemed determined to put on a good show for the birders on the boat. It circled a number of times, and gave us all good looks while flying and also sitting on the water.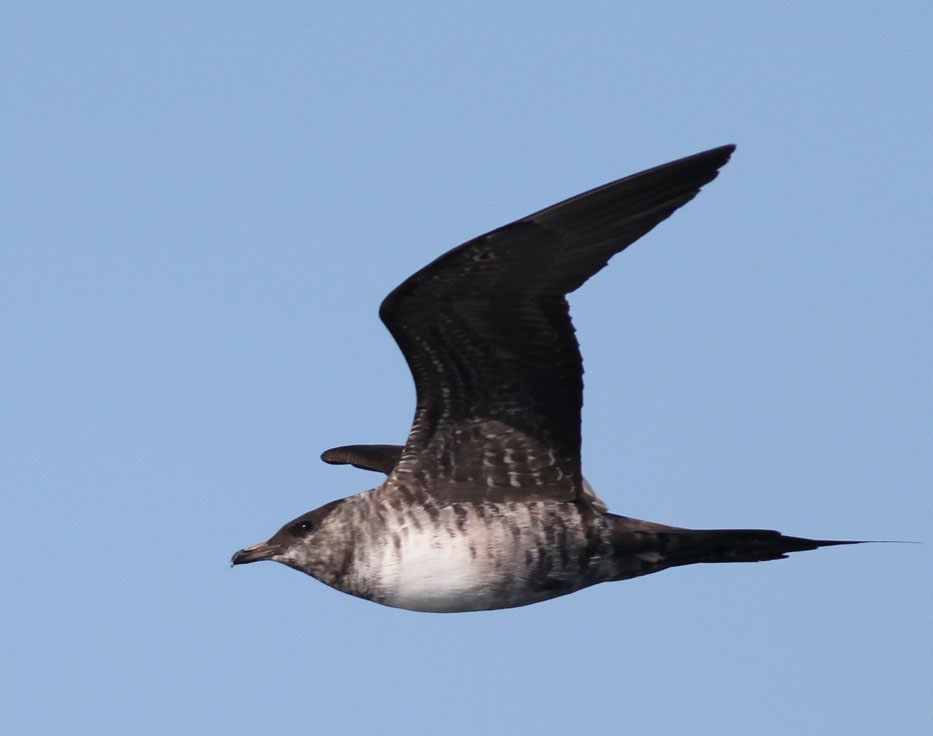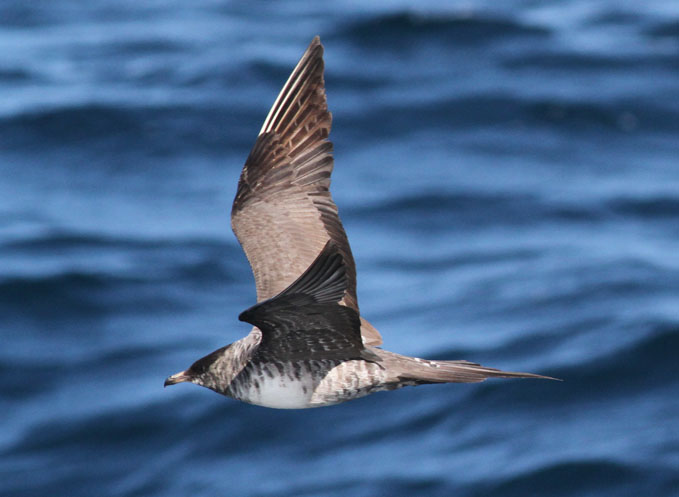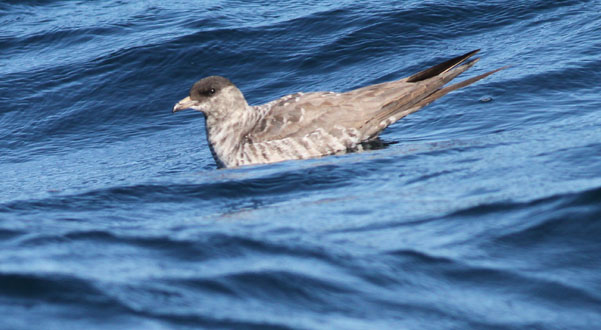 In the photo below you can see that the jaeger was missing its innermost tail feather on the right side.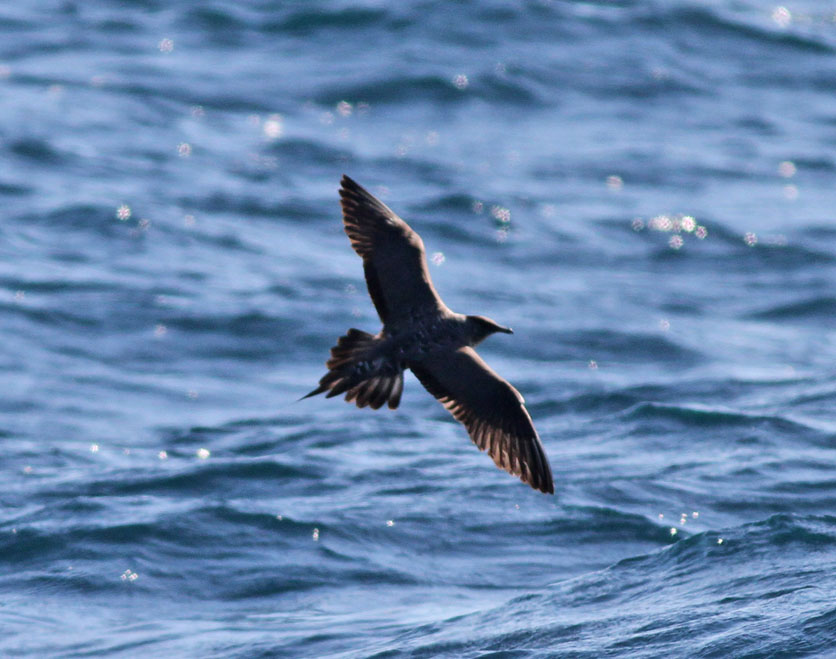 Nathan Goldberg captured a nice view of the bird's underwing, showing the lack of white bases to the primaries (indicating the bird is past its juvenal plumage).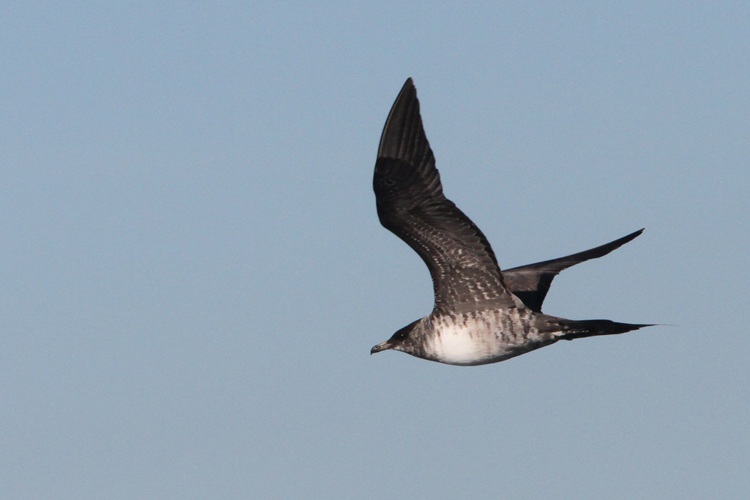 (photo courtesy of Nathan Goldberg)
For a group of birders that included many with serious interests about their Cook County, Illinois lists, this shot of Nathan Goldberg's shows how tantalizingly close we were to Illinois waters, a scant four and a half miles away. There are currently 24 records of Long-tailed Jaeger that are accepted by the Michigan Bird Record Committee, with another record from the summer that is likely to be accepted. This bird, if accepted, would thus be the 26th record of the species for Michigan.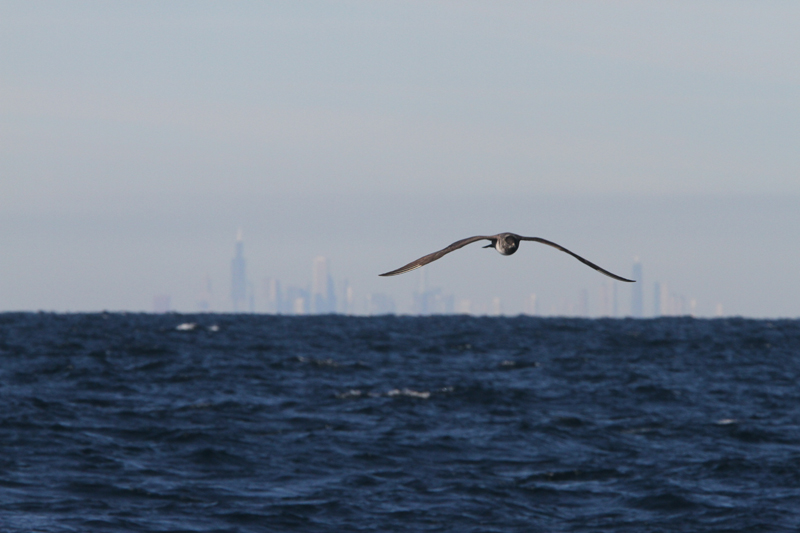 (photo courtesy of Nathan Goldberg)
Here is "Jaegermeister" Greg Neise on the back deck.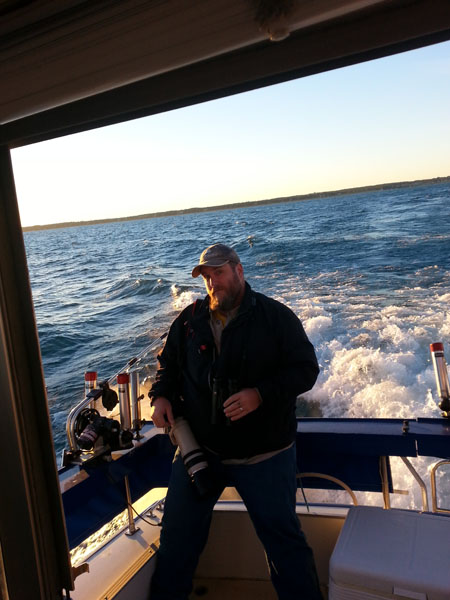 Thumbs up from Josh Engel on the top deck ...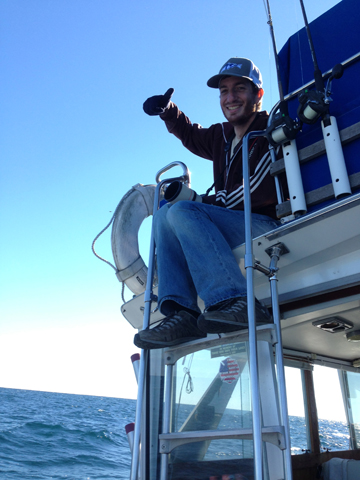 (photo courtesy of Nathan Goldberg)
... echoed by Nathan Goldberg below.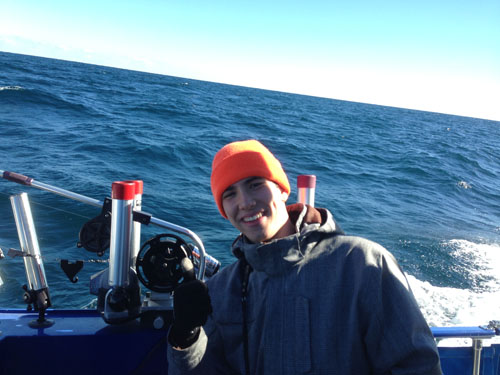 (photo courtesy of Nathan Goldberg)
All this action with the Long-tailed Jaeger and Sabine's Gull took place at marker #6 on the map above, in some 230' of water and about 20.5 miles from shore. The trip back in was relatively uneventful, though we did spot a couple of first-cycle Bonaparte's Gulls. As we neared the harbor, the birdlife changed back to the inshore variety, such as these Double-crested Cormorants.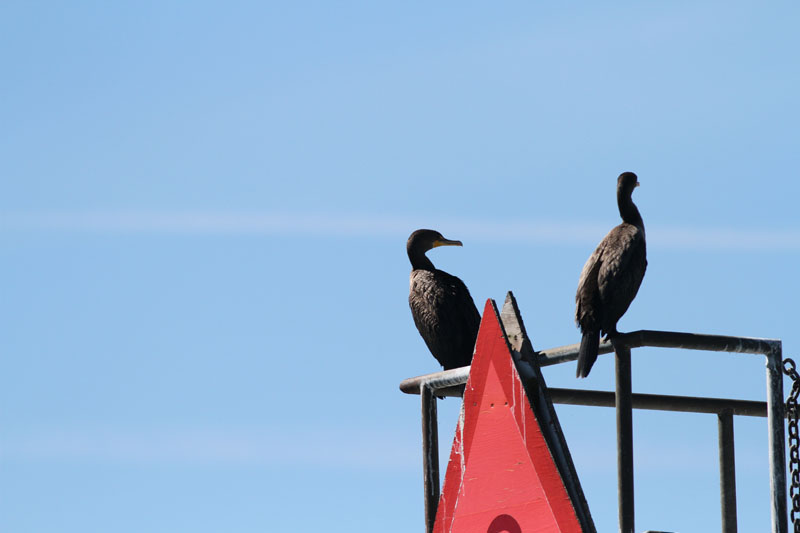 When departing the harbor, we had spotted a Barnacle Goose, so we looked for it on the way back in. Sure enough, this bird was still there. Captain Denny steered Cap'n D over to where the goose was to let us take some photos.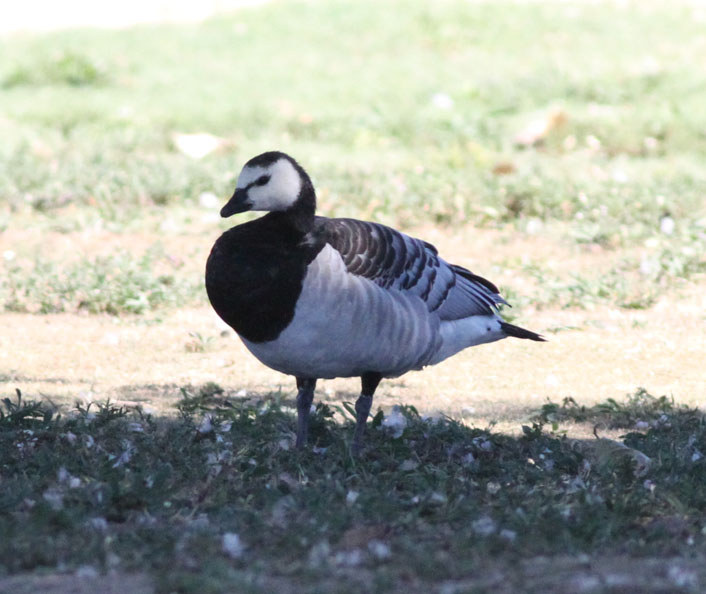 In total, it was a successful journey. Though the middle of the lake wasn't teeming with rarer gulls and jaegers, seeing a Sabine's Gull and a Long-tailed Jaeger is always a treat. Here is the group savoring the taste of the morning's adventure after returning to the dock. From left to right are Geoff Williamson, Greg Neise, Nathan Goldberg, Josh Engel, and Steve Huggins. The Cap'n D is the boat on the left.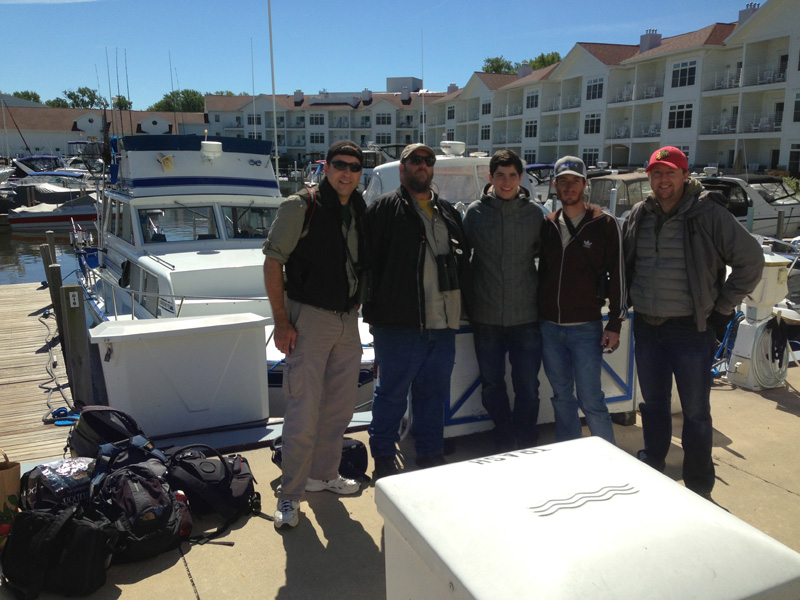 (photo courtesy of Nathan Goldberg)
---
List of bird species, with number observed.
Barnacle Goose 1 (harbor)
Canada Goose 76 (mostly harbor)
Gadwall 1 (harbor mouth)
Mallard 63 (harbor and harbor mouth)
Blue-winged Teal 2 (harbor mouth)

Double-crested Cormorant 6

Great Blue Heron 1 (harbor mouth)

Killdeer 1 (harbor)

Long-tailed Jaeger 1 (2nd cycle)

Sabine's Gull 1 (juvenile)
Bonaparte's Gull 2 (1st cycle)
Ring-billed Gull 637 (most on beach near harbor, in harbor, at harbor mouth)
Herring Gull 226
Common Tern 4
Sterna sp. 1

Rock Pigeon 55 (harbor)
Mourning Dove 1 (harbor)

Catharus sp. 1 (harbor)

warbler sp. 1 (open lake)

American Goldfinch 1 (harbor)
See also checklists reported to eBird, breaking out sightings by individual area (half hour observation periods, with latitude/longitude noted at center of path covered during each period):
Lake Michigan, 7:30-8:00am EDT (41.83330624, -86.78100033)

Lake Michigan, 8:00-8:30am EDT (41.87854167, -86.83833333)

Lake Michigan, 8:30-9:00am EDT (41.92266667, -86.90933333)

Lake Michigan, 9:00-9:30am EDT (41.968, -86.98533333)

Lake Michigan, 9:30-10:00am EDT (42.01, -87.055)

Lake Michigan, 10:00-10:30am EDT (41.98333333, -87.06666667)

Lake Michigan, 10:30-11:00am EDT (41.93783333, -87.01066667)

Lake Michigan, 11:00-11:30am EDT (41.89666667, -86.94708333)

Lake Michigan, 11:30am-12:00pm EDT (41.85333333, -86.86791667)

Lake Michigan, 12:00-12:20pm EDT (41.81691283, -86.78977817)
---
Back to Geoff Williamson's Web Pages.
---
This page was last updated on 15 September 2013.
Contact Geoff Williamson with any comments, updates or suggestions.
---