Cindy Alberico, Jill Niland, Sigrid Schmidt, Wes Serafin and I took a road trip up to the Duluth, Minnesota area to enjoy the northern owl invasion that was taking place that winter. The weekend we picked, 5 - 6 February 2005, happened to fall in the middle of a "heat wave," with temperatures reaching 50°F. This made for a quite balmy trip, in contrast to the usual way-below-freezing temperatures one normally experiences near Duluth at this time of year. Though we did not see any Boreal Owls, which was my main target species, we had superb looks at Northern Hawk Owls, Great Gray Owls, and Barred Owls. Here are a few images I captured of these birds.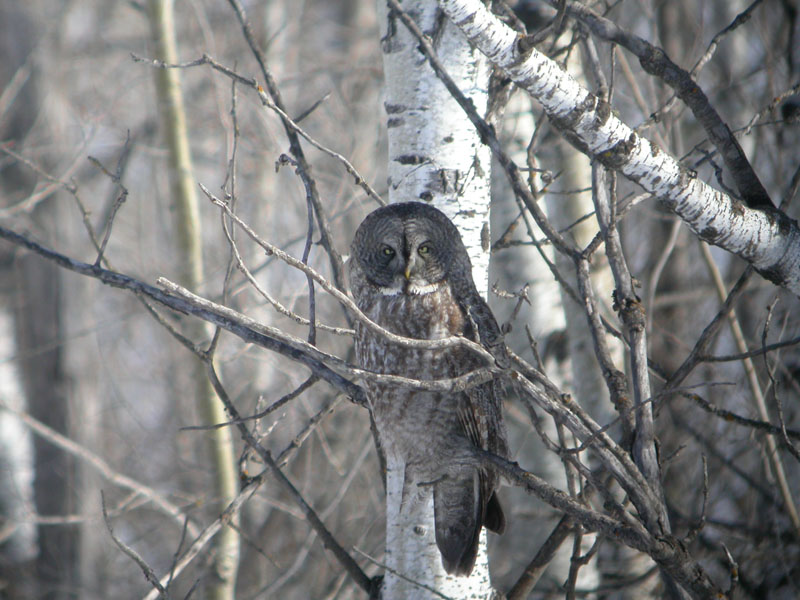 This was the second of eight Great Gray Owls that we had an opportunity to observe on 5 February 2005 (we had ten total for the trip). This particular owl was along County Road 7 in the Sax-Zim Bog.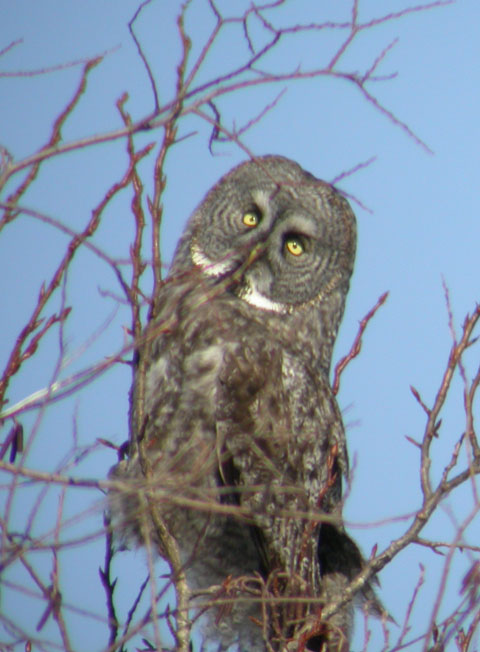 We left the Sax-Zim area to go over to Aitkin County to look for more owls. Along the way (before we left St. Louis County), we found this Great Gray Owl perched in a tree right next to the road. I was able to get this shot through my binoculars using a Nikon Coolpix 4500.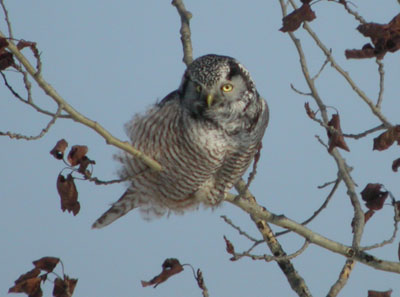 This was one of the 15 Northern Hawk Owls that we found on 5 February 2005. It, too, was along CR 7 in the Sax-Zim Bog.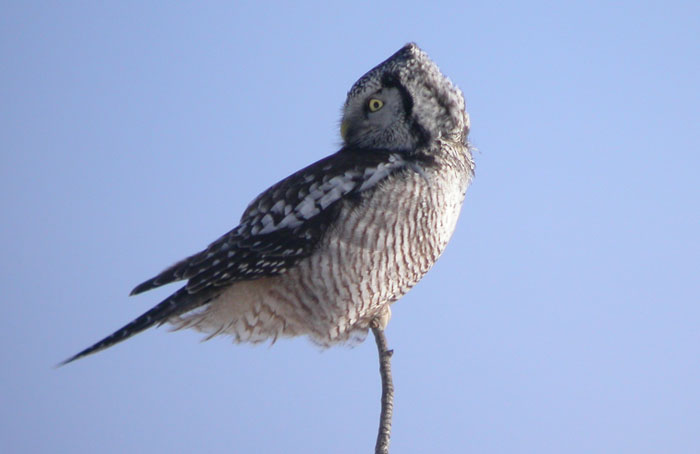 This is the same bird, but on a different perch.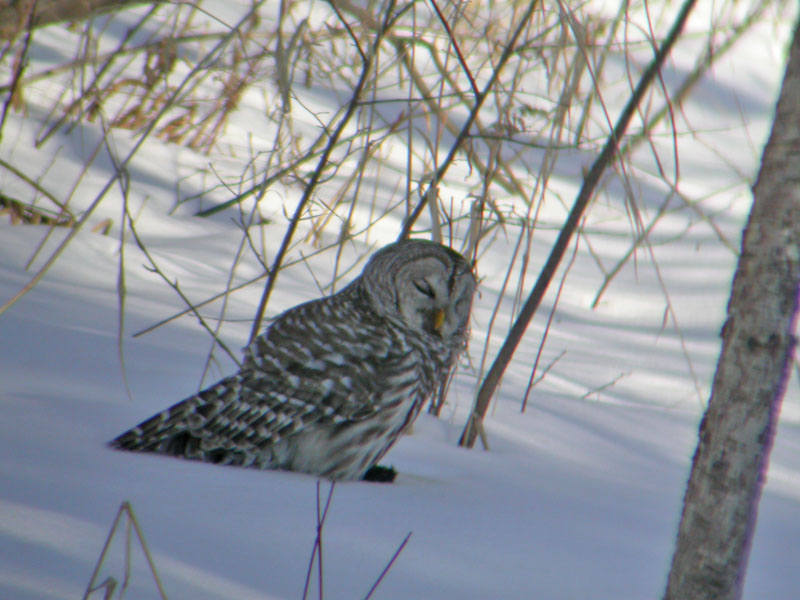 While on our way from Sax-Zim to Aitkin County, Wes spotted this Barred Owl along side the road. The bird had killed some kind of rodent and was trying to eat it. We watched spellbound as the owl tried unsuccessfully to swallow the rodent whole. The bird finally gave up, and had to eat its prey piecemeal.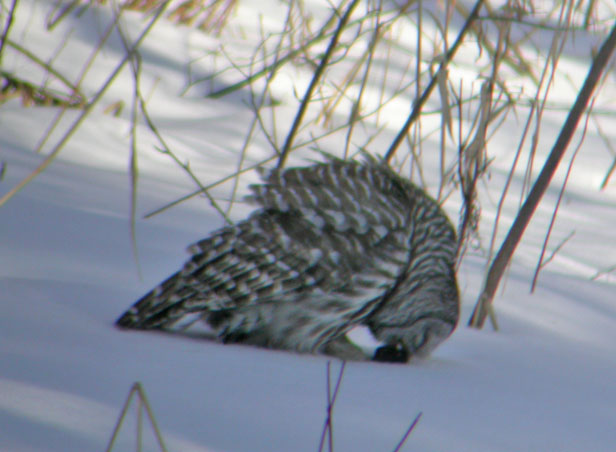 Here the Barred Owl is leaning forward to pull some flesh from the critter it had captured.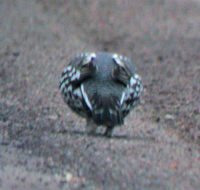 An early morning foray up CR 2 in Lake County enabled us to see this male Spruce Grouse. While we were birding at the White Pines Wayside, who pulls up but Mike Hendrickson and the group that he was leading from Sarasota, Florida (Jean Dubi, Tina Mossbargar and Jeff Palmer). Mike is a birding guide based in the Duluth area and an all-around great guy. If you want to hire a guide for the Duluth area, I highly recommend Mike (click on his name above for details). My friend Tom Kelly hired him a few weeks back. Tom saw a Boreal Owl when he visited Duluth. I didn't. Anyway, Mike told us that if he located any grouse up the road he would wait for us to catch up. Sure enough, as we headed on northward (after taking a look at a moose meandering across a field), there he was, with his group's car, and the car of Warren Regalmann of Minnesota (who had initially spotted this grouse), blocking traffic and sheltering the bird so that everyone could get a good look. The dim, early morning light and the bird's constant movement didn't make for the best photographic opportunity. Here he's showing us what really isn't his better side.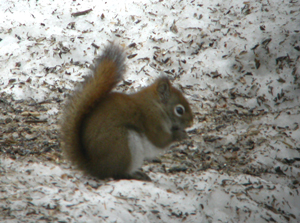 Wes Serafin took the lion's share of the pictures after that. I tried my hand with this little Red Squirrel at the feeders at Grouse Lake, but opted to study redpolls through the scope instead of playing photographer at the remainder of our stops.
Here is a trip list, in pdf-format, showing what birds we saw and how many.
For some notes on where we saw northern owls, for notes on the southernmost areas in Wisconsin that we had Common Ravens, and for our travel routes, see the notes and routes page.
A few years ago I vowed I would go up to Duluth every winter until I visited there during an owl invasion year. This was that year. Having been there when there were lots of owls, it will be hard not to go back next year.
---
This page was last updated on 11 February 2005.
Contact Geoff Williamson with any comments, updates or suggestions.
---