---
Caspian Tern
Hydroprogne caspia
Breeding colony
near mouth of Chicago River, Chicago
Cook County, IL
18 June 2011
---
In the summer of 2009, Steve Huggins discovered that Caspian Terns were nesting on top of a building near the mouth of the Chicago River at Lake Michigan in Chicago. These were the first nests of the species known to have occurred in Illinois (see Meadowlark, vol. 19, no. 1, p. 12).
I checked on the colony on 18 June 2011 to see how things were going for the terns. I counted 625 adults, 129 downy young, and also saw two eggs. These numbers compare to the peak of 230 adults noted in 2009.
Here are a few grainy, digiscoped shots I took of many of the terns with a few of the young.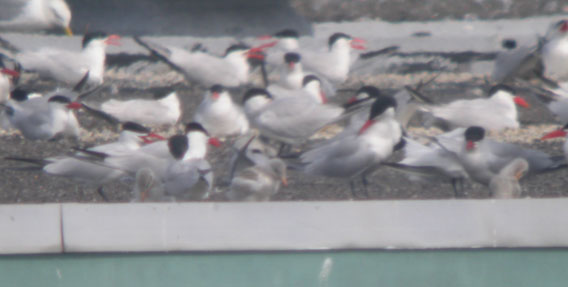 I was pretty far away (you can't get close to the building where the terns nest), there was a lot of heat shimmer, and a modest wind was causing a bit of a jiggle in my tripod. Still, you can see the happy families.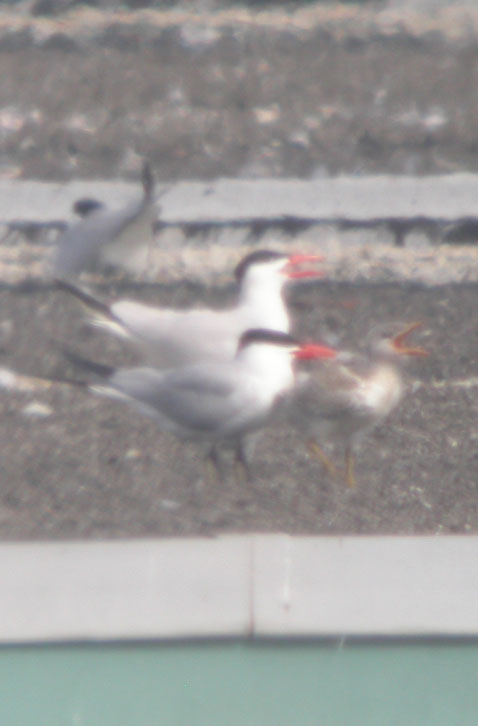 These cute little guys will eventually be flying around following their parents and squawking for food.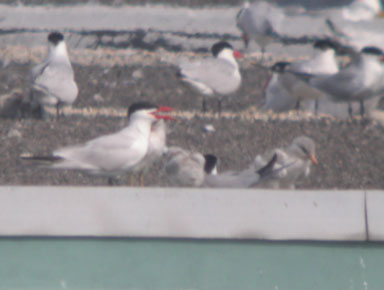 ---
This page was last updated on 21 June 2011.
Contact Geoff Williamson with any comments, updates or suggestions.
---