---
Christine and Geoff Williamson led a set of bird and nature hikes at Montrose Point in Chicago's Lincoln Park. The weather was quite comfortable, if a little cloudy, and fall migration of birds was in full swing. We saw 55 species of birds, five species of butterflies, four species of damselflies and dragonflies, and two species of mammals (other than human beings and dogs). The full species lists appear at the bottom of this page.
At the start of the walk, we looked for what was present on the beach and the beach dunes. Close to the breakwater at the east end of the beach we found this juvenile Black-crowned Night-Heron.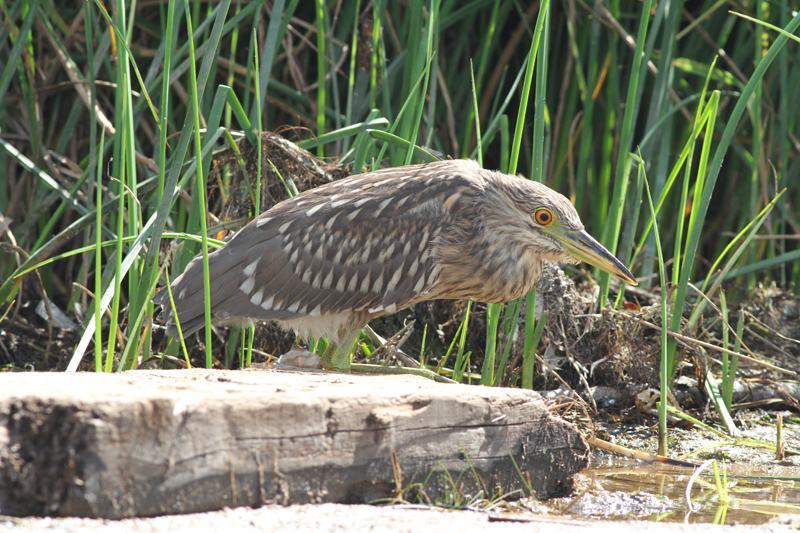 Black-crowned Night-Heron
photo by Geoff Williamson
On the breakwater itself was a Black-bellied Plover. This bird, like the night-heron, is also a juvenile (born earlier this year and in its first set of feathers).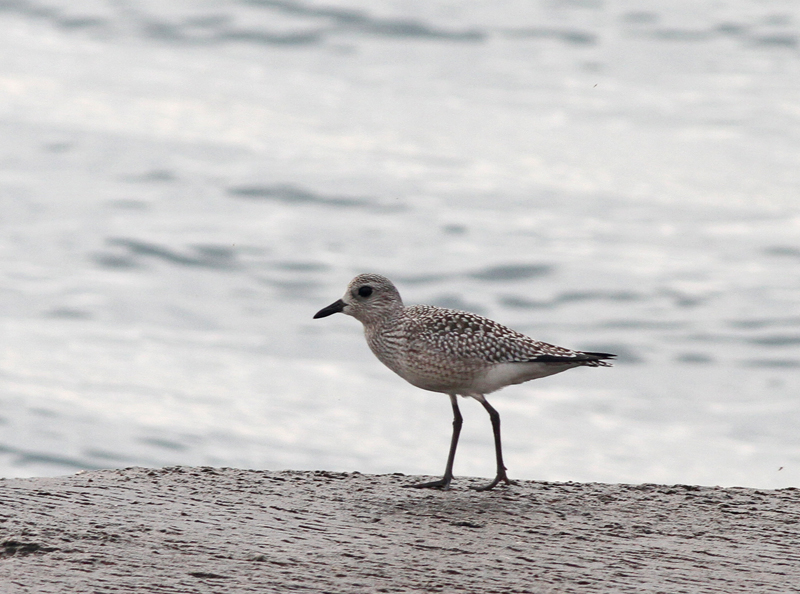 Black-bellied Plover
photo by Geoff Williamson
A different kind plover that we saw was this Semipalmated Plover.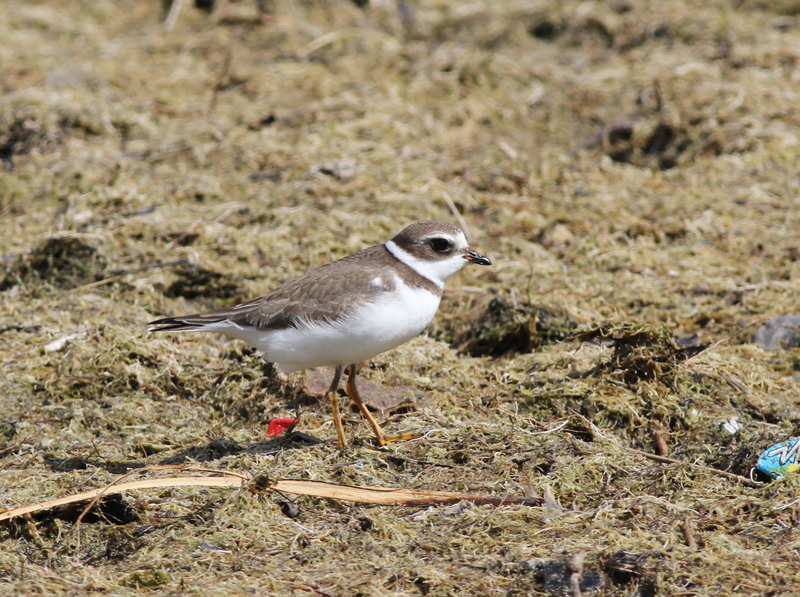 Semipalmated Plover
photo by Geoff Williamson
The Wilson Avenue Crib, an old water intake structure located two miles off shore, had a number of Double-crested Cormorants perched on it. To see the cormorants, we had to look through a telescope.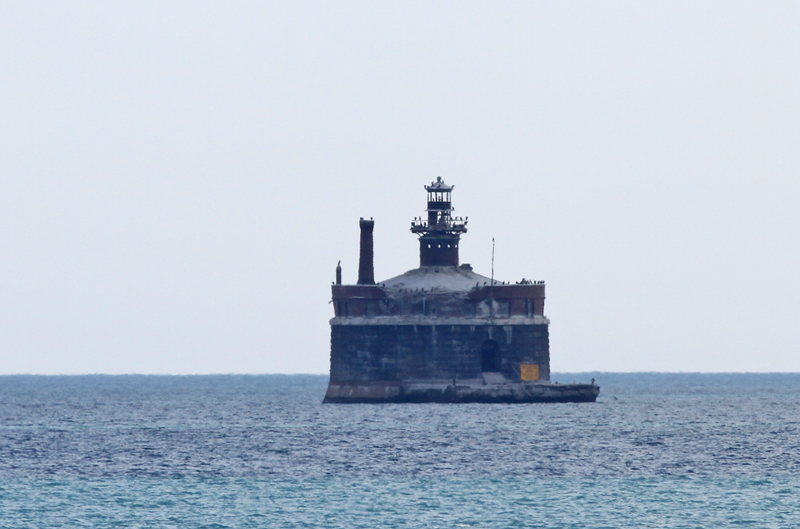 Wilson Avenue Crib
photo by Geoff Williamson
In Montrose Point Bird Sanctuary we had some up-close views of American Goldfinches. Some were perched on the path in front of us or along the rope fencing on the sides of the path. This is a young bird with duller plumage.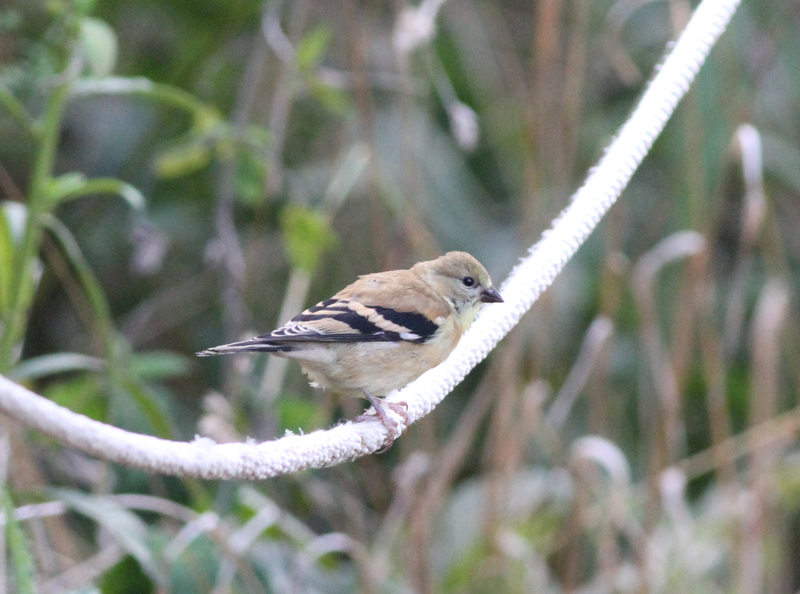 American Goldfinch
photo by Geoff Williamson
On one of the nature walks this Red-headed Woodpecker flew in and perched momentarily at the top of a tree before continuing on its southward journey.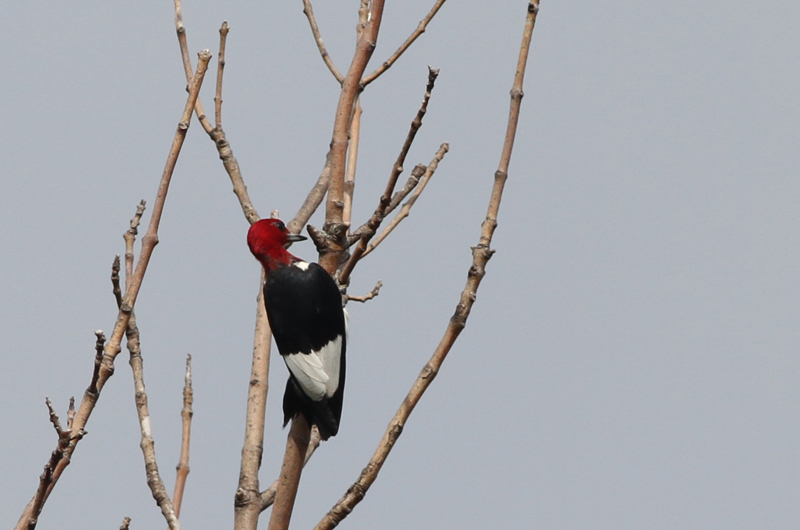 Red-headed Woodpecker
photo by Geoff Williamson
The largest of the butterflies we saw was this Black Swallowtail.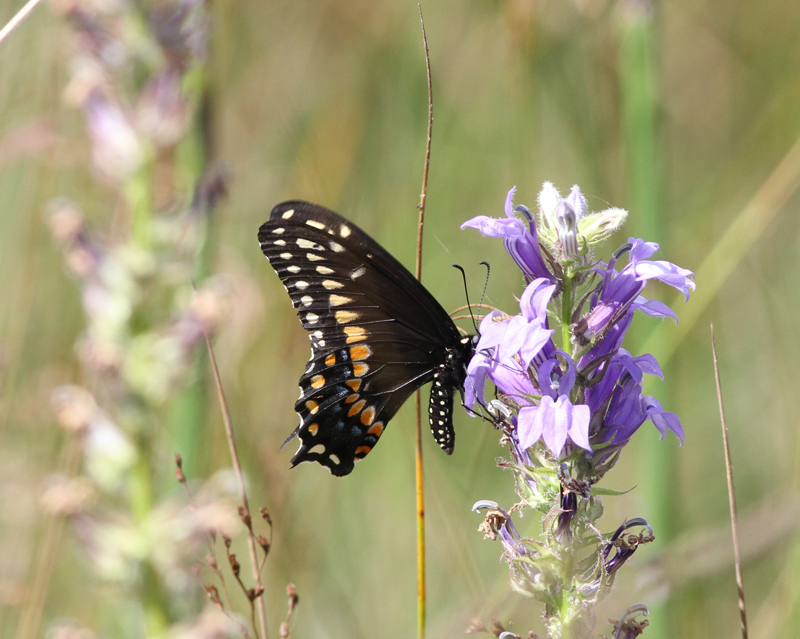 Black Swallowtail
photo by Geoff Williamson
This Common Buckeye was in the beach dunes. Some people also found a caterpillar of this species in the dunes.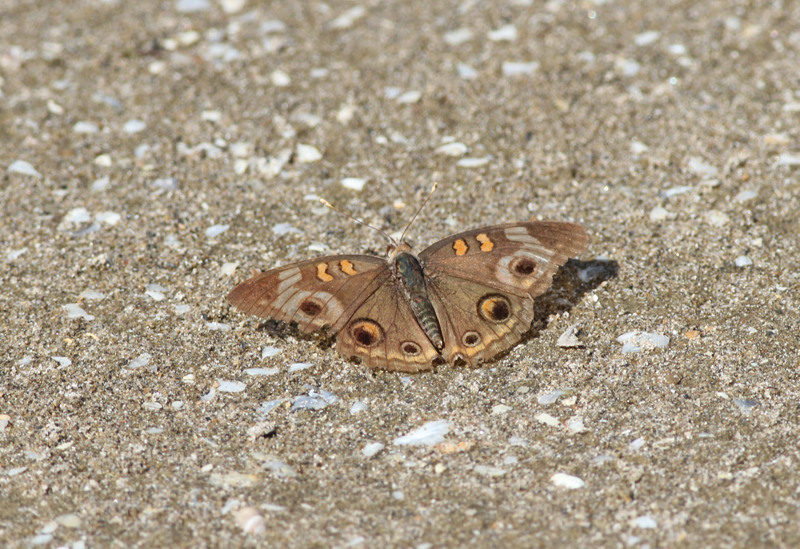 Common Buckeye
photo by Geoff Williamson
This is a female Twelve-spotted Skimmer dragonfly. It looks quite similar to the female Common Whitetail, except that it has a continuous yellow stripe down the sides of its abdomen, rather than the broken line of the whitetail.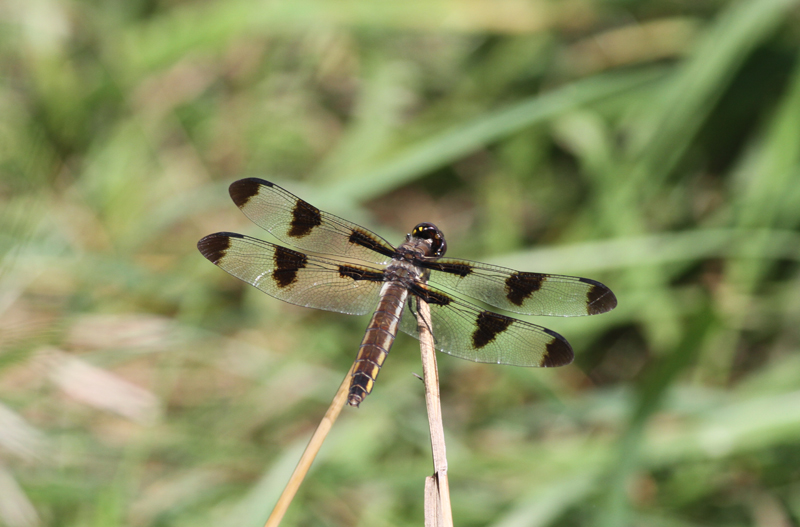 Twelve-spotted Skimmer
photo by Geoff Williamson
Below are lists of various animals that we observed.
---
List of birds species, with number observed. (Total # of species observed: 49.)
Canada Goose 53
Mallard 29

Double-crested Cormorant 159

Black-crowned Night-Heron 1

Cooper's Hawk

Black-bellied Plover 1
Semipalmated Plover 2

Sanderling 1
Spotted Sandpiper 1
Willet 1

Ring-billed Gull 235
Herring Gull 7

Mourning Dove 1

Chimney Swift 480

Red-headed Woodpecker 1
Yellow-bellied Sapsucker 1
Downy Woodpecker 3
Northern Flicker (yellow-shafted) 9

Eastern Wood-Pewee 1
Least Flycatcher 2
Eastern Kingbird 1

Blue Jay 3
American Crow 1

Black-capped Chickadee 4

Red-breasted Nuthatch 3
White-breasted Nuthatch 1

Sedge Wren 1

Swainson's Thrush 28
American Robin 5

Gray Catbird 2

European Starling 8

Cedar Waxwing 1

Ovenbird 1
Black-and-white Warbler 1
Tennessee Warbler 7
Nashville Warbler 2
American Redstart 3
Cape May Warbler 4
Magnolia Warbler 3
Bay-breasted Warbler 1
Chestnut-sided Warbler 3
Blackpoll Warbler 5
Black-throated Blue Warbler 1
Palm Warbler 32
Yellow-rumped Warbler 2
Black-throated Green Warbler 2
Wilson's Warbler 2

Nelson's Sparrow 2
White-throated Sparrow 8
Savannah Sparrow 7

Northern Cardinal 4

Bobolink 6

House Finch 1
American Goldfinch 8

House Sparrow 15
---
List of mammal species, with number observed. (Total # of species observed: 2.)
Eastern Chipmunk 8
Eastern Gray Squirrel 6
---
List of butterfly species, with number observed. (Total # of species observed: 2.)
Black Swallowtail 1

Cabbage White 3

Spring Azure 3

Common Buckeye 2

Monarch 3
---
List of dragonfly species, with number observed. (Total # of species observed: 1.)
Bluet sp. 6

Common Green Darner 2

Twelve-spotted Skimmer 1
Carolina/Red Saddlebags 1
---
Back to Geoff Williamson's Web Pages.
---
This page was last updated on 18 September 2016.
Contact Geoff Williamson with any comments, updates or suggestions.
---