---
Christine and Geoff Williamson led a nature walk in the area of the McCormick Bird Sanctuary, located in Chicago's Burnham Park just south of the McCormick Place convention center. Seventeen people participated in the outing.
The group gathered at 7:00 AM. After determining that the parking pay boxes at the site were out of order, and writing notes to that effect to leave on the dashboards of the cars, we set off into a rather spooky looking fog that had settled in along the lakefront. Visibility was limited, and the grass, shrubs, and vegetation were all damp with the fog. The temperature was at 76 degrees (Fahrenheit), and though there was a light wind out of the northeast it was barely perceptible on the ground.
Along the way we looked at a lot of butterflies, insects, spiders (and their webs), and plant life. Laurel Ross contributed her wealth of knowledge about the plants, and several others were helpful with various insects. We kept lists of various groups of creatures that we encountered. You'll find these at the end of this web page. All told, we had 25 bird species, one mammal species, 14 species of butterflies, and three species of damselflies and dragonflies.
This stretch of lakefront park has been undergoing habitat restoration for the past several years, which has already resulted in a greater diversity of plant life and its attendant wildlife.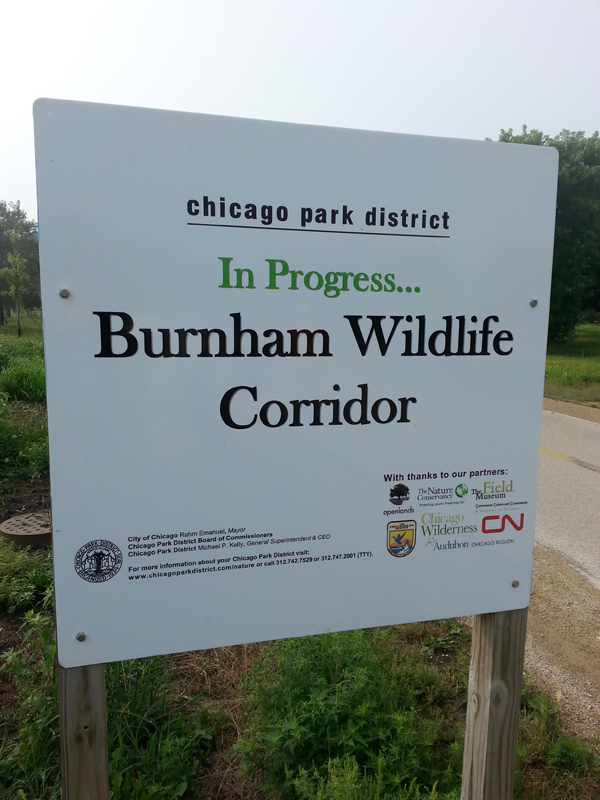 The fog had us a little concerned that we would not be able to see much. Yet there were plenty of wildflowers in bloom.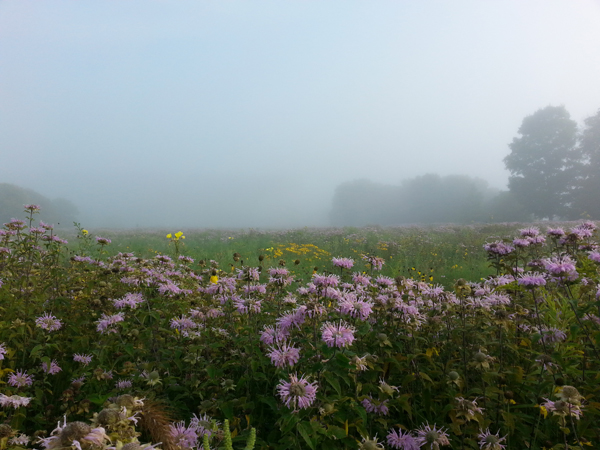 The moisture in the fog meant that thousands of spider webs were easy to see.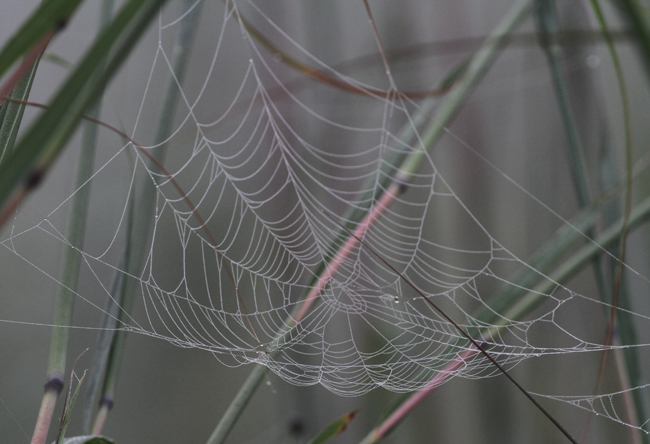 This web has the same design as the one above. Perhaps they were constructed by the same species of spider?
With the fog blocking the morning sun, butterflies were slow to get up. This Little Yellow butterfly was one of the first that we spotted.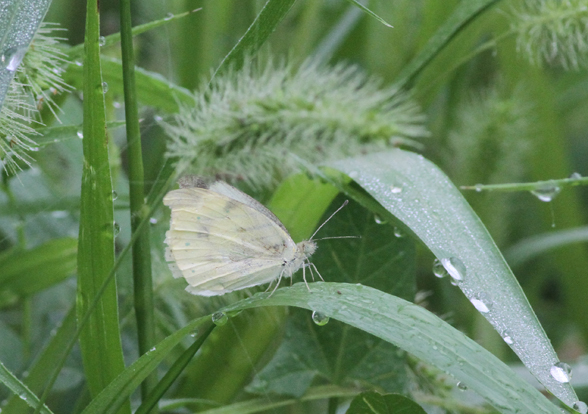 Also seen resting in the dewy grass was a Cabbage White butterfly.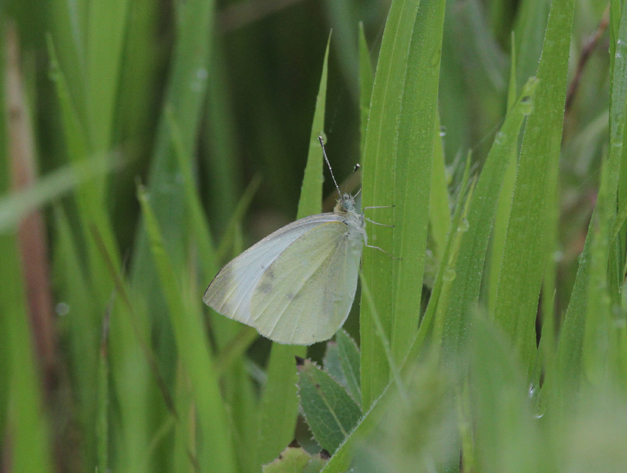 Dragonflies were sluggish as well, enabling us to take our time looking at them. This is a male White-faced Meadowhawk.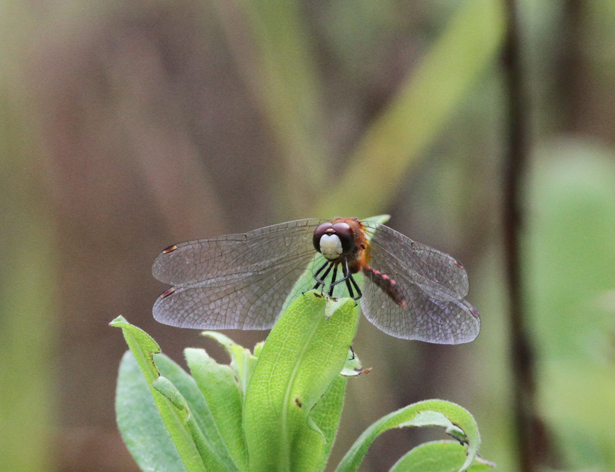 The White-faced Meadowhawk decided to use Christine's cap as a perch.
The fog appeared densest on Lake Michigan. This boat was heading back in to nearby Burnham Harbor. You wonder what the visibility was like further out on the lake.
Here is a cluster of mushrooms that we found early in the walk.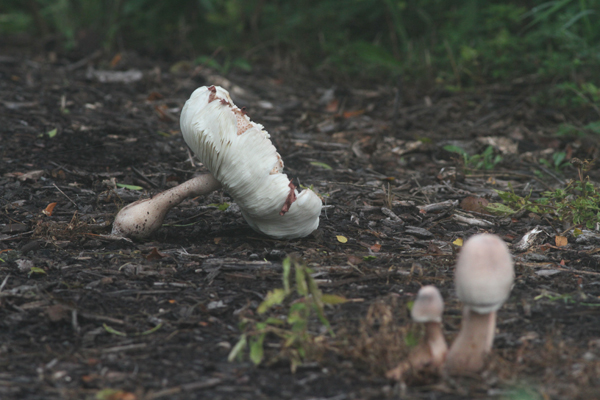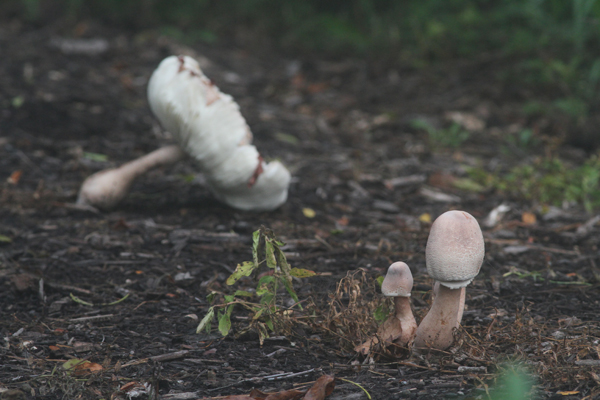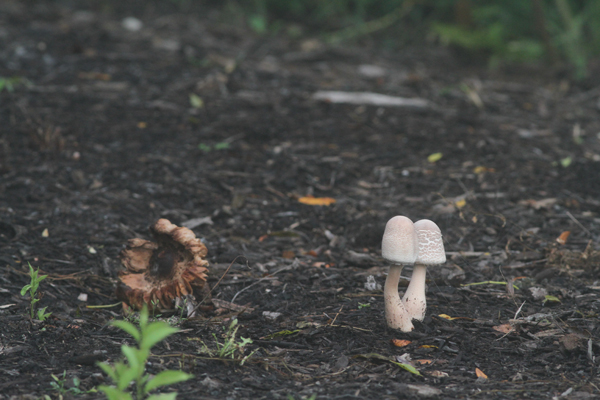 Finally, the day brightened a little, enough to get an assortment of butterflies to take wing. Here is a Black Swallowtail, feeding on Wild Bergamot (Monarda fistulosa), also called Bee Balm.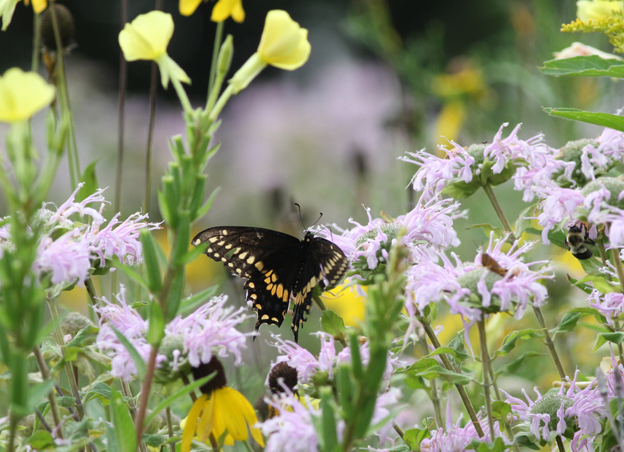 The Wild Bergamot was popular among the butterflies. Here is an Eastern Tiger Swallowtail, also feeding on that plant's flower.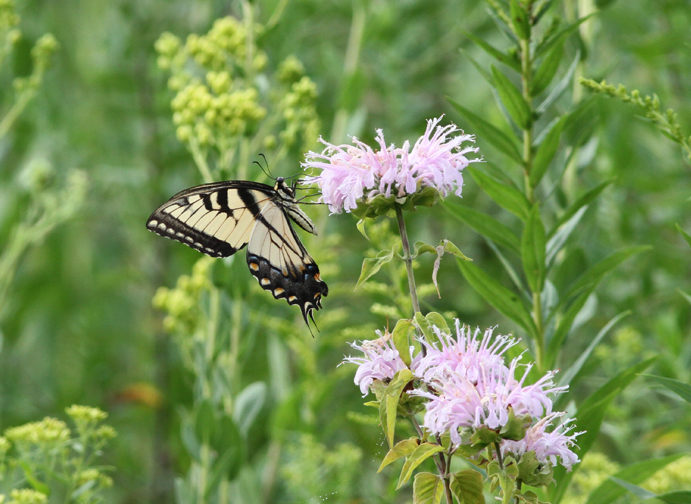 This Red-spotted Purple also enjoyed this abundant flower.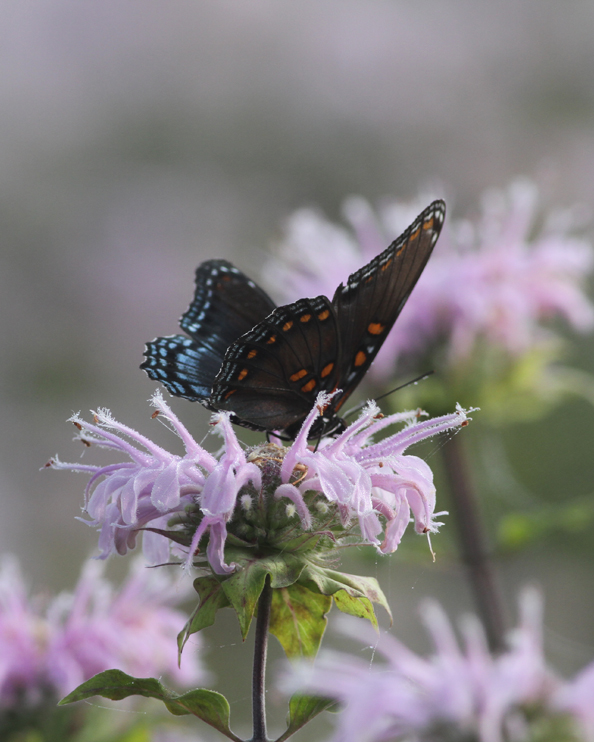 Also in good quantity in the prairie was Coreopsis, here with a Monarch at its flowers.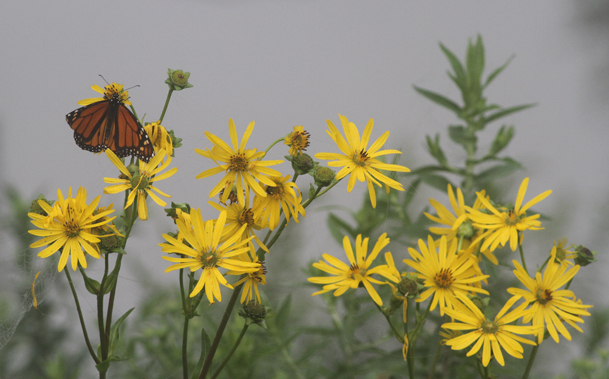 Black-eyed Susan is another of the flowers that is quite evident in this area.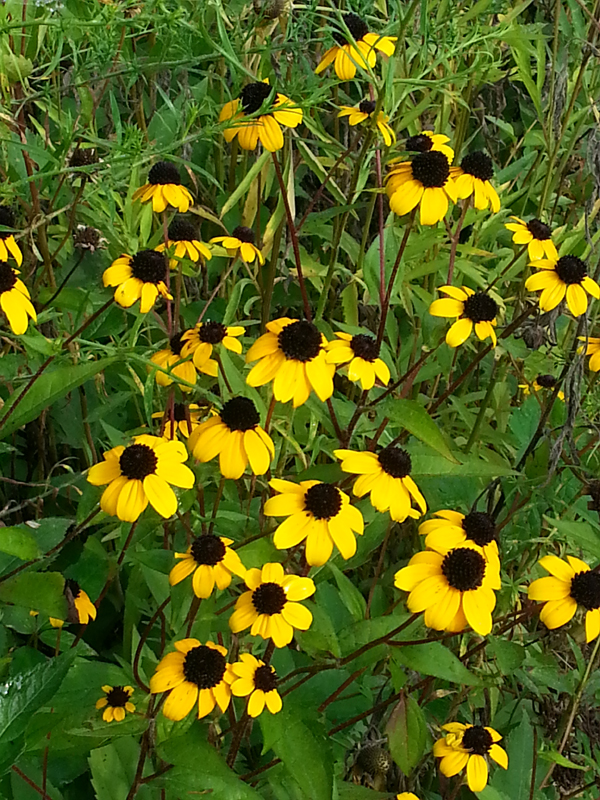 We had pretty good butterfly diversity. This is a Clouded Sulphur.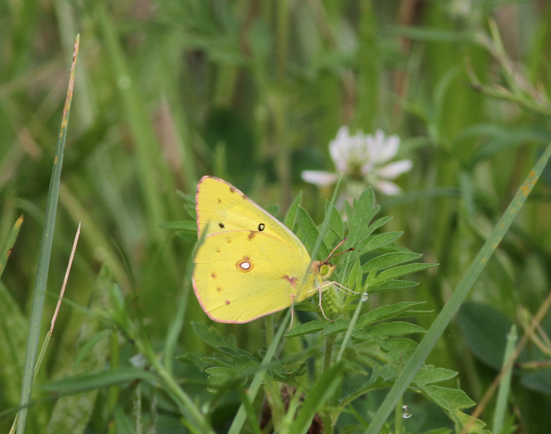 And this a Common Buckeye.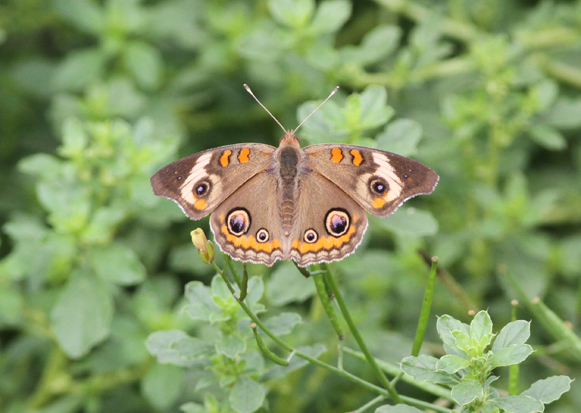 One of the smaller butterflies we saw was this Common Sootywing, a kind of skipper.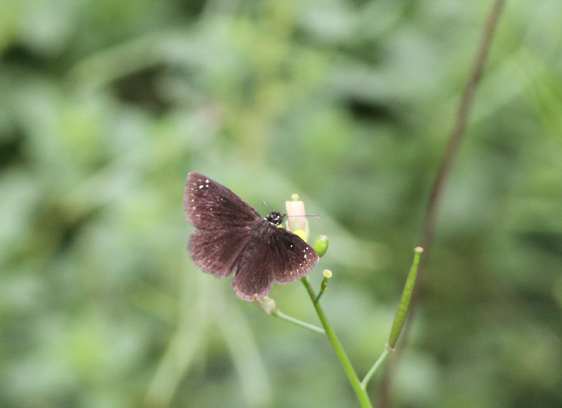 Some of our group had a good study of the underwing pattern of this Painted Lady. Notice that the hindwing below has a submarginal line of four medium-sized eyespots, distinguishing it from the similar-looking American Lady which has two large eyespots there.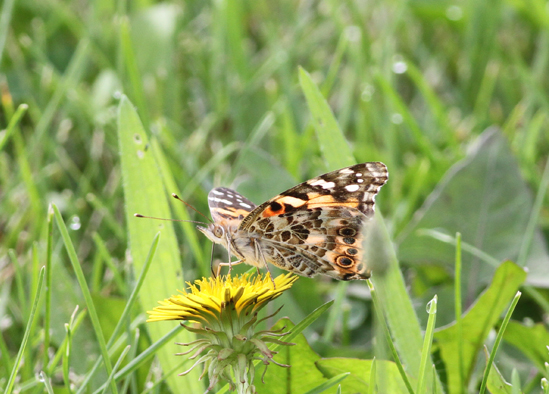 Another butterfly we saw was the Pearl Crescent.
Among the birdlife that we observed were several Double-crested Cormorants.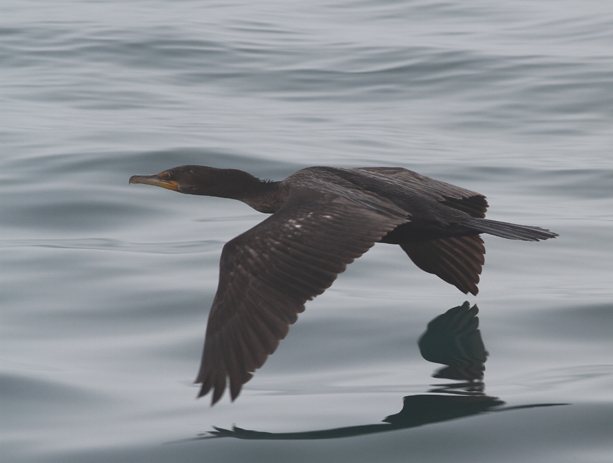 There were quite a few Song Sparrows, seemingly in family groups and probably birds that were summer residents.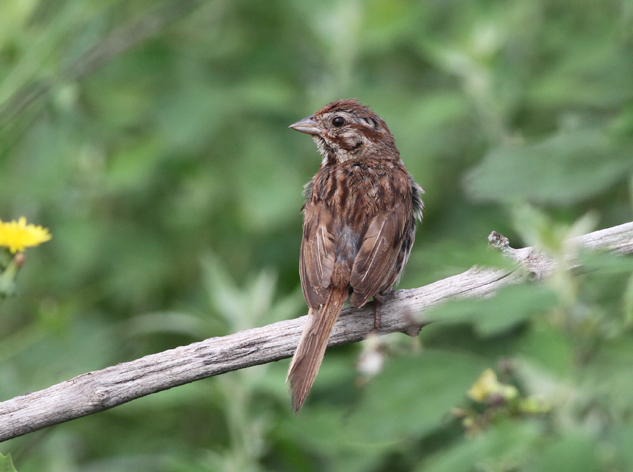 Savannah Sparrows were also present, favoring the more open, grassy areas. These sparrows also are resident at this site during the summer months. This bird flew up from the grasses to a nearby tree, from where it monitored our activities.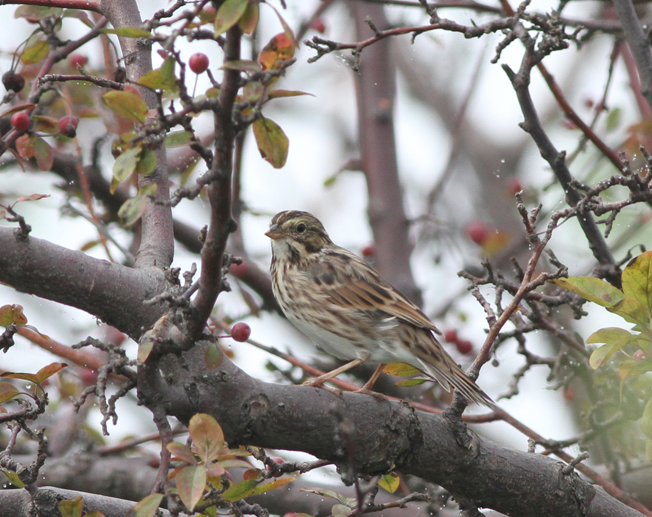 There was quite a lot of insect life to study. Here is the larva of a tiger moth.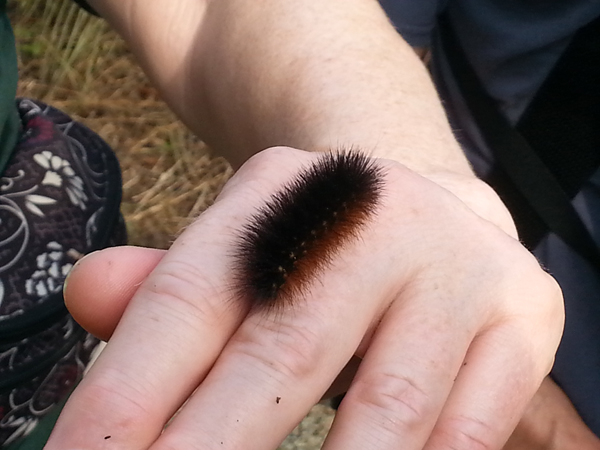 In addition to various milkweed bugs, we also saw Milkweed Longhorn Beetles (Tetropes tetrophthalmus). All of course present on milkweed plants.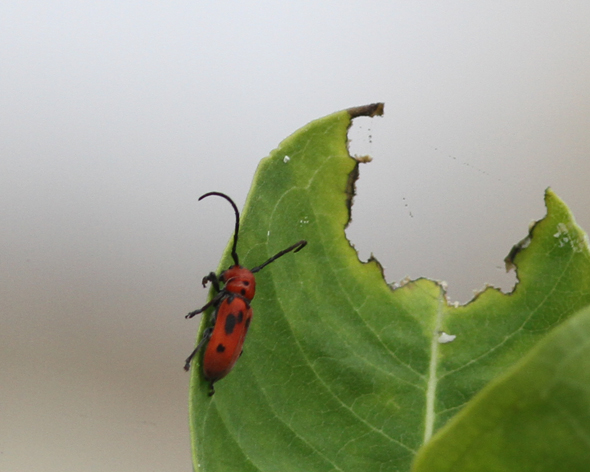 In the Milkweed Longhorn Beetle, the antenna base actually splits the eye. Note that the scienfic name Tetropes tetrophthalmus essentially means "four eyes" in both the genus and species.
The one species of damselfly that we noticed was Tule Bluet.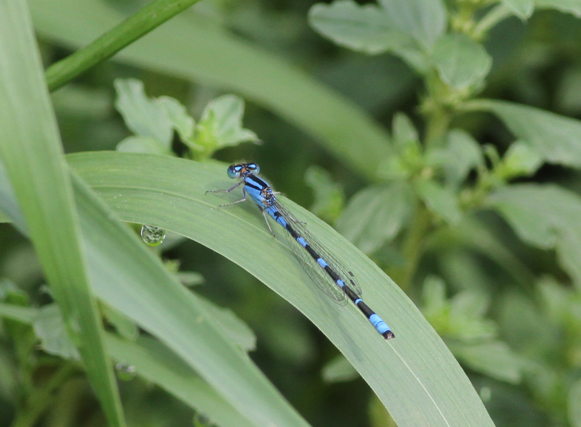 One nice aspect of an outing to the McCormick Place Bird Sanctuary is that right nearby is McCormick Place. Conveniently, there are restrooms located just inside the south entrance to McCormick Place's Lakeside Center.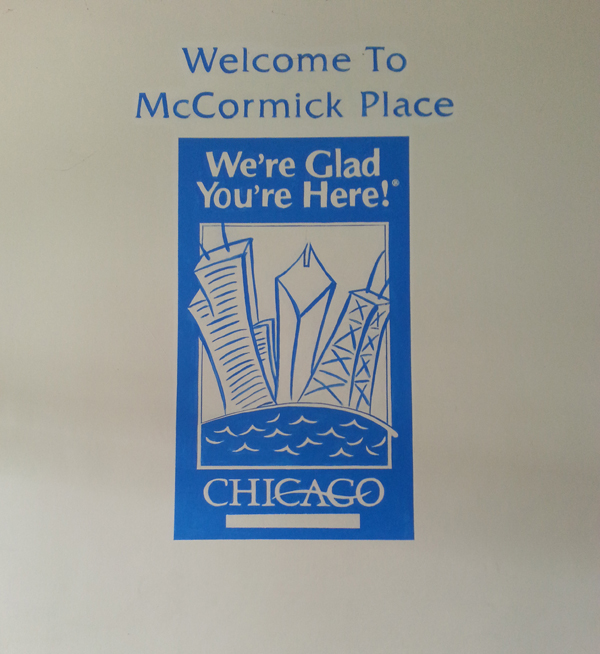 Also right by the nature sanctuary is the Fallen Firefighter and Paramedic Memorial Park, which honors Chicago Fire Department members who died in the line of duty. The park includes bronze sculptures of a fireman's bell, boots, and helmet by firefighter and paramedic John Alaniz. Here is the firemen's bell, surrounded by a flower garden.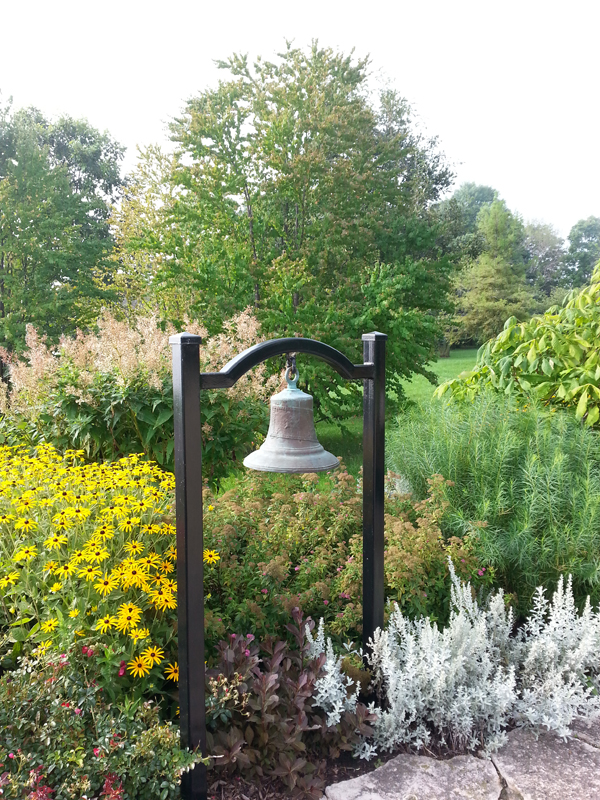 Though the day had brightened a little, it remained quite foggy at the edge of the lake, even at the end of our outing. These paddle boarders navigated Lake Michigan's water in the fog.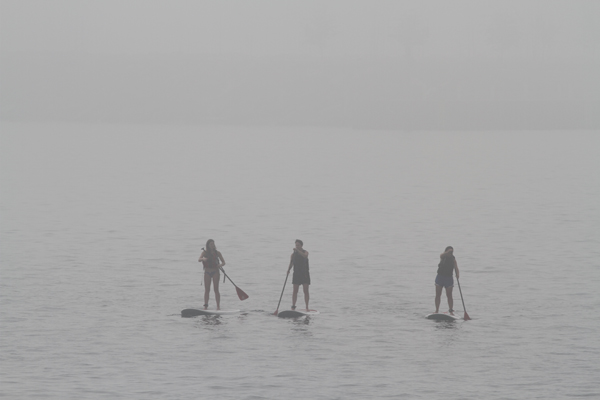 The grayness of it all made difficult the separation of water from sky as you looked lakeward.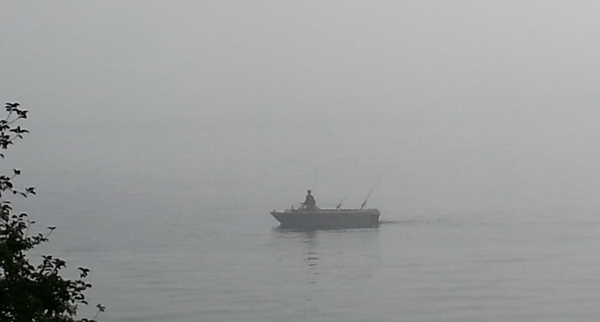 Now for the lists....
---
List of birds species, with number observed.
Canada Goose 22
Mallard 14

Double-crested Cormorant 3

Red-tailed Hawk 1

Ring-billed Gull 32
Caspian Tern 2

Downy Woodpecker 1

Least Flycatcher 1

Warbling Vireo 3

American Crow 5

Barn Swallow 6

Black-capped Chickadee 2

American Robin 4

Gray Catbird 1

European Starling 130

Cedar Waxwing 6

Blackburnian Warbler 2
Yellow Warbler 1

Savannah Sparrow 5
Song Sparrow 8

Indigo Bunting 4

Red-winged Blackbird 12
Baltimore Oriole 8

House Finch 3
American Goldfinch 6

---
List of mammal species, with number observed.
Eastern Cottontail 1
---
List of butterfly species, with number observed.
Black Swallowtail 3
Eastern Tiger Swallowtail 1

Cabbage White 33

Clouded Sulphur 3
Orange Sulphur 10
Cloudless Sulphur 1
Little Yellow 2

Pearl Crescent 3
Painted Lady 1
Common Buckeye 5

Red-spotted Purple 3

Monarch 14

Common Sootywing 2

Least Skipper 1
---
List of dragonfly species, with number observed.
Tule Bluet 4

White-faced Meadowhawk 5
Black Saddlebags 3
---
Back to Geoff Williamson's Web Pages.
---
This page was last updated on 24 August 2014.
Contact Geoff Williamson with any comments, updates or suggestions.
---