---
Christine and Geoff Williamson led a nature walk to Indiana Dunes State Park with 15 people participating. It wasn't too hot (temperature of 65 F), with calm winds and cloudy skies. After meeting at the nature center, we walked Trails #2 and #10 in the big loop circling the large marsh in the park. Most of the walk is within nice woodland habitat, occasionally getting into wetter areas. One of the nice aspects of this walk is that much of the avifauna has a bit of a southern feel to it, with species at the northern edge of their range. Some examples are Acadian Flycatcher, Hooded Warbler, and Prothonotary Warbler.
We kept lists of various groups of creatures that we encountered. You'll find these at the end of this web page. All told, we had 48 bird species, three mammal species, eight species of butterflies, three species of dragonflies, and one amphibian species. It is possible that I may have missed some species seen by one or more other members of the group. Hopefully there are not too many of those.
Right at the parking lot, we heard an Acadian Flycatcher singing. We were able to see a few of the 19 we encountered. Here is one that we passed toward the end of the walk.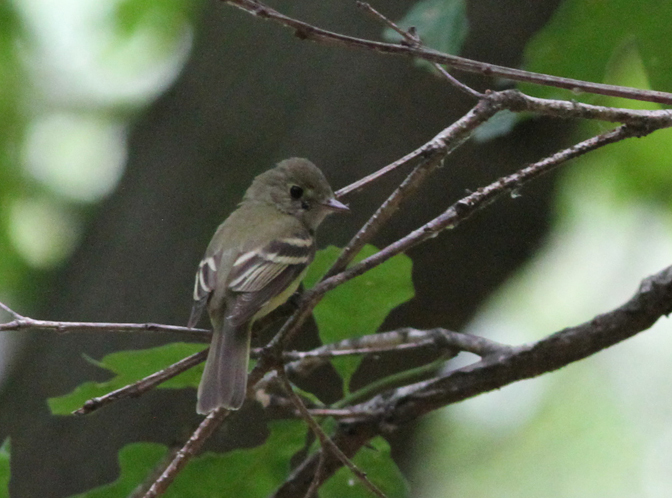 Slightly larger than the Acadian Flycatcher is the Eastern Wood-Pewee. It is also a member of the flycatcher family, the Tyrannidae.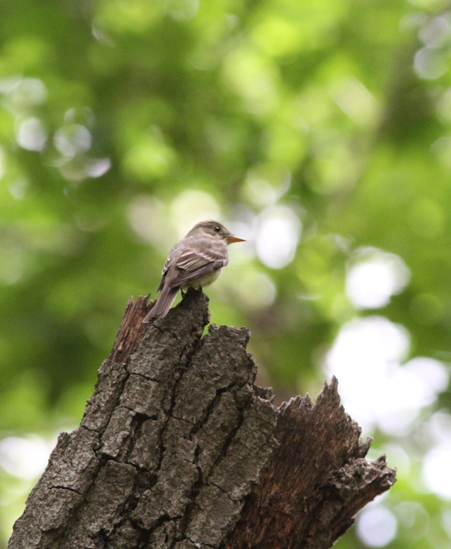 Another flycatcher species we saw was the Great Crested Flycatcher. Here is one foraging for insects among the foliage.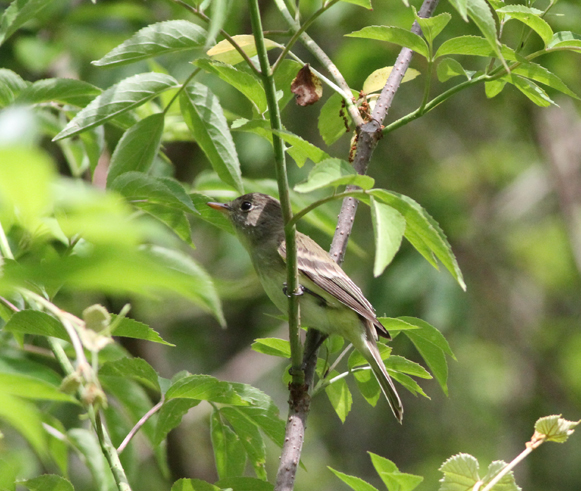 Perhaps because of the cooler weather, the butterfly diversity and the total number of butterflies were a little lower than we expected. One butterfly that posed nicely for us was this Northern Pearly-Eye.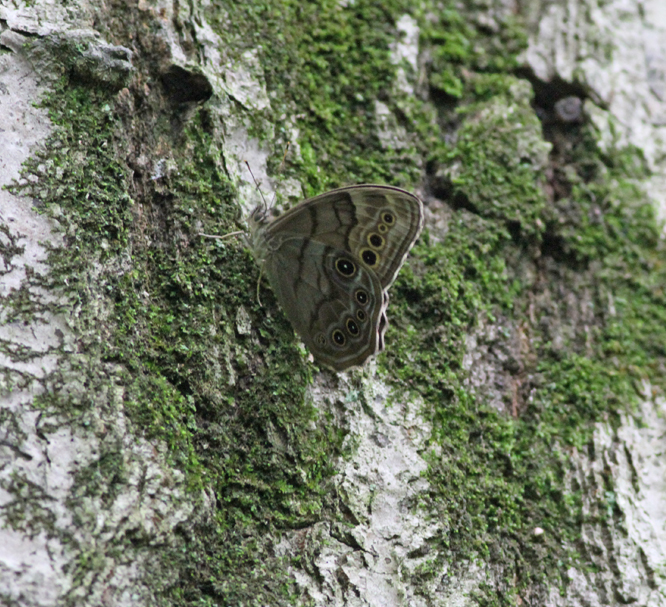 Blue Dasher dragonflies are quite common in many places, apparently also in the Indiana Dunes.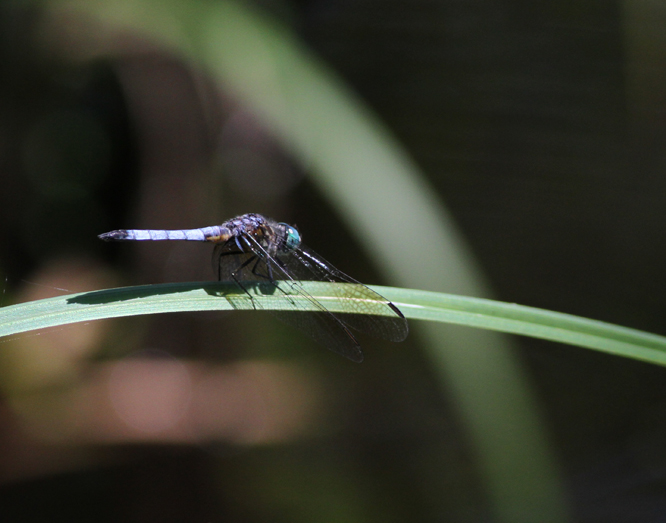 At the end of our walk, many of us picnicked at tables outside the nature center. A young Raccoon thought this was a good idea and also set up shop at a "table" of his own nearby.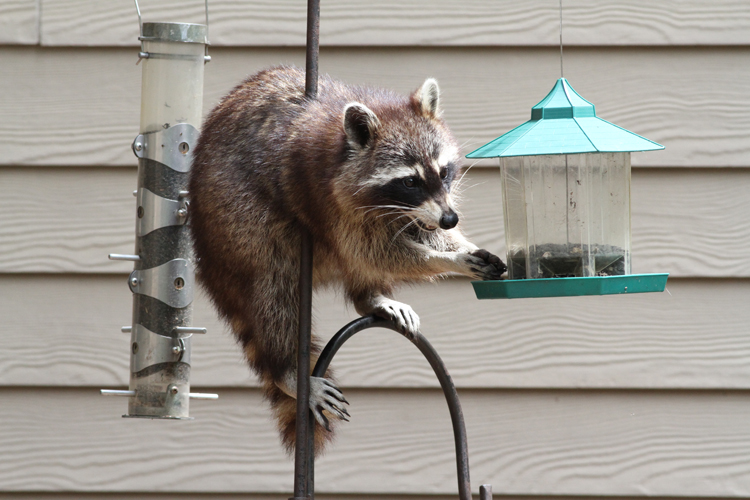 Deciduous forests in the eastern part of the United States are filled with Red-eyed Vireos during the breeding season, and these birds sing non-stop throughout the day. We encountered 24 of them as we walk the trails. Our best sighting was of one bird on its nest. Interestingly, the nest was less than four feet off the ground. According to Ehrlich, Dobkin, and Wheye in The Birder's Handbook (Simon and Schuster, 1988), the nests of this species are typically between five and 35 feet off the ground.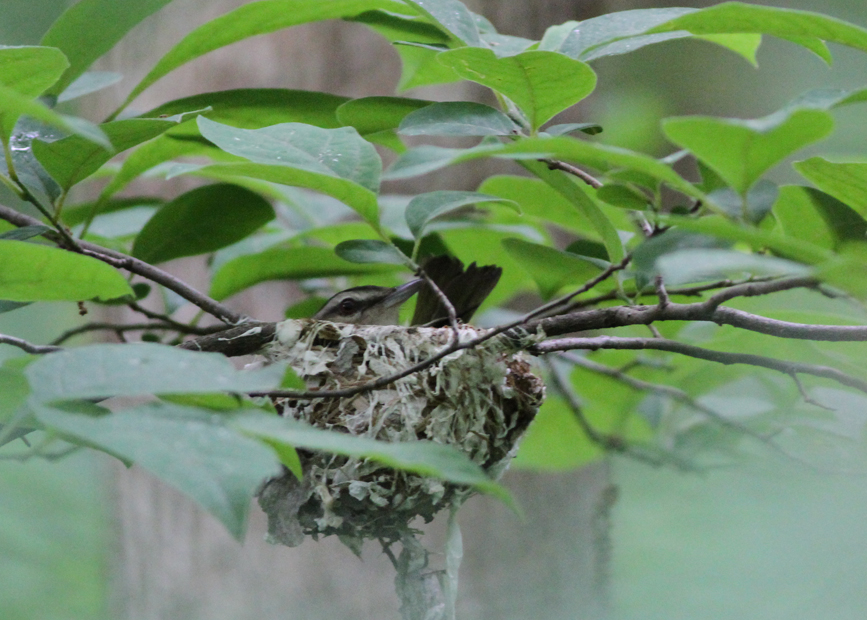 One of the other dragonfly species we observed was this gaudy Twelve-spotted Skimmer.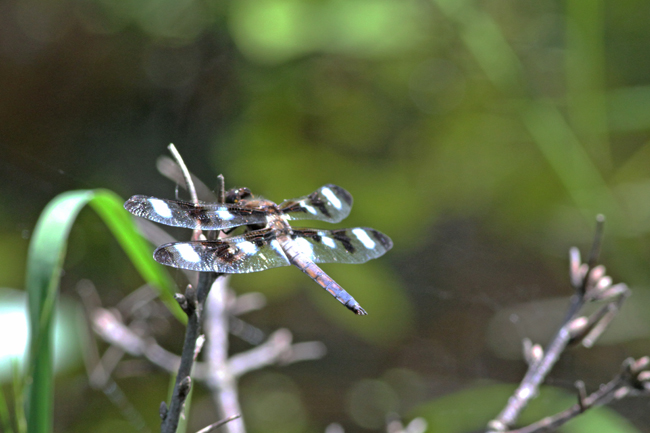 While crossing the path in front of part of our group, a White-tailed Deer fawn paused and looked back at us.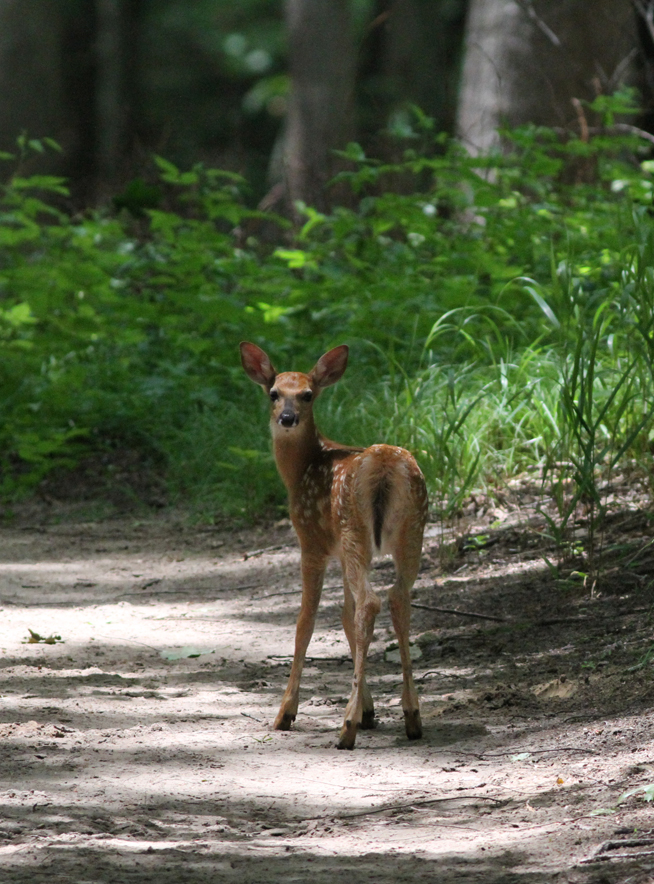 It wasn't long before the fawn decided the prudent course of action was to move on, quickly.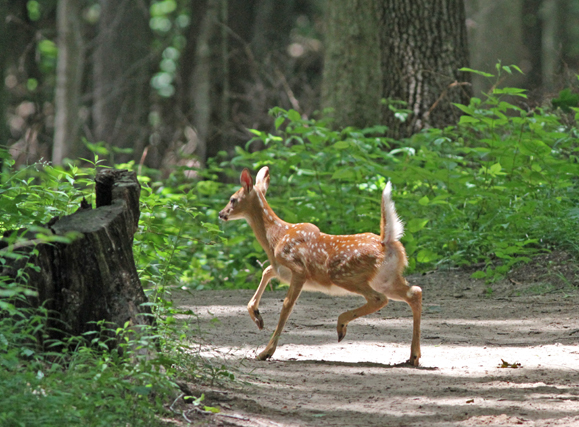 Blake Lenoir took time after the walk to sketch some of the wildlife.
photo by Linda Johnston
Here a Clouded Sulphur is feeding on a flower that shares its color, the Tickseed (a Coreopsis).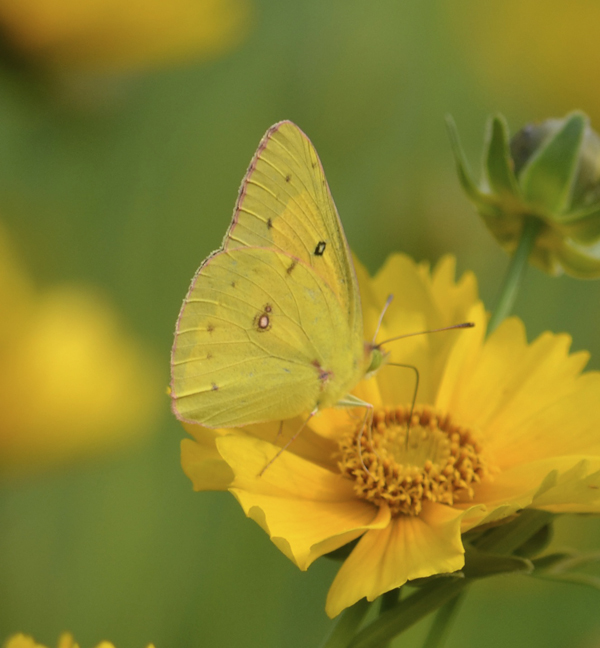 photo by Gary Mellman
Indiana Dunes State Park features mature, high-quality woodlands. For birders, this means much neck craning.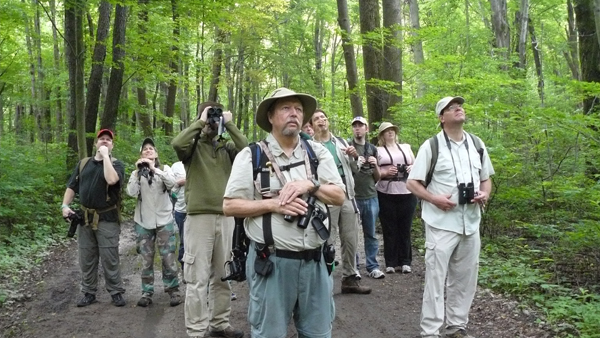 It takes a little work to communicate exactly which tree the bird is in. Sometimes a laser pointer is helpful to do this.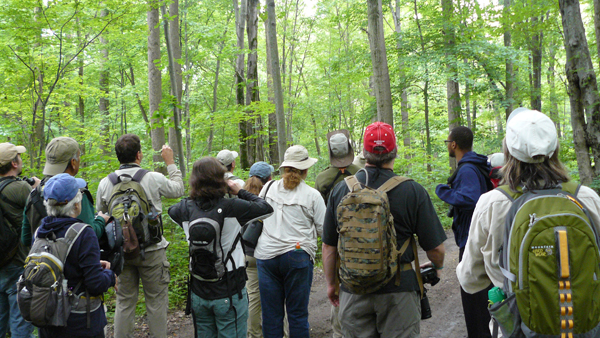 The boardwalk over the wetland at the far end of the trail turned out to be a boardwalk IN the wetland at the far end of the trail. In many stretches, the wood was floating on the water, and walking along the boardwalk meant standing in a good six inches of water in places. So, we had ourselves a real outdoor experience and got our feet wet.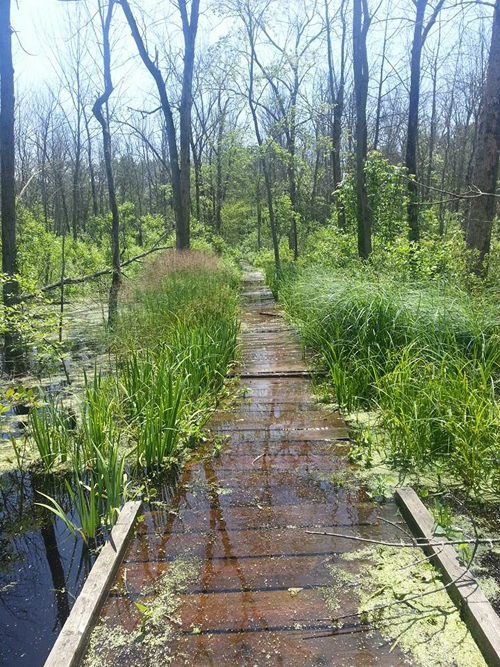 photo by Fernando Castro
This stretch of the trail is quite beautiful, even if you have to dodge a few spots with missing boards as you walk through it.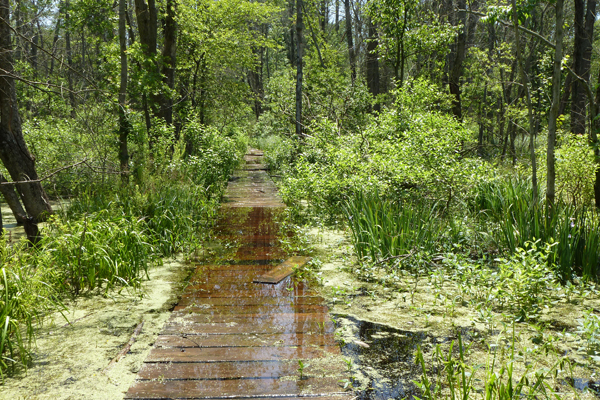 photo by Linda Johnston
The boardwalk area makes for good opportunities to get close to the animals that live in the water. Here is one of the Green Frogs we saw.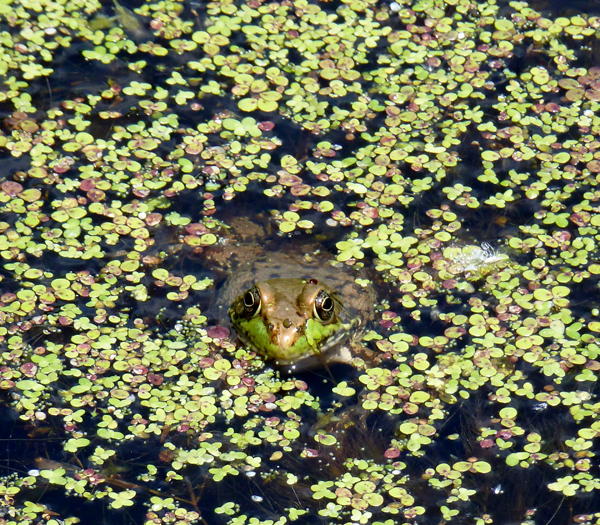 photo by Linda Johnston
One of the highlight bird species of the morning was the spectacular Prothonotary Warbler.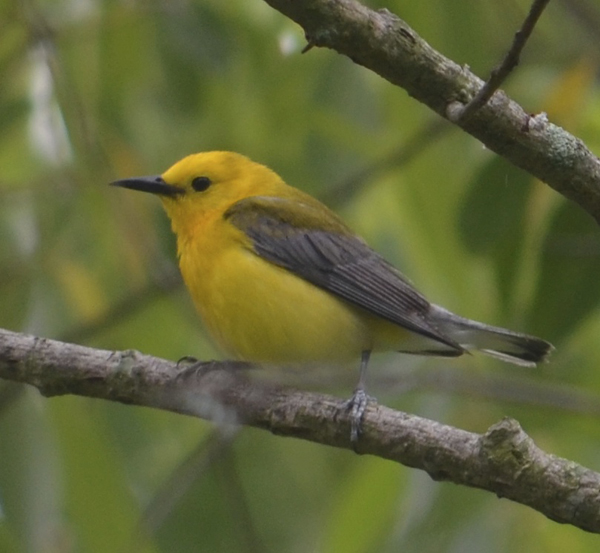 photo by Gary Mellman
Now for the lists....
---
List of birds species, with number observed.
Turkey Vulture 1

Ring-billed Gull 32

Mourning Dove 1

Yellow-billed Cuckoo 1

Chimney Swift 3

Ruby-throated Hummingbird 5

Red-headed Woodpecker 2
Red-bellied Woodpecker 7
Downy Woodpecker 6
Hairy Woodpecker 2
Northern Flicker (Yellow-shafted) 1
Pileated Woodpecker 2

Eastern Wood-Pewee 13
Acadian Flycatcher 19
Willow Flycatcher 1
Great Crested Flycatcher 5

Yellow-throated Vireo 8
Red-eyed Vireo 24

Blue Jay 4
American Crow 6

Black-capped Chickadee 2
Tufted Titmouse 10

White-breasted Nuthatch 9

House Wren 2

Blue-gray Gnatcatcher 18

Veery 6
American Robin 17

Gray Catbird 12

Cedar Waxwing 10

Ovenbird 3
Louisiana Waterthrush 1
Prothonotary Warbler 3
Common Yellowthroat 10
Hooded Warbler 2
American Redstart 30
Cerulean Warbler 8
Yellow Warbler 11

Eastern Towhee 4
Chipping Sparrow 4
Song Sparrow 3

Summer Tanager 1
Scarlet Tanager 4
Northern Cardinal 10
Rose-breasted Grosbeak 1

Red-winged Blackbird 10
Common Grackle 3
Brown-headed Cowbird 8

American Goldfinch 5

---
List of mammal species, with number observed.
Raccoon 1

Eastern Chipmunk 6

White-tailed Deer 3
---
List of butterfly species, with number observed.
Black Swallowtail 1
Eastern Tiger Swallowtail 1

Cabbage White 2

Clouded Sulphur 1

Question Mark 1
Mourning Cloak 2

Northern Pearly-Eye 3

Least Skipper 1
---
List of dragonfly species, with number observed.
Common Whitetail 2
Twelve-spotted Skimmer 18
Blue Dasher 24
---
List of amphibian species, with number observed.
Green Frog 6
---
Back to Geoff Williamson's Web Pages.
---
This page was last updated on 13 July 2014.
Contact Geoff Williamson with any comments, updates or suggestions.
---