---
Chris and Geoff Williamson led a nature walk to La Bagh Woods Forest Preserve along the Chicago River near where the Edens Expressway crosses Foster Avenue. The outing was sponsored by the Chicago Ornithological Society and the Chicago Group of the Sierra Club. The weather was a nice 64 degrees Fahrenheit, with east winds at 5 mph and cloudy skies. Toward the end of the outing some rain showers moved in and we were sprinkled on.
When all was said an done, we had observed 34 species of birds, three species of mammals (aside from human beings and domestic dogs), one amphibian species, and one damselfly. Lists of those species along with the number observed are provided at the end of this report.
Among the woodpeckers that we saw was this Red-bellied Woodpecker.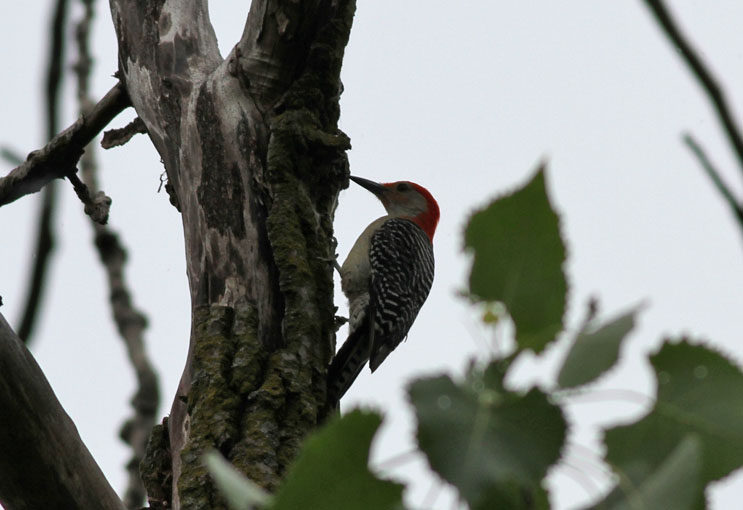 Many of the birds present in the woods were way up at the tops of the trees. We found ourselves constantly looking up.
One of the treetop birds was this Red-eyed Vireo. He was singing continuously from a perch, but nonetheless was difficult to locate. Fortunately, he moved out into the open and sat there for a while, enabling most of the group to get a look at him..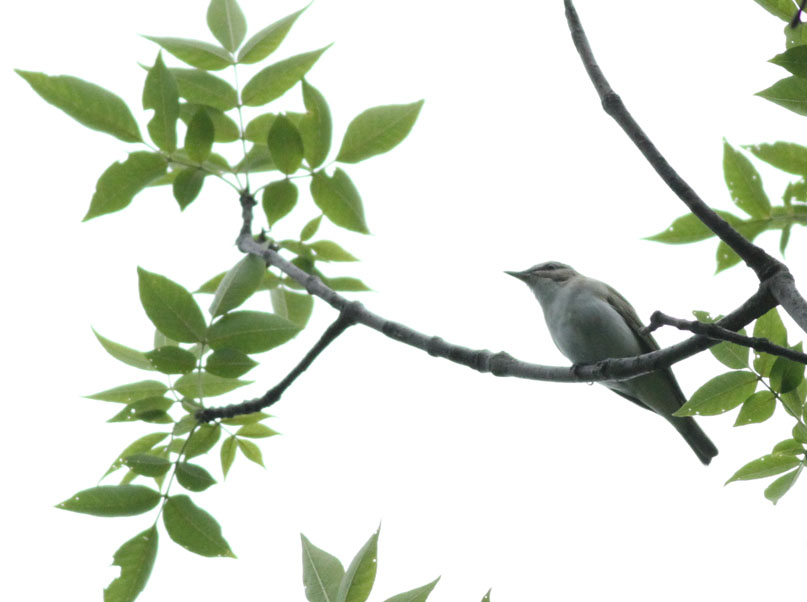 Even more fortunate was having Jenny Vogt and Mary Bernat spot this Red-eyed Vireo at eye level, foraging near the Chicago River. Maybe it was the rain shower that brought him close to the ground, but it was a real treat to see this guy without having to crane one's neck and stare 60 feet up in a tree.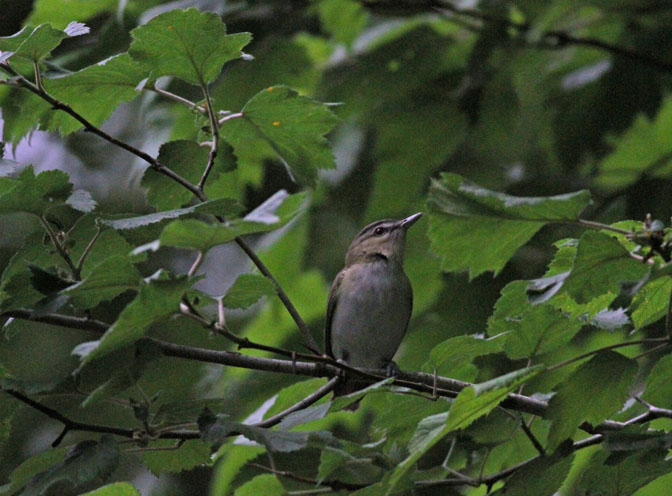 Here is our group in the middle of La Bagh Woods. Despite the presence of biting mosquitoes, there were a lot of happy faces.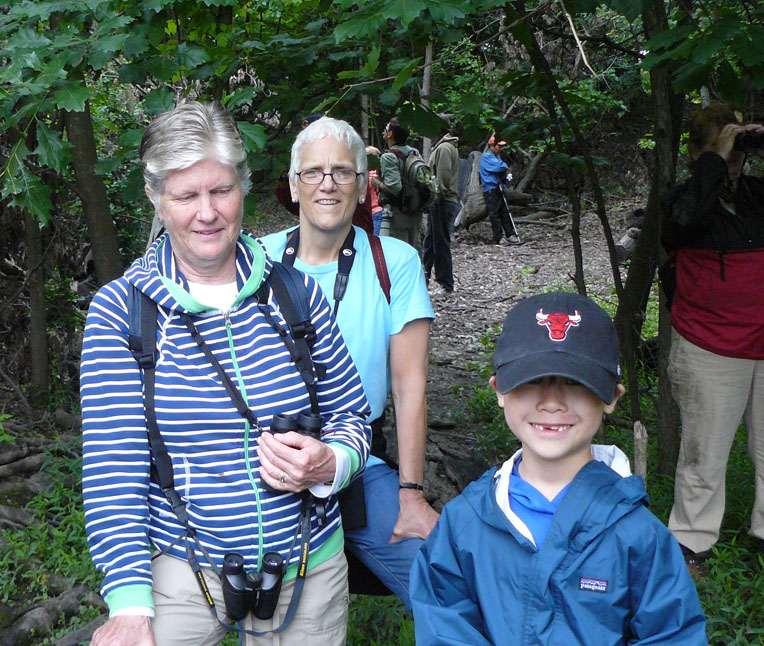 A central feature of La Bagh Woods is the wooded swamp in its middle. We saw a mother Wood Duck and her three ducklings swim across this large patch of water.
We also found an Ebony Jewelwing, a kind of damselfly. (Please accept the photographer's apology for not properly setting the exposure when this image was taken. It would be nicer to have not so grainy an image.)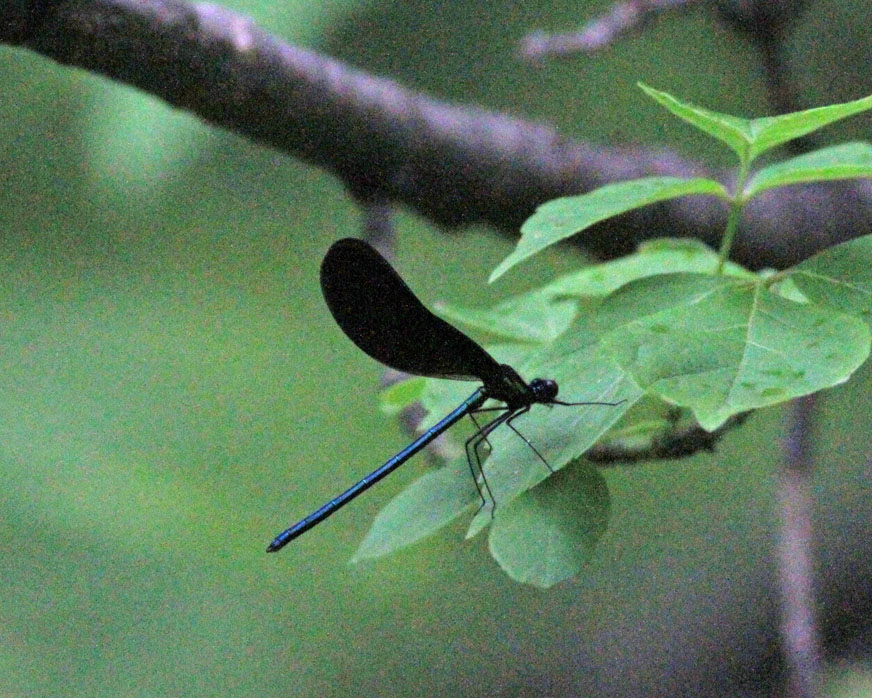 Toward the end of the walk, we found this House Wren along the old railroad bed that slices through the middle of the preserve..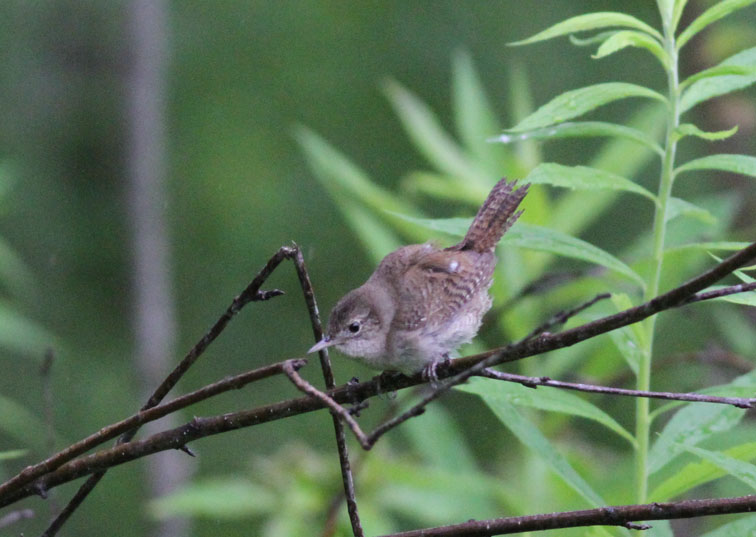 Now for the lists....
---
List of birds species, with number observed.
Canada Goose 2
Wood Duck 4 (1 adult female with 3 ducklings)
Mallard 10 (1 adult male, 3 adult females, 6 ducklings)

Double-crested Cormorant 3

Great Blue Heron 1
Black-crowned Night-Heron 2

Ring-billed Gull 5
Caspian Tern 1

Rock Pigeon 32

Chimney Swift 10

Red-bellied Woodpecker 1
Downy Woodpecker 5
Hairy Woodpecker 3
Northern Flicker 1

Great Crested Flycatcher 2
Eastern Kingbird 2

Warbling Vireo 2
Red-eyed Vireo 8

Barn Swallow 4

Black-capped Chickadee 5

White-breasted Nuthatch 2

House Wren 1

Blue-gray Gnatcatcher 4

Wood Thrush 1
American Robin 38

European Starling 2

Song Sparrow 1

Northern Cardinal 1
Indigo Bunting 1

Red-winged Blackbird 2
Common Grackle 7
Brown-headed Cowbird 4

American Goldfinch 4

House Sparrow 7
---
List of mammal species, with number observed.
Eastern Chipmunk 5
Eastern Gray Squirrel 12

Whitetail Deer 2 (doe with fawn)
---
List of amphibian species, with number observed.
Bullfrog 1 (heard calling)
---
List of damselfly/dragonfly species, with number observed.
Ebony Jewelwing 1
---
Back to Geoff Williamson's Web Pages.
---
This page was last updated on 15 June 2013.
Contact Geoff Williamson with any comments, updates or suggestions.
---