---
Chris and Geoff Williamson led a nature walk in Chicago's Lincoln Park, sponsored by the Chicago Ornithological Society and the Chicago Group of the Sierra Club, that began at South Pond and moved north through the Lincoln Park Zoo to the North Pond. The weather was a brisk 40 to 47 degrees, with north-northwest winds at 12 mph and clear skies. Some photos of various birds we saw appear below, followed by lists of the species that we observed on the walk.
One of our first avian treats was this Yellow-throated Vireo working the trees east of South Pond.
To the southwest of South Pond were a grove a trees in bloom that were hosting several warblers, including this Yellow Warbler..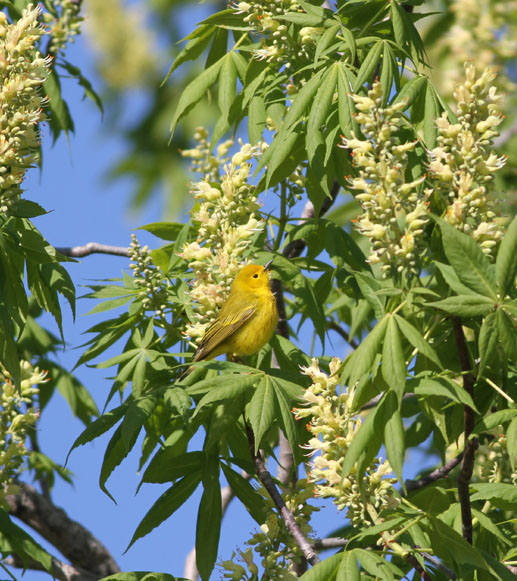 The same set of trees also held a Cape May Warbler ...
... as well as a Nashville Warbler..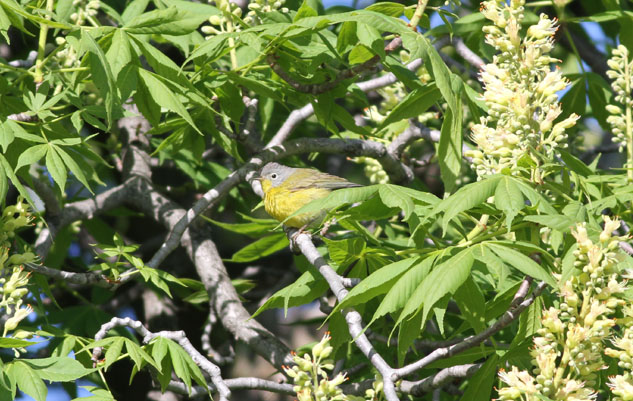 The Black-crowned Night-Heron breeding colony in the south end of Lincoln Park was in full swing.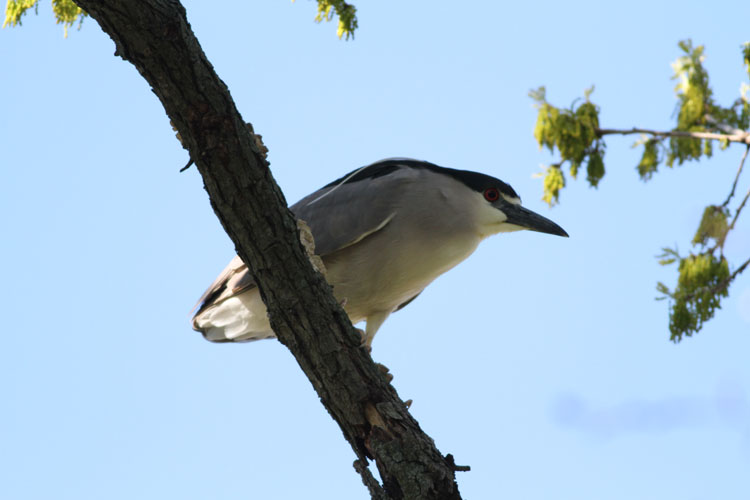 As we walked through Lincoln Park Zoo we found this Black-and-white Warbler gleaning insects from the tree bark..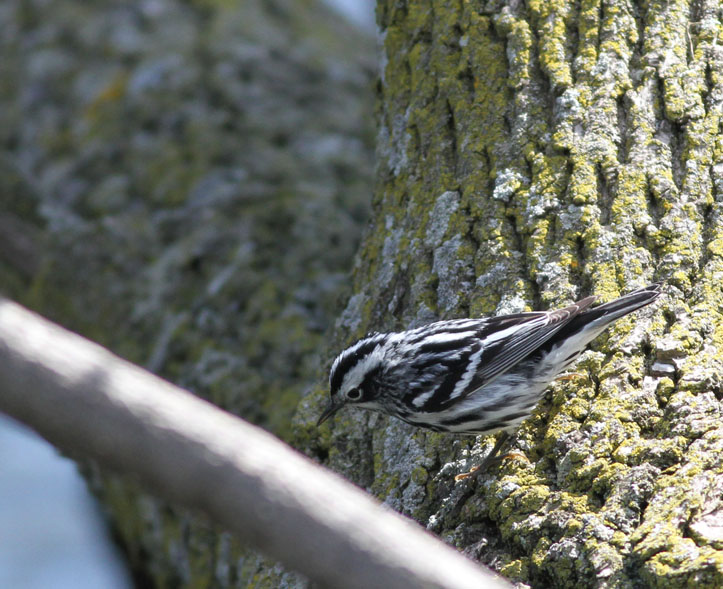 A Red-breasted Nuthatch was doing the same thing.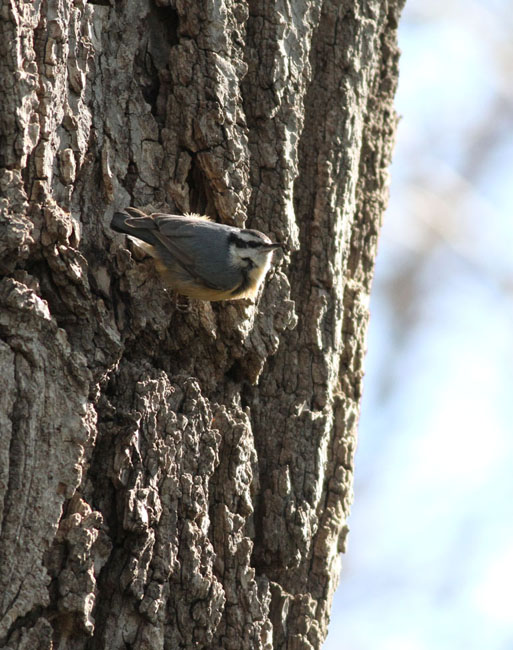 Near the Kovler Lion House, a male Rose-breasted Grosbeak was singing.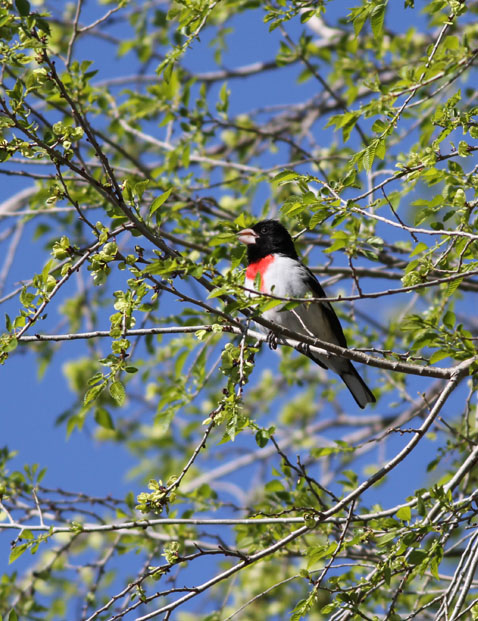 On the lawn near North Pond we found this Gray-cheeked Thrush.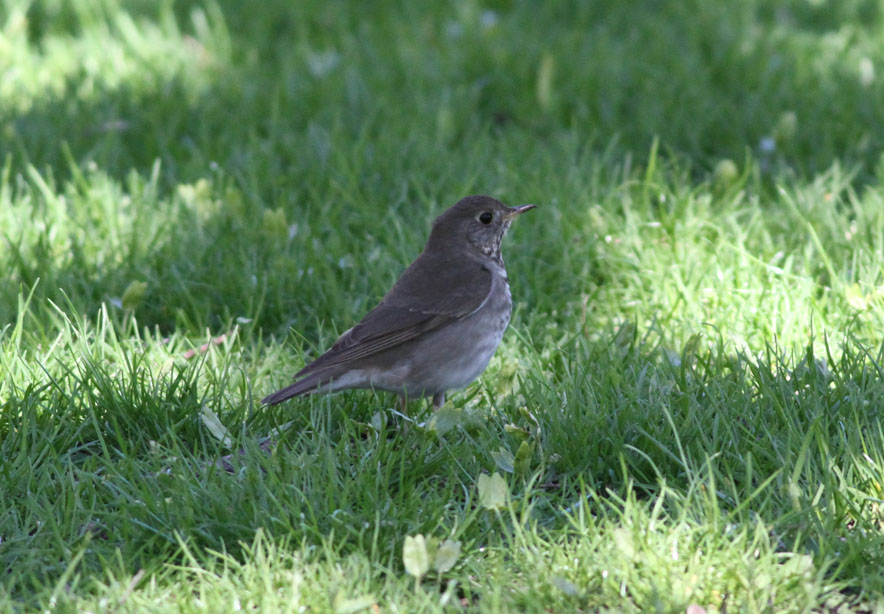 A male Common Yellowthroat was working the reeds at the south end of North Pond.
An adult Cooper's Hawk flew by overhead. Perhaps this was one of the birds that was nesting within the night-heron colony.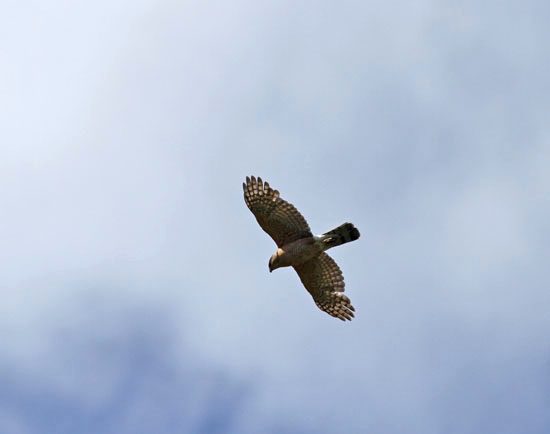 ---
List of birds species seen, with number observed.
Graylag Goose (domestic) 2
Canada Goose 57
Wood Duck 15
Mallard 49
Mallard (domestic) 3
Hooded Merganser 1

Green Heron 1
Black-crowned Night-Heron 181

Cooper's Hawk 2

Ring-billed Gull 48
Caspian Tern 6

Rock Pigeon 22

Chimney Swift 3

Belted Kingfisher 2

Downy Woodpecker 5
Northern Flicker 2

Peregrine Falcon 1

Least Flycatcher 1

Yellow-throated Vireo 1

Blue Jay 11
American Crow 17

Northern Rough-winged Swallow 23
Barn Swallow 4

Black-capped Chickadee 7

Red-breasted Nuthatch 1

Blue-gray Gnatcatcher 2

Ruby-crowned Kinglet 1

Veery 1
Gray-cheeked Thrush 1
Wood Thrush 1
American Robin 28

Gray Catbird 1

European Starling 56

Northern Waterthrush 1
Black-and-white Warbler 3
Nashville Warbler 2
Common Yellowthroat 7
American Redstart 1
Cape May Warbler 1
Magnolia Warbler 1
Yellow-rumped Warbler 3
Palm Warbler 7

Spizella sp. 1
Song Sparrow 3
Lincoln's Sparrow 2
Swamp Sparrow 1
White-throated Sparrow 20
White-crowned Sparrow 32

Northern Cardinal 7
Rose-breasted Grosbeak 3

Red-winged Blackbird 33
Common Grackle 50
Brown-headed Cowbird 7
Orchard Oriole 4
Baltimore Oriole 20

House Finch 4
American Goldfinch 13

House Sparrow 107
---
List of mammal species seen, with number observed.
Eastern Chipmunk 1
Eastern Gray Squirrel 14

Eastern Cottontail 3
---
List of butterfly species seen, with number observed.
Cabbage White 1
---
Back to Geoff Williamson's Web Pages.
---
This page was last updated on 16 May 2013.
Contact Geoff Williamson with any comments, updates or suggestions.
---