---
In conjunction with the Montrose Beach "Beach Sweep" clean-up, the Chicago Ornithological Society and the Chicago Group of the Sierra Club teamed up again to visit nature in Chicago's parks. A group that varied in size from two to seven toured Montrose Point looking for birds and other creatures of nature in the park. Here the group is working the "perimeter plantings" of Montrose Point Nature Sanctuary. You can see Lake Michigan in the background.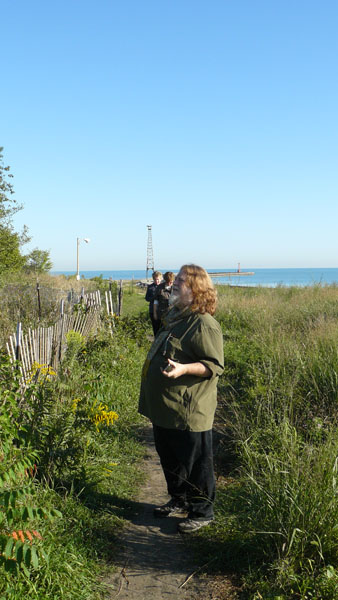 Stepping inside the plantings led us to this Brown Thrasher that was intently focused on foraging in a cluster of dead leaves for food.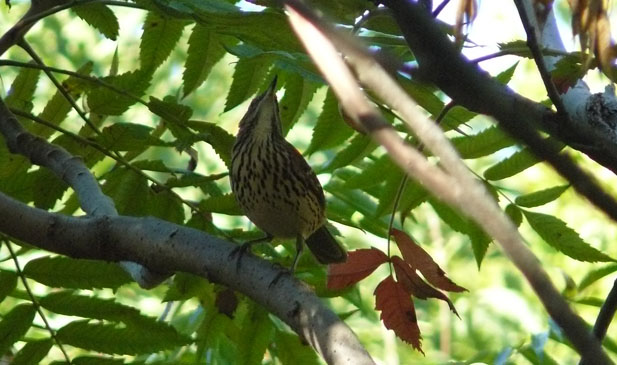 At Montrose's "Water Feature," another Brown Thrasher came out in the open for a drink (or to admire his reflection).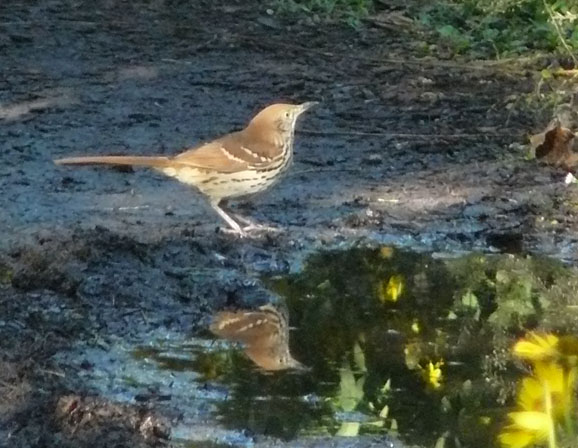 Birds near the Water Feature had to be careful because a young Cooper's Hawk was hunting in the area. These bird-eating hawks frequent Montrose Point because the many migrating birds provide something of a smorgasbord.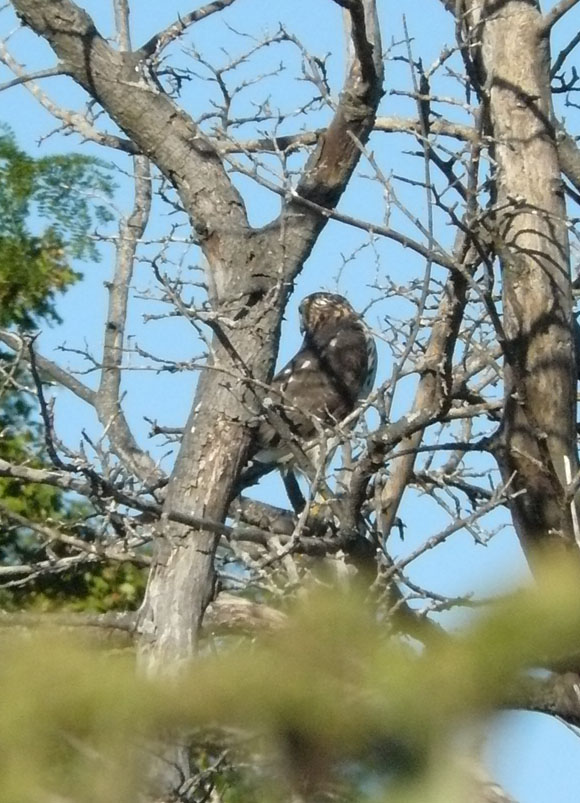 Perching in the same tree as the hawk was this Northern Flicker.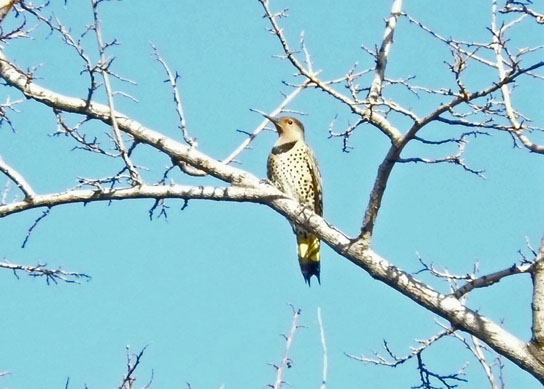 We looked too at the butterflies. Here is a Common Buckeye.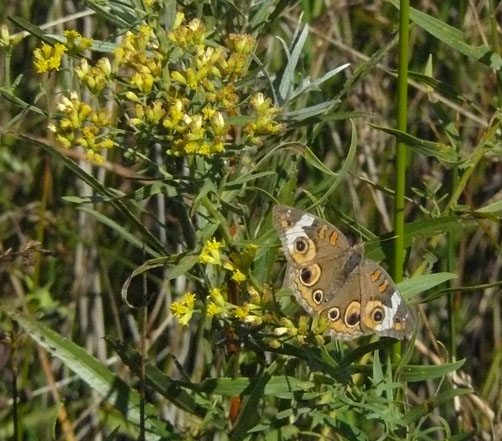 And here is one of the three Viceroy butterflies we spotted.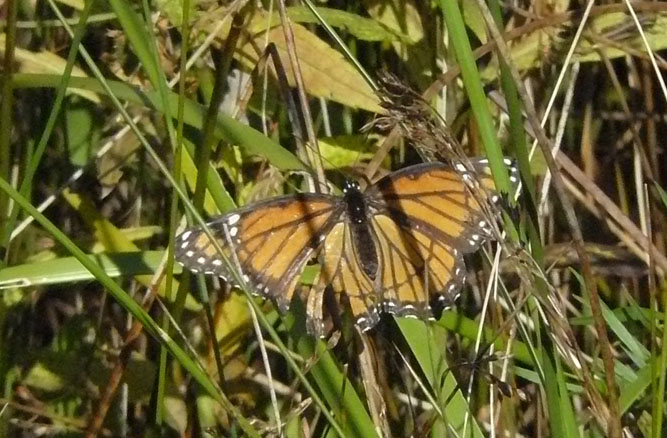 Here's another Viceroy. Note the thin black band that runs across the middle of the hind wing. The similar looking Monarch butterfly lacks this black line.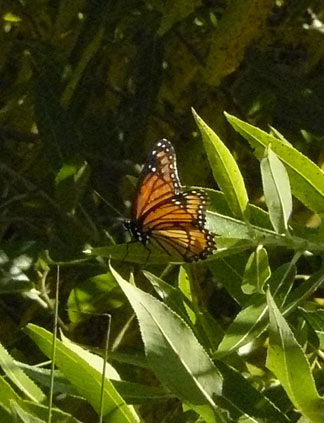 The list of birds, mammals, butterflies, and dragonflies we saw is given below.
---
List of birds species seen, with number observed.
Canada Goose 81
Mallard 12

Double-crested Cormorant 40

Cooper's Hawk 2

Peregrine Falcon 1

Ring-billed Gull 198
Herring Gull 3

Chimney Swift 65

Red-headed Woodpecker 1
Yellow-bellied Sapsucker 1
Downy Woodpecker 3
Northern Flicker 10

Least Flycatcher 6
Alder/Willow Flycatcher 3
Empidonax, sp. 1
Eastern Phoebe 2
Eastern Kingbird 1

Philadelphia Vireo 1
Red-eyed Vireo 2

American Crow 5

Black-capped Chickadee 7

Red-breasted Nuthatch 3

House Wren 1
Sedge Wren 7
Marsh Wren 5

Gray-cheeked Thrush 6
Swainson's Thrush 28
Wood Thrush 1
American Robin 9

Gray Catbird 3
Brown Thrasher 4

European Starling 76

American Pipit 1

Cedar Waxwing 3

Ovenbird 1
Northern Waterthrush 3
Black-and-white Warbler 2
Tennessee Warbler 1
Nashville Warbler 1
Common Yellowthroat 17
American Redstart 25
Northern Parula 1
Magnolia Warbler 17
Bay-breasted Warbler 4
Yellow Warbler 2
Chestnut-sided Warbler 1
Blackpoll Warbler 7
Palm Warbler 15
Yellow-rumped Warbler 3

Savannah Sparrow 14
Nelson's Sparrow 1
Lincoln's Sparrow 1
Swamp Sparrow 1
White-throated Sparrow 11

Northern Cardinal 5
Rose-breasted Grosbeak 1

Red-winged Blackbird 4

American Goldfinch 20

House Sparrow 27
---
List of mammal species seen, with number observed.
Eastern Chipmunk 11
Eastern Gray Squirrel 3

Eastern Cottontail 3
---
List of butterfly species seen, with number observed.
Cabbage White 20

Clouded Sulphur 1
Orange Sulphur 2

Eastern Tailed-Blue 4

Pearl Crescent 2
Mourning Cloak 3
Common Buckeye 4

Viceroy 3

Monarch 3

Grass skipper, un-IDed 1
---
List of damselfly and dragonfly species seen, with number observed.
Common Green Darner 1

Carolina/Red Saddlebags 2
---
This page was last updated on 16 September 2012.
Contact Geoff Williamson with any comments, updates or suggestions.
---