---
A group of 17 individuals spent most of the morning of 18 August 2012 walking through Jackson Park's Wooded Island, south of the Museum of Science and Industry, and then back up the east side of the lagoon and through Bob-o-link Meadow. We looked for birds, bugs, and anything that moved. Below you'll find some photos taken during the walk, and at the bottom of the page are lists of the types of birds, mammals, butterflies, damselflies, and dragonflies that we saw (with numbers seen for each species).
When on Wooded Island, it's always worth visiting the Japanese Garden. You can check the plantings for birds, and you also have a nice view over the east lagoon.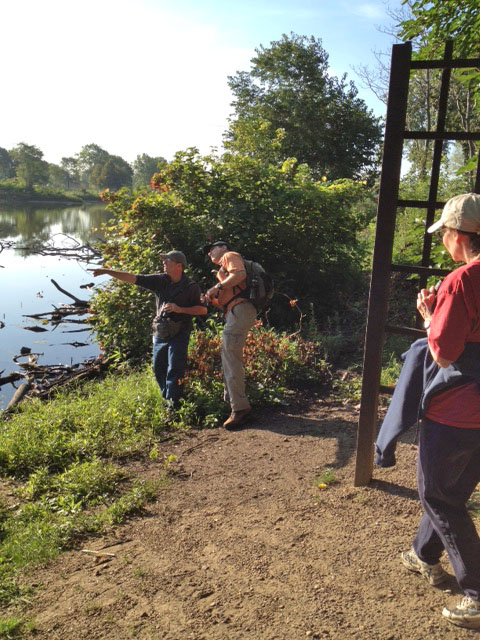 Another fine spot on Wooded Island is the Rose Garden. Here is the group gathered along the path through the Rose Garden.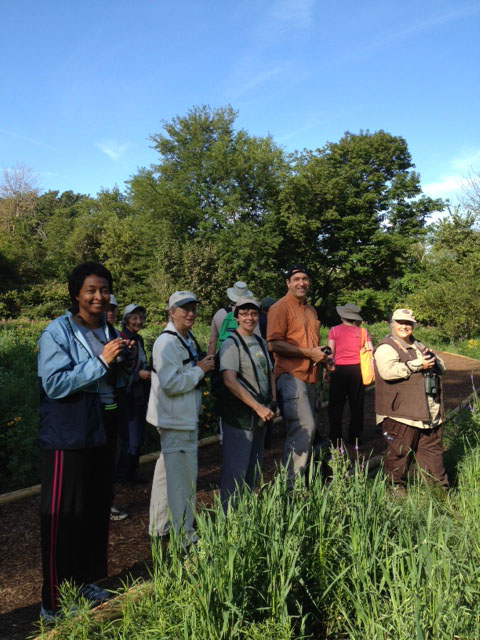 In the Rose Garden we found this damselfly. Unfortunately, we didn't know enough about it to place it to species.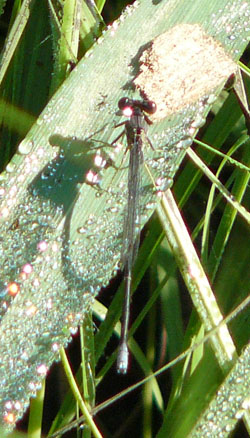 Also in the Rose Garden was this Fiery Skipper.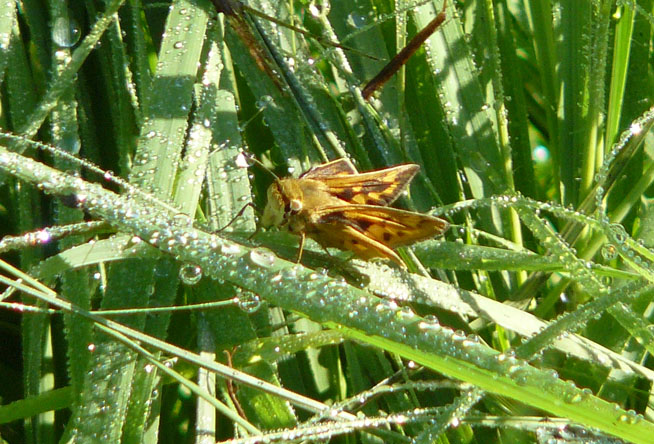 Here, Geoff (on the right, orange shirt) uses his laser pointed to let the group know where in the grass the skipper is.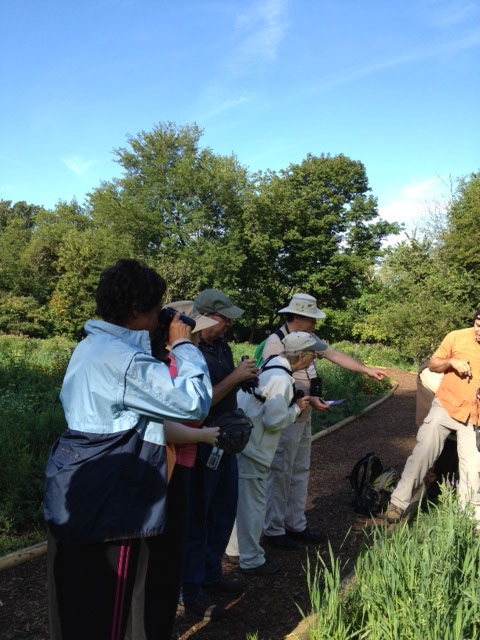 In the small garden near the comfort station at the driving range, we found this Question Mark butterfly. Note also what appears to be a Fiery Skipper on the Prairie Cone Flower.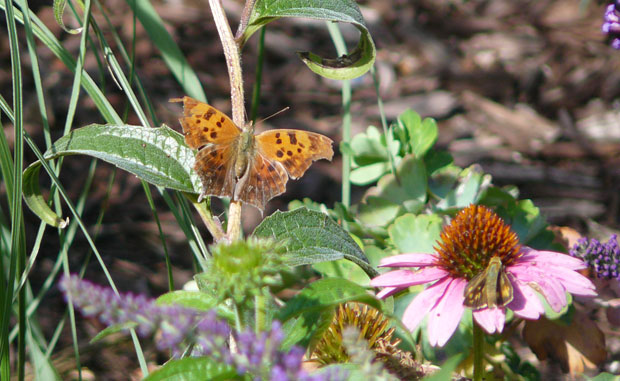 At the same spot was this Black Swallowtail.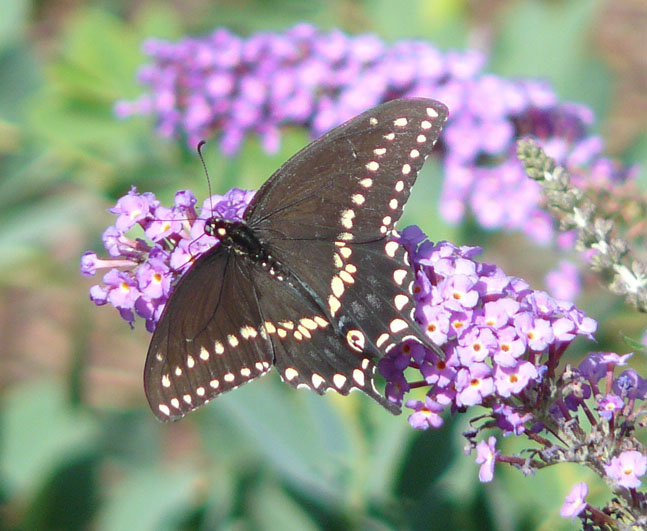 The small flower garden also held another grass skipper, this one a Sachem.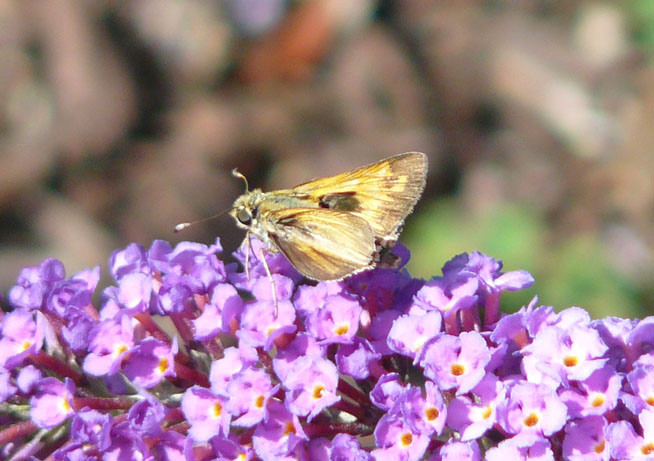 Another view of the Sachem.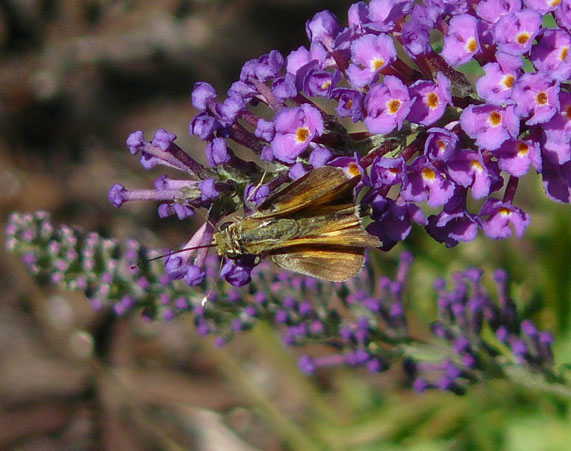 ---
List of birds species seen, with number observed.
Canada Goose 131
Wood Duck 12
Mallard 20

Double-crested Cormorant 19

Great Blue Heron 4
Great Egret 1
Green Heron 4
Black-crowned Night-Heron 3

Bald Eagle 1
Cooper's Hawk 1
Red-shouldered Hawk 1

Ring-billed Gull 17
Caspian Tern 1

Mourning Dove 1

Chimney Swift 21

Ruby-throated Hummingbird 5

Downy Woodpecker 4
Northern Flicker 1

Least Flycatcher 1
Great Crested Flycatcher 5
Eastern Kingbird 5

Warbling Vireo 8
Red-eyed Vireo 1

American Crow 28

Barn Swallow 6

Black-capped Chickadee 3

Red-breasted Nuthatch 1
White-breasted Nuthatch 1

House Wren 4

Blue-gray Gnatcatcher 1

American Robin 9

Gray Catbird 13

European Starling 3

Cedar Waxwing 87

Northern Waterthrush 1
Black-and-white Warbler 5
Tennessee Warbler 8
Mourning Warbler 1
Common Yellowthroat 1
American Redstart 12
Magnolia Warbler 1
Blackburnian Warbler 2
Blackpoll Warbler 1
Pine Warbler 1
Black-throated Green Warbler 1

Song Sparrow 5

Northern Cardinal 10
Rose-breasted Grosbeak 1
Indigo Bunting 3

Red-winged Blackbird 4
Brown-headed Cowbird 1
Baltimore Oriole 11

House Finch 1
American Goldfinch 21

House Sparrow 1
---
List of mammal species seen, with number observed.
Eastern Gray Squirrel 1
---
List of butterfly species seen, with number observed.
Black Swallowtail 2

Cabbage White 11

Clouded Sulphur 1
Orange Sulphur 1

Eastern Tailed-Blue 3

Question Mark 2
Mourning Cloak 2
Common Buckeye 1

Monarch 6

Fiery Skipper 6
Sachem 1
---
List of damselfly and dragonfly species seen, with number observed.
Blue-fronted Dancer 25
Eastern Forktail 11

damselfly, sp. 1

Common Whitetail 1
---
This page was last updated on 18 August 2012.
Contact Geoff Williamson with any comments, updates or suggestions.
---